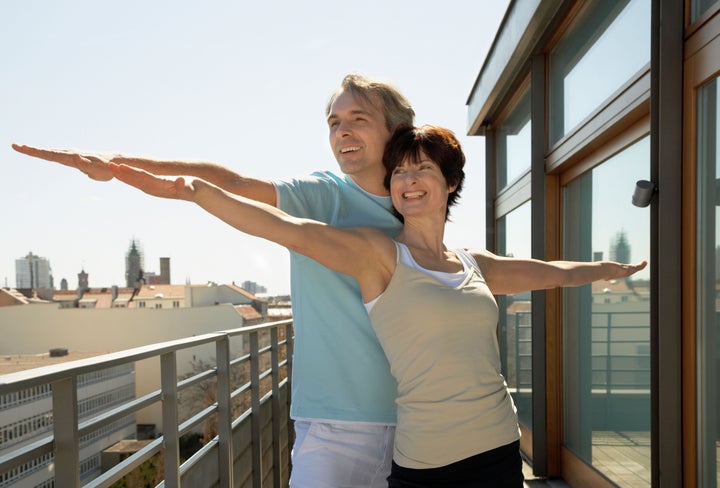 Valentine's Day is rapidly approaching. Buy why wait? You can make every day Valentine's Day by doing yoga.
If you prefer a natural alternative to enhance your sexuality and spice things up, try yoga. Research reports that yoga can boost sexual satisfaction while benefiting overall health and well-being.
Here are the top three reasons yoga helps improve your sex life.
1. Tantra Yoga Promotes Sexual Vitality
Tantra is a branch of yoga that seeks inner peace and transcendence through everyday acts of daily life like breathing, eating and the sacred union of the male and female. Ancient tantric teachings have been used for millennia to heal sexual dysfunction, strengthen the sexual system and raise sexual energy.
Tantric yoga poses such as mula bandha, or "root lock," train and strengthen abdominal, pelvic and genital muscles. Similar to Kegel exercises, mula bandha improves arousal, prostate health and blood flow through the reproductive organs.
2. Yoga Treats Premature Ejaculation
One study, published in The Journal of Sexual Medicine, suggests that yoga can treat premature ejaculation and promote sexual satisfaction. Premature ejaculation (also known as rapid ejaculation) is the most common male sexual problem, affecting 25 to 40 percent of men. SSRI antidepressants such as fluoxetine (Prozac) are often prescribed to help delay ejaculation.
Researchers at All India Institute of Medical Sciences in New Delhi, India, administered daily either yoga or 20-60 mg fluoxetine (Prozac) to 68 men with premature ejaculation for three months. The yoga program included common yoga poses such as Paschimottanasana (seated forward bend), Sarvangasana (shoulderstand), Halasana (plough), Matsyasana (fish), and Dhanurasana (bow).
The researchers found that yoga treated premature ejaculation more effectively than fluoxetine (Prozac). Findings showed that 100 percent of the yoga group had improvement in premature ejaculation and sexual satisfaction, compared to 82 percent of the drug group.
"Yoga appears to be a feasible, safe, effective and acceptable nonpharmacological option for PE [premature ejaculation]," the study authors conclude.
3. Yoga Enhances Women's Libido
Researchers from the University of British Columbia reviewed studies of yoga, mindfulness and acupuncture in treating women's sexual problems. Yoga meditation cultivates mindfulness -- an awareness of the present moment.
The researchers found that mindfulness practice significantly improved women's sexual arousal and response. Furthermore, mindfulness reduced pain and improved sexual health in women with vestibulodynia (chronic pain of the vulva). Findings also revealed that acupuncture significantly improved libido in women with sexual dysfunction.
Happy Valentine's Day! We would love to hear from you. Please share your insights in the comments section below.
For more by Elaine Gavalas, click here.
You can buy "The Yoga Minibook for Weight Loss" here.
Elaine Gavalas is an exercise physiologist, yoga therapist, weight management specialist, nutritionist and healthy recipe developer.
Related