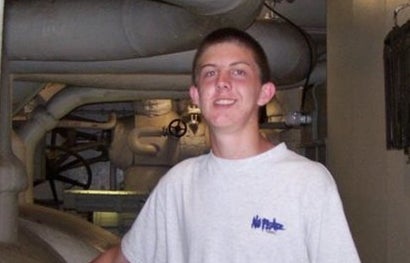 A diverse crowd of more than 100 people gathered Saturday at a park in downtown Seneca, South Carolina, to demand answers and accountability following the police shooting death of 19-year-old Zachary Hammond last month.
Hammond's parents urged transparency from the South Carolina Law Enforcement Division, which is investigating Hammond's death, and repeated calls for the dashcam footage of their son's shooting by Lt. Mark Tiller to be released. Supporters also called for local prosecutor Chrissy Adams to be taken off the case, The Greenville News reported, citing frustration over what they see as a lack of urgency on her part.
"We haven't seen any evidence that she intends to prosecute Lt. Tiller," Hammond's mother, Angie, said of Adams. "Why is anything more important to her than the video? Release the video."
Hammond's relatives and their attorneys have suggested that dashcam video captured by Tiller's cruiser may provide more insight into what led to their son's death on the evening of July 26. But investigators have refused requests from the Hammonds and local media outlets to release the footage, saying they are "sensitive law enforcement records" which could harm an ongoing investigation.
Seneca police say Tiller approached Hammond's vehicle to make an arrest in a drug deal that a passenger in the car had set up with an undercover officer. The passenger, 23-year-old Tori Morton, was ultimately charged with misdemeanor marijuana possession. Tiller's lawyer has said the coroner found "a white powdery substance consistent with powder cocaine" on Hammond's body.
Tiller's lawyer has maintained that Hammond refused an order to show his hands and instead drove his vehicle toward Tiller, causing the officer to fear for his life and fire at Hammond in self defense. Multiple autopsy reports, however, have shown that the bullets struck Hammond in the back and side, leading his parents to claim that the shooting was unlawful.
"Zach didn't do anything to deserve two bullets in his back," Hammond's mother said Saturday. "No one has been able to explain how and why this happened."
Nonviolence advocate Jack Logan organized Saturday's rally, which also included speeches by a state senator, professors from Clemson University and activists, local TV station WIS News 10 reported. 
"I never would have called a rally like this if the mayor and the chief had done their job," Logan said.
"There's enough people out here today to get those people out of office," Logan said, according to The Greenville News. "What are they trying to hide? ... There's something wrong in this town and it's called transparency with this sorry police department."
The Department of Justice announced last week that it had opened a parallel civil rights probe into Hammond's case, following a request by his family. Lawyers representing the family then wrote a letter to Attorney General Loretta Lynch and FBI director James Comey, obtained by local TV station WHNS, claiming that a witness had seen an officer lift up Hammond's corpse and place something underneath. The unnamed witness also said he'd seen Seneca police officers pick up Hammond's hand to "high-five" him after he was killed.
For nearly a week after his death, the Hammond story went largely unnoticed, both by the national media and the mostly white town of Seneca. The initial silence led many, including his family and their attorneys, to question if the case had been treated differently from recent police killings of black teenagers because both Hammond and the officer are white. 
After supporters of the Black Lives Matter movement began calling attention to Hammond's death on social media, the story began to attract attention from national outlets, including The New York Times, CNN and The Washington Post.
Reports from the rally on Saturday show a racially diverse crowd attended. While activists and supporters spoke of Hammond's life specifically, they made it clear that they viewed his tragic death as a consequence of the same controversial police behavior that has led to nationwide protests over the past year, often centered around the killings of black suspects by white officers.
"All lives matter," said state Sen. Karl Allen (D), who is black. "As a part of that, the life of Zach Hammond matters enough to get true and accurate answers."
Calling all HuffPost superfans!
Sign up for membership to become a founding member and help shape HuffPost's next chapter