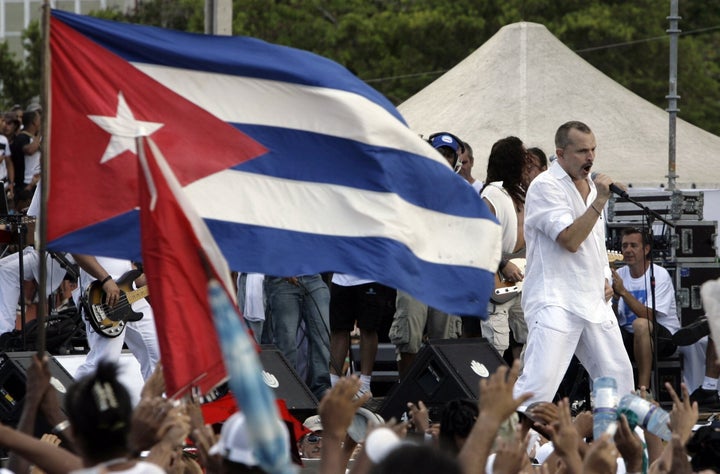 Much has been said in the Cuban regime's official media about my son Orlando Zapata Tamayo, a young black man. Many lies have been told, and it has been said that my son was a criminal, and that he was not simply allowed to die. The truth is that my son was murdered. The truth is that my son was allowed to die on a hunger strike he held to demand respect for his rights, and to demand freedom for his people. Today, I would like to tell you just who Orlando Zapata Tamayo was: a defender of human rights, and my beloved son.
Orlando Zapata Tamayo was born on May 15, 1967, a native of Santiago de Cuba. He spent his childhood in Santiago and Antilla in Holguin province, where he went to school through the ninth grade. He never spoke much, but he had a big heart for his family and all those who knew him, always giving the best of himself to his fellow man.
He competed in boxing at the provincial level in the 14-16 year olds division, winning first place and prizes for best match. Later, he began his working life. He earned a degree as a bricklayer with an elementary understanding of carpentry and plumbing, which allowed him to work in those areas. On several occasions working with crews in Havana, he earned the distinction of being named best worker.
Even though he would be offered a certain sum for his work before he started, when he finished the job he would be paid a lesser amount of money. Due to this kind of deceit, he dissociated himself from the only official employer, the government, and started working on his own account in order to survive. He was fined on repeated occasions for registering home addresses other than where he lived. It was through his work that he managed to he came into contact with the opposition. He founded a dissident discussion group in Havana's Central Park with activist Henry Saumell and others. He also worked on the Varela Project, which collected more than 10,000 signatures, as required by the Cuban constitution, on a citizen's initiative calling for democratic reform in Cuba. He was a member of the Republican Alternative Movement [Movimiento Alternativa Republicana] and the 30th of November Party [Partido 30 de Noviembre] which were actively engaged in a peaceful struggle against the Castro brothers' regime. As a result of this work, he was detained on several occasions.
Zapata was arrested on December 6, 2002 in Havana's Lawton neighborhood while on his way to attend a meeting with Dr. Oscar Elias Bicet at the Lawton Foundation for Human Rights, and he was then imprisoned. He was released three months later, without ever being tried. When he launched a protest fast with Marta Beatriz Roque and other activists against the continued jailing of activists, among them Dr. Biscet, he was arrested in the crackdown known as the Black Spring of 2003. Regime officials tried him based on his first arrest and sentenced him to three years imprisonment for resistance, disobedience and disorderly conduct for his position of opposition to the regime.
While in prison, his resistance led to additional charges with each one adding years to his sentence. Ultimately, the three year sentence was extended to 57 years and six months in prison. He remained a resistor, eating only what his family brought him. He only accepted water in prison, sleeping on the floor with bedding from home. His path through various prisons was one of physical and emotional abuse, which left their marks on his body. He underwent surgery for an intracrinal hematoma produced by a blow delivered by convicted criminals thrown into his sealed, maximum security solitary confinement cell. The prisons he went through were: Cien y Aldaboz, Villa Marista, Quivicán, Guanajay, Taco Taco, Holguín Provincial Prison, Cuba Sí, Kilo 8, and Combinado del Este in Holguin.
In Holguin, he suffered his last beatings, which were intended to end his life, on August 29, September 24, and October 26, of 2009. To demand respect for his rights, he carried out a water-only protest fast in intervals for 18 months. He would be shaved and have his hair cut only by force. He never wore a common prisoner's uniform, the uniform of a convicted criminal. While he was in Holguin Provincial Prison, State Security video taped him often.
He was sent to Kilo 8, the maximum security prison in Camagüey, where they stole his food upon arrival in order to force him to eat the prison food. They also forced him to dress as a common prisoner, while he had previously worn white at every prison he had gone through.
Zapata began his final hunger strike in order to demand respect for his rights as a political prisoner. He spent one month and three days on the floor. He was denied water for 18 days in an attempt to break his defiance, which provoked two heart attacks while still being held at Kilo 8. Afterwards he was transferred to the Prisoners Ward at Amalia Simoni Hospital. This is when his family was able to see him briefly. They only allowed him one bottle of water, but not the one from which he wanted to drink.
He was transferred to a so-called "Intensive Care Unit" that was cobbled together on the spot exclusively for him, and where he was kept under guard by armed soldiers. This all created a delay that caused his health to worsen. He had to be transferred to the Prisoners' Hospital at Combinado del Este Prison, where his health worsened to a critical point. The authorities knew that the goal was to murder him, to eliminate him. He was then transferred to Hermanos Ameijeiras Hospital where he died on February 23, 2010 at approximately 3:30 p.m.
We, Zapata's family and friends, have suffered a great deal of repression since his death. My son died for the sake of his belief in freedom. We have been attacked by groups of people organized by State Security, who want to prevent us from marching to the cemetery after leaving Mass on Sundays. My son's tomb was desecrated by them, the police.
The Castro brothers try to intimidate us, but what they don't know is that this family has never been afraid. This family has never knelt to anyone. Now, with even greater courage, dignity, and principles, we will follow the ideas and words of Orlando Zapata Tamayo, who was murdered, who was tortured, and who was denied water for 18 days in order to do away with him. But nobody was ever able to subjugate my son. He never knelt before the dictatorship. He never gave in, and he preferred to die rather than to live on his knees.
This is why we say: Zapata Lives! We shout it in the streets. We shout it wherever we may be. Zapata lives on in our hearts. His example guides the Cuban people in their struggle for freedom.
Note: Nearly 50,000 signatures have been collected, worldwide, demanding the release of Cuba's political prisoners in the name of Orlando Zapata Tamayo. The petition, and associated blog, can be read here in English translation: http://orlandozapatatamayoenglish.blogspot.com/
Popular in the Community