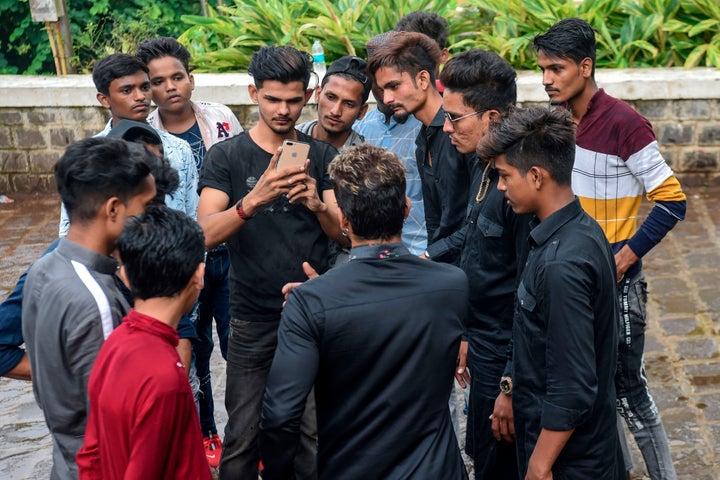 NEW DELHI — Of the 228 odd posts on S's TikTok timeline, 216 show the young Hindi-speaking Muslim girl lip syncing to mushy Bollywood dialogues, dancing to popular Punjabi pop tracks, flaunting new blonde highlights and pouting with friends. S's 8500 followers, mostly young men and women, respond to her posts with heart emojis, smileys, cutesy Bollywood dialogues. But on December 16, S's timeline took an abrupt turn. A day after Delhi Police brutally cracked down on students of Jamia Milia Islamia University in Delhi, S put up a short video from an anti-CAA protest where a crowd is shouting, "Yeh desh hamara aapka, nahin kisike baap ka."
S is one of hundreds of Tiktok users to be drawn into the movement against the citizens amendment act. A Jamia Milia Islamia hashtag on TikTok has now garnered over 6 million views across hundreds of videos. A majority of the videos are in protest of the CAA and police atrocities.
On the first day of protests, a search with the hashtag yielded no more than a dozen videos and some 4,000 videos. In course of a week, the viewership swelled, and young Muslim TikTok users like Sumaira started posting their first ever political, protest-related content.
On the app, #JamiaMiliaIslamia has garnered 8.1 million views, #jamia_milia_islamia_university has 595,000 views, #jamia_millia_islamia has 102,000 views. Most of these views were garnered in the past few days, as tracked by HuffPost India. In comparison, #babri has 3.6 million views and #babrimasjid has 9.2 million views. Hashtags related to Kashmir and free Kashmir have more views, but they have grown over several months.
In the past week, social media has witnessed an intense outpouring of anger over the Citizenship Amendment Act and seems to have drawn seemingly 'apolitical' people out from their social media closets to debate their side. While the response to the abrogation of Article 370 in Kashmir or the Babri verdict in favour of a temple in the disputed spot saw just restricted reach on social media, the Jamia incident seems to have pushed young Indians to become political, while others who have often engaged in political debates have felt deep exhaustion, anger leading to hasty 'unfriending'.
Psychologist Srividya described the incident as a 'tipping point' for angst that has been building up for months now and it's not just happening on platforms like Twitter were bitter arguments about politics are the norm, but also the usually apolitical spaces like TikTok, where comedy and romance are normally what you see.
Since December 16, S has posted 12 videos of protests and collages opposing the NRC and CAA, and exhorting Hindus and Muslims to fight these discriminatory policies together. She has changed her DP from a selfie with a cat filter to a poster than says, "We Indians standing against NRC and reject Citizenship Amendment Bill 2019". And there's no sign of the Bollywood content that has been the highlight of her timeline for over 200 videos prior to this.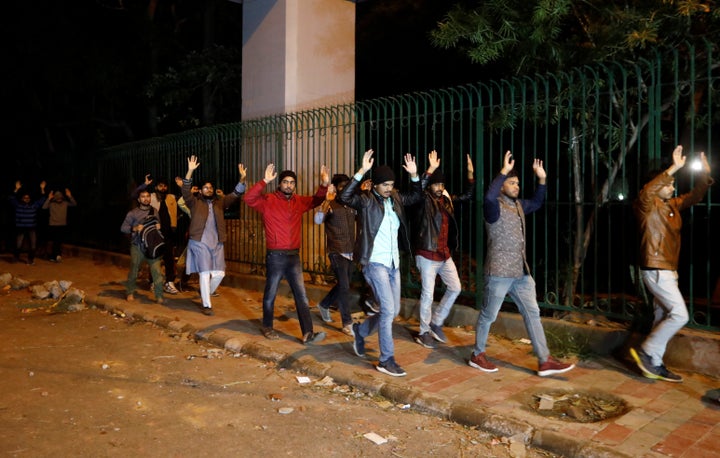 Altamash, a young Tiktok user's videos till presumably the day of the Jamia incident were mostly of him and his friends, driving around Delhi playing romantic music or of football footwork. In the past week, the only content he has posted is videos of protests against the Citizenship Amendment Act and the violence in Jamia and Aligarh Muslim University.
Zaid, a body builder and a fitness instructor has nearly 24,000 followers on TikTok and had never posted anything related to the country's politics of current affairs — including Kashmir and the Babri verdict — but in the past few days, he posted his first ever political protest videos on TikTok. A young, girl who just goes by the name Khatoon has 71,000 followers and till a few days back, would only post videos of herself lip syncing to songs, romantic couplets and dramatic Hindi film dialogues. Since the Jamia incident, she has only posted videos of protests and Muslim religious leaders exhorting the community to fight against discriminatory laws.
Shaad, who has nearly 6,000 followers, used to exclusively post videos of him lip syncing to comic lines from Bollywood films or flaunting is elaborate hairstyle, for the first time posted politics related content the last week. Of the two videos he posted — both from protests in Delhi — TikTok took down one where a crowd is heard chanting azadi from an autocratic regime.
TikTok doesn't show the time stamp on posts, however, we started following these handles since December 16 to trace how their tones changed from being frothy, non-political content to angry, political ones.
Abu Sufiyan, a 26-year-old engineer and social activist who is on TikToK, noticed a similar pattern among Muslim teenage users of the app. Most young people he follows on the app, on interacts with, Sufiyan said, used to think that posting something political amounts to siding with a political party. And the sheer amount of hatred they see on other social media platforms like Twitter or Facebook discourage teenagers from posting content on those lines.
However, with the Jamia incident, Sufiyan explains it felt almost vulgar to post cute videos, especially if you are a Muslim. "Also, these are kids are reading the violent things about persecuting Muslims that many politicians are saying. These messages and videos circulate in WhatsApp groups and more so when some incident like the attack on Jamia and AMU take place. They feel alarmed and feel they need to voice their angst," Sufiyan explains. He also pointed out that it felt like the government was largely unprepared for this vehement reaction, delaying their characteristic clampdown on the internet.
Noticeably, none of the dozen profiles HuffPost India followed for the past week had posted anything on Babri, or Kashmir or any communally charged incident in the recent past. However, with Jamia they went all out. Activist Irtiza Qureshi, founder of NGO Marham which works with underprivileged people in Delhi, explained it was the proximity to the victims in these incidents which spurred so many young people this time.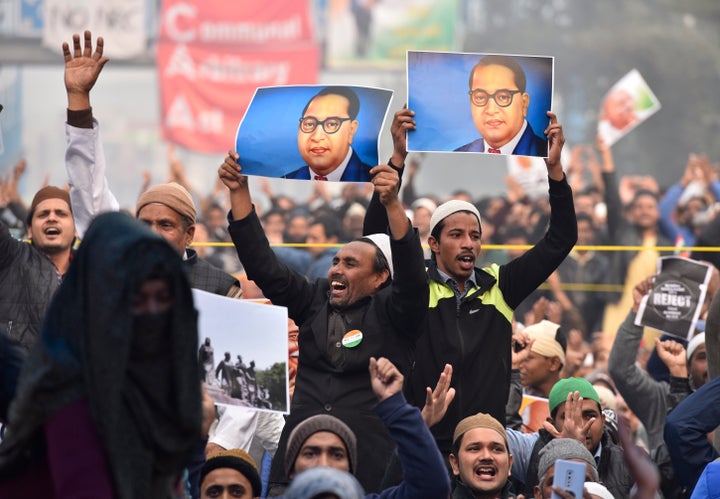 "Kashmir or Babri were very far away for these kids. The enormity of those incidents did not affect them. But with Jamia and AMU, they have walked these streets, they have friends and family who study in these universities, they've also probably been to these campuses. So the attack on students felt real, very close to home, like an attack on people like them," Qureshi explained. Photos on social media of the injured students actually made a lot of young people Qureshi met think like they could be next, or it could have been them.
Sufiyan and Qureshi both pointed out that most young people — irrespective of religion — are scared of being 'identified' and are constantly told by elders to steer clear of politics. But this time, most elders on both sides — those pro-CAA or anti-CAA — have been caught up in such raucous debates in personal spaces, that the kids too have been feeling the angst.
"With Jamia and AMU, they have walked these streets, they have friends and family who study in these universities, they've also probably been to these campuses. So the attack on students felt real, very close to home, like an attack on people like them"
Srividya, who also works as a counsellor in Delhi University, points out that some of these social media posts made by teenagers are also often rooted in their need to feel included and be a part of the conversation.
"A lot of young college going kids I have met in the past few months have confessed to me how they feel a deep need to have a political position. Being apolitical is not accepted or considered 'cool' anymore," she said. As a result, some of them often post content that push them into the unforgiving social media cauldron of trolling.
WORST TIME TO BE ON SOCIAL MEDIA?
Delhi-based Ankur Talwar, a public relations professional, 'unfriended' 24 people he had kept in touch with via Facebook because his job requires him to have a wide network of diverse professionals. Facebook, all these years, had been a helpful facilitator till last week, when the deeply politically-charged posts on social media started to affect Talwar's mental health. "It's ok to have different political opinion but above all that is humanity. What really got me mad this time is how certain people in my friend list on Facebook started justifying police action on Jamia students because the students were protesting," he said.
While Talwar believes that the space for dissent has been shrinking, finance professional Soumyajit Mitra said, the people he'd had to unfriend — friends from school in Kolkata, engineering college and business school — were not looking to have an informed debate anyway.
"For them it was a one way street as far as interactions go, where you are supposed to just listen in acquiescence," Mitra told HuffPost India.
"Last year I started a drive where we started removing or blocking followers who were abusive in their reaction," said Bilal Zaidi, former journalist and founder of OurDemocracy.in. "I did this primarily as part of an effort to protect my own mental health."
"Social media gives you immediate feedback - which means you are constantly looking out for peer approval," he added. "In a fast evolving and extremely charged political environment, you do expect your followers to get your context and nuance. Sometimes your followers tend to judge your opinion based on your name - which may seem harmless at first - but in due course of time it affects the way you perceive your own self."
"I have personally managed to make significant impact on social media professionally just by creating a safe space for myself online. It does limit my reach, but in return I have managed to curate a very supportive community around me where I feel protected," he said.
"Srividya pointed out that 'unfriending' people seems like a legitimate way to shield yourself for antagonism, but when it comes to close friends, the circle of anger just returns to haunt you."
The past week, for various social media users, obviously in a small bubble of privilege, standing up for their politics meant taking on friends from childhood whose politics had not mattered in decades. Ranjeema Chowdhury, a development professional, had quietly unfriended friends she knew from school because she felt all her protestations fell on deaf ears.
"I respect differences but I guess this time it's about fundamental rights of people. When we were in school/college it never mattered who was Hindu/Muslim/Christian etc. We have grown up, played, fooled around with them. How can we just turn our back towards them and consider them as outsiders today! We studied the Indian constitution together and exchanged notes before exams, we wrote essays on Secular India and look at us today!," she said.
For others, like Mumbai-based D (name changed) the process has been soul sucking. One of her closest childhood friends, whose political opinions she wasn't aware of, changed her profile picture to a blatant pro-CAA post. "It suddenly felt like I did not know someone who I was so close to for 25 years. How to speak to her, how to tell her without giving up 20 years of memories?" she wondered.
She proceeded to point out the problems in her friend's argument on WhatsApp, but the conversation became cold and stressful and it felt like she was talking to a stranger. D still doesn't know how to reconcile with her friend's politics. "This is not even a complicated political debate with grey areas, this is almost black and white," she said.
Srividya pointed out that 'unfriending' people seems like a legitimate way to shield yourself for antagonism, but when it comes to close friends, the circle of anger just returns to haunt you. It's not healthy," she said. However, she pointed out that while in the Kashmir or Babri issues, there were still some small grey areas that could be debated, a crackdown on students and threatening someone's citizenship did not leave a space for debate among friends. "There was nothing to consider in the other party's argument, many people have been bottling up this angst and that spilled over with the visuals of students getting beaten up," she added.
DOES FACEBOOK MAKE THINGS WORSE?
This polarisation on social media isn't limited to India. It has become increasingly clear in America, where the coming of Donald Trump in America made partisan politics much more visible, and many people have shared stories about breaking ties with friends and family, especially on social media.
Interestingly, a survey from just after Trump was elected showed that Democrats were three times more likely to unfriend people on Facebook than Republicans. According to the survey, 13% of Americans reported blocking or unfriending on social media, with 29% of Democrats and and 9% of Republicans having done so. Self-identified liberals and conservatives had a similar breakdown, at 28% and 8% respectively. Although a reason for this difference was not given, it is possibly because liberals and women (30% blocks/ unfriending) are frequently targeted by trolls online. This paints a very familiar picture for people in India as well.
Could getting off Facebook actually help people to get along? It turns out that the more time people spend on Facebook, the more they are aware of the news — and the more news they were aware of, the more polarised people become. A Stanford study, which paid some people and encouraged others, to quit Facebook for just four weeks found that people who gave up Facebook spent less time online; and that people who gave up Facebook were less informed, but also less politically polarised.
"How extreme people's views are tend to be very correlated with how much they're engaged in politics. For a lot of these people, being on Facebook led them to just be reading more, consuming more, talking more about politics, and that doesn't have to be specific to anything about Facebook's algorithm or to what's fulfilling people," Matthew Gentzkow, a Stanford economics professor who is one of the study's authors, told Recode. "It's a pretty deep question on some level: Would we rather have people who know less, are less engaged, and are also less upset? Or would we rather have people be talking about politics more, be more engaged with it, know more about it, and thereby also have deeper divisions in society? I don't think there's any simple formula either way."
This suggests that even if you remove people who are spreading what you see as misinformation or fake news from your Facebook connections, the polarisation, and divide in society, will not go down, whereas unplugging from the social network would be beneficial to everyone. "You might've thought that if you turn off Facebook, people will switch to using Twitter more, or switch to using Instagram more, or switch to reading Recode more. They don't do any of that — they're just on their phones less," Gentzkow said.