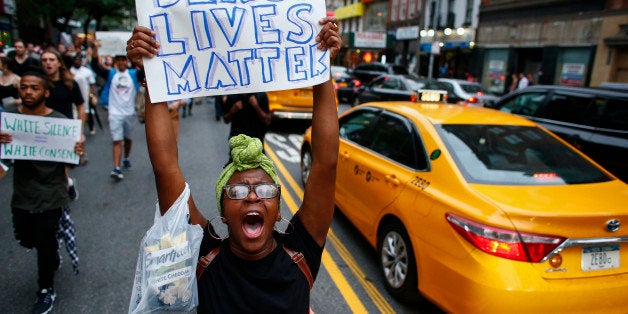 The aftermath of the shootings in Baton Rouge, Falcon Heights, and Dallas has sparked nationwide outrage and a feeling of helplessness among many. Many people are asking what they can do now and how they can use all of this collective energy to force change. It is incumbent upon us to create a climate where permanent changes can be made to policing practices and the broader criminal justice system.
President Obama rattled off a number of statistics to highlight the point that the incidents are systematic of a broader set of racial disparities that permeate the criminal justice system on Thursday in response to the police shootings in Louisiana and Minnesota. He noted that "African Americans are 30 percent more likely than Whites to be pulled over. After being pulled over African Americans and Hispanics are three times more likely to be searched. Last year African Americans were shot by police at more than twice the rate of Whites. African Americans are arrested at twice the rate of Whites. African American defendants are 75 percent more likely to be charged with offenses carrying mandatory minimums. They receive sentences that are almost 10 percent longer than comparable Whites that are arrested for the same crime.....When incidents like this occur there is a big chunk of our fellow citizenry that feels as if because of the color of their skin they are being not treated the same. And that hurts."
The nation is hurting today because of the reality that President Obama articulated above and because of the hideous and terrifying actions of a deranged lunatic last night in Dallas who savagely gunned down five police officers and wounded seven others. We are left collectively looking for answers and a way forward. I have listed ten ways that we can potentially bring about positive change. This list is by no means all inclusive, but it can be a starting point for those who are looking to direct their energy in a constructive direction. The movement needs everyone's ideas and involvement.
1. Keep the Spotlight On with Nonviolent Direct Action:
There will be a need to dramatize and continue to highlight the need for changes to how communities are policed, criminal justice reform, and gun control legislation. Sustained attention on the issues will be required in order to gain the momentum needed for permanent changes to be made.
2. Push for Special Prosecutors in Police Shooting Cases:
The Executive Order signed by New York Governor Andrew Cuomo requiring special prosecutors to be appointed in cases where law enforcement officers are involved in the deaths of civilians should be a model for legislation at the federal level. Measures like this are necessary to facilitate fair and independent investigations.
3. Take a look at existing laws that may need to be revised:
There are many laws on the books that either need to be revised or implemented more effectively. It is just as important to monitor the implementation of laws as it is to pass good laws. Policy is ultimately delivered on the street by officials that often have a lot of discretion. Careful follow up on the local level is needed to ensure compliance with the law.
4. Facilitate Police/Community Conversations:
There is not one person or organization that has all of the solutions, but what we can do is sound the alarm and elevate the importance of the problem and act as a convener, facilitator, and collaborator to try to solve the problem.
5. Pressure your local police department to adopt the recommendations of the President's Task Force on 21st Century Policing:
This thorough document addresses community policing, training, policy, building trust, and oversight among other issues. There should be a national standard for police training and police misconduct. The report can be found at this link: http://www.cops.usdoj.gov/policingtaskforce
6. Register to Vote and Require candidates at every level to address criminal justice reform including policing:
Don't be bamboozled into believing that your vote won't count or matter. The next election will decide who sits on the Supreme Court, the next Attorney General, and a million more things that will affect our livelihood. We must require candidates running for office at any level they need to be able to point to specific policies that they will spend political capital on to move the ball forward towards a more just society.
7. Push for Sentencing Reform:
A national push for Congress to pass legislation like the Sentencing Reform and Corrections Act is needed. These bills have some bipartisan support, but not enough to get it across the goal line. This particular bill would allow for judicial review of mandatory minimum sentences on a case by case basis among other things. There is a serious need to reduce or mandatory minimum sentencing, which has been a large driver of the mass incarceration epidemic.
8. Support the families of those who have been impacted by violence:
The families of victims are often forgotten after the initial flurry of attention. The cameras may go away, but the pain of losing their loved ones never does. We should all do everything that is within our capacity to support them as they endure an incredibly difficult grieving process.
9. Join a civil rights organization:
Organizations like the National Action Network (NAN), National Association or the Advancement of Colored People (NAACP), and National Urban League (NUL) have been the foundation of the past and present civil rights movement in terms of providing a sustained platform to voice issues and to fight for justice. The legacy of large leaps in civil rights advancement shows us the power and potential of what a diverse and committed coalition can do in the face of significant barriers. The challenge for these and other similar organizations will be to cultivate and sustain their vigilance in the area of social activism around holistic reform in the area of criminal justice. Even if you opt not to join an established organization, get involved by expressing your concerns at your local public meetings and other venues.
10. Continue to push for gun control legislation:
The tragedies in Dallas and Orlando are yet more illustrations of the need for enhanced gun control legislation like comprehensive background checks. We should all be inspired by the sit-in by House Democrats and continue to organize and keep the pressure on to make Congress act.
It is necessary for all of us to use whatever platform that we have to make a difference. We are all a part of a generation of who benefited from the struggles and sacrifices of those who came before us. We must pay it forward. We need everyone to get involved in whatever capacity that you can. We need all positive approaches. Any team that has a playbook with only one play or one strategy is a losing proposition so we must all engage and leave every ounce of energy and ability that we have on the field. If we do that we will create a brighter future for our society.
Marcus Bright, Ph.D. is a Political and Social Commentator
Calling all HuffPost superfans!
Sign up for membership to become a founding member and help shape HuffPost's next chapter