UPDATE: Adding Lisa Boothe (Fox News), for reasons discussed here.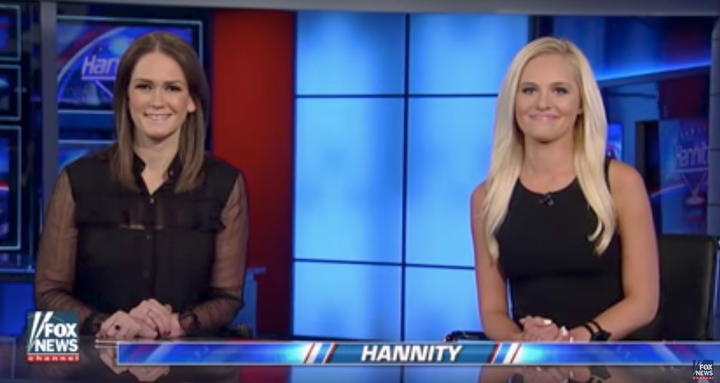 Last year was the first time that Millennials made up the same proportion of the U.S. voting-age population as the Baby Boomers. Many were expecting more of the so-called "Millennial Political Revolution" that propelled Barack Obama to the presidency, proving that young people can be a force to be reckoned with when they're compelled to act.
While our generation is coming of age in a time when politics is more similar to blockbuster premieres, there is a crop of young Americans on both sides of the partisan divide who are using their voices and platforms every day to advance policy and politics to make a difference in their communities. Without further ado, I give you the top millennials shaping politics and policy through broadcasting, listed alphabetically by first name.
Ali Vitali (NBC News): As a White House reporter for NBC News, Ali has been on fire this year. Her excellence behind the scenes has earned her several opportunities to emerge from the digital space and present live news on the network's air-time. Whether she's traveling the country or the world with President Trump, Ali's star is only rising in 2017.
Andrew Kaczynski (CNN): The guy is a research legend. While a lot of the talent CNN bought up over the last twelve months has struggled to find a place as active contributors of real news at the network, Andrew and his team have been on fire. His was a strong hire by Jeff Zucker's growing digital team.
Benny Johnson (IJR): A pioneer of internet journalism, Johnson has made a name for himself as a plugged-in Washington insider that melds pop-culture, politics and current events. His use of lists, animated GIFS and photos have made him a "clicks-king" and in his current role as the Chief Content Officer for the conservative-leaning, Independent Review Journal, Johnson leads a team of hip, young conservatives that are on a mission to Make Conservatives Cool Again.
Charlie Kirk (Turning Point USA): This 23 year-old conservative powerhouse is an author, the founder and executive director of Turning Point USA, an advocacy group for conservative millennials, and a regular guest on conservative media outlets. Kirk oversees a network of more than 1000 campuses and uses his large social media following to advance free market ideas in colleges and high schools across the country. He joined the Trump team ahead of election day to lead the campaign's "millennial assault" and continues trying to sell President Trump's vision to his contemporaries.
Eboni K. Williams (Fox News): Everyone in America knows that Eboni is now co-host of The Specialists. The industry has taken note of the new Fox News that Eboni co-hosts every weekday with Eric Bolling and Kat Timpf.It has been a huge winner in the ratings. What fewer people know that Eboni is a top attorney, having represented clients in homicide, rape, drug, sex crime, and federal offense cases.
Erin Gloria Ryan (Daily Beast): As senior editor at Daily Beast, Erin has emerged as one of the most-productive millennials in U.S. news commentary. She is perhaps the most-prolific podcaster in modern American feminism. Subscribe to her "Girl Friday" podcast on iTunes. You won't regret it.
Ezra Klein (Vox): The editor-in-chief of vox.com manages a readership of over 50 million users per month and just under half of them are millennials. For years, Klein has been a powerful figure in journalism, working as a commentator for MSNBC and previously as a columnist for The Washington Post. His work as a blogger has earned him an enormous platform which he uses to advance debate on healthcare and budget policy with candor and frank analysis that have made him a mainstay in Washington's political circuit.
Gianno Caldwell (Extra TV): He's the hardest-working talking head in conservative show business, appearing on news and entertainment programming as diverse as shows on OAN, Fox News, VH1, BET, and Extra TV, where he is a special correspondent. Gianno also had perhaps the best on-air moment this year in American punditry when he called out Richard Fowler earlier this year on Trump's tweets about Chicago. Watch the segment here.
Guy Benson (Fox News): If you turn on Fox News, you're likely to run into Benson, who is a regular contributor and Author of the book "End of Discussion." After the latest controversy surrounding Don Jr's emails, Guy has had the courage to point out the contradictions in the Trump administration's narrative that the Russian connections are all just fairy tales. That's a big deal for a conservative thought leader in 2017.
Hasan Piker (Young Turks): As the most recognizable face of the Young Turks Network, Piker has cemented himself as a progressive standard-bearer for millions of people, mostly millennials, who follow his show. From his YouTube pulpit he hasn't been shy about calling out the Trump administration for their policy stances and the Democratic Party establishment for their apparent mishandling of millennial outreach and their failure to embrace the more progressive side of the party.
Jessica DeLoach (Democrat): Since her first segment on Fox News earlier this year, Jessica has been the one Democrat millennial woman willing to engage with alt-right outlets. Backed by years of punditry on local Arkansas TV outlets, Jessica has the patience and humility to listen to her opponent and strike where effective. Her voice is a brilliant new prototype of what Democrats are going to need to be to win elections moving forward in the Trump era.
Jessica Tarlov (Bustle): In the fifteen years I've been watching Fox News, no Democrat contributor to the network has impressed quite like Jessica. As a pollster specializing in millennial women, Jessica has established herself as the best in the biz. She has the facts to cut through the rhetoric. Moreover, as more of Bustle's excellent team appears on Fox, it seems Jessica's influence goes beyond her own segments … that she's moving behind the scenes to get more millennial women on the American airwaves and that's a good thing.
Joshua Barro (Business Insider): Barro has been a well-respected political commentator for years and one of the first prominent figures to leave the Republican party after the nomination of President Trump. The 32 year old MSNBC contributor is a prolific twitter user, known for engaging with his massive following while providing commentary that has landed him on lists such as Time's 2013 best twitter feeds. Notably, Barro is counted among former President Obama's favorite columnists.
Kat Timpf (Fox News): Another fantastic podcaster, Kat has become a national name this year as co-host — along with Eboni (above) and Eric Bolling — of The Specialist, a new ratings giant in Fox News primetime. What's more, Kat is a principled libertarian who speaks her mind and isn't crazy. As big government continues to bail out big business on the backs of the millennial generation's future in America, Kat's perspective is becoming more-important than ever.
Katie Pavlich (Townhall): This Townhall.com editor, best selling author and political commentator is a frequent contributor on Fox News and a columnist for The Hill. Her political insights and direct tone make her an engaging pundit and one that never ceases to be on target. Among her many accolades she has been named one of the top 30-under-30 young professionals in the conservative movement by Red Alert Politics. In 2013, Katie received the CPAC Blogger of the Year Award from the American Conservative Union and in 2014, she was named Woman of the Year by the Clare Boothe Luce Policy Institute.
Karina Gutierrez & Marcella Aburdene (The Swamp Podcast): Earlier this year The Swamp emerged with high-expectations with one of the best, most-timely brands in American podcasting. Their format is refreshing, with Karina as a pro-business Republican immigrant of Mexican and Cuban heritage and Marcella as an anti-establishment leftie with roots in Germany and Palestine. Diversity of thought, perspective, and the fact that it's one of the few women-run podcasts in politics make The Swamp the best show ever to come from upscale Georgetown. Subscribe on iTunes and expect big things from Karina and Marcella in 2017.
Kristin Fisher (Fox News): As many of her colleagues at other networks in the White House press corps become activists in the briefing room, Kristin stays on point, reporting just the facts with none of the fluff to Fox News audiences. It's reporters like Kristin that will keep Fox News at the top as the Most Watched, Most Trusted outlet in America during the Trump presidency and beyond.
Kristen Soltis Anderson (Washington Examiner): This pundit, pollster, columnist extraordinaire has had a meteoric rise as one of the architect's of the Republican party's millennial outreach. Not afraid of going into the wolf's den, you can find Soltis Anderson as a regular guests on Fox, CNN, MSNBC and HBO. Her penchant for pairing hard facts and data with a crisp and finely-honed narrative make her a dynamic communicator, as evidenced by her column and podcast in the Washington Examiner.
Laura Bassett (HuffPost): After covering the plight of women on virtually every continent but Antarctica, Laura has been appearing on MSNBC with some frequency. This is good news. Laura is fearless. Frankly, the more unapologetic millennial women there are appearing on U.S. cable news shows, the better it is for our country.
Matt McDermott (Whitman Insight Strategists): The millennial pollster that has as many fans on twitter as he does haters, has built a name for himself as an ace on polling, data and messaging. His regular, witty commentary on policy and politics have earned him a large and devoted following. A self-proclaimed member of "The Resistance," McDermott has not been an outspoken critic of the Trump administration for the past 8 months, and shows no signs of slowing down.
Meghan McCain (Fox News): She has become one of the most-formidable experts on politics and foreign policy who has ever been aired on the Outnumbered couch. Last night Meghan kept rising at Fox News when she sat in for Dana Perino on The Five. Hers was a stellar performance with fairness and balance.
Symone Sanders (CNN): There are no segments I look forward to more anywhere on television than when Symone sits for an interview. Symone is tough, but real. In a time when truthful, authentic, realistic progressives are unicorns on every major cable network, Symone is holding down the fort. I look forward to seeing her on air for years to come.
Steven Cruz (Koch Network): Along with regular appearances on television and radio, Cruz is in charge of educating and mobilizing key constituencies by crafting the Koch Network's online presence and articulating their libertarian/free-market policies into a clear, connected, and compelling narrative online. The 26-year-old, Koch network veteran began his career with The LIBRE Initiative, before taking on his newest assignment, overseeing the powerful political network's digital outreach efforts. Crafting messaging for the Koch brothers is a big job under normal circumstances but particularly with a new administration.
Tomi Lahren (Great American PAC): No millennial on American has risen as quickly from obscurity in the last twelve months as Tomi. Starting out on The Blaze, it was Tomi's pro-choice position that landed her in hot water. Now she's a top spokesperson for the massive Donald Trump super PAC where she speaks her mind on-air all week, every week.
Popular in the Community