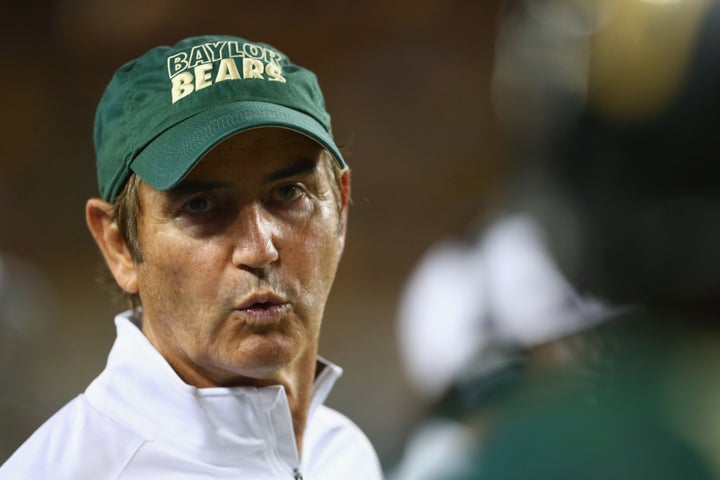 Baylor University is finally waking up to these facts: For years, there was a massive, systematic failure within the Baylor football program when it came to issues of sexual assault. When faced with assault accusations against its players between 2012 and 2015, Baylor's football program repeatedly failed to properly report the misconduct as lawfully required by Title IX. To coaches and staff, player assaults against women was a taboo topic, not a critical concern. 
Their assessment of Baylor football's sexual assault response was anything but, with these eight lines providing the most damning condemnations of the program. 
1. Baylor football's coaches put the safety of  women on campus at-risk
The choices made by football staff and athletics leadership, in some instances, posed a risk to campus safety and the integrity of the University.
2. Baylor football coaches inappropriately met with accusers
In those instances, football coaches or staff met directly with a complainant and/or a parent of a complainant and did not report the misconduct.
3. Baylor football coaches worked to discredit sexual assault accusers
Football staff conducted their own untrained internal inquiries, outside of policy, which improperly discredited complainants and denied them the right to a fair, impartial and informed investigation, interim measures or processes promised under University policy.
 4. Baylor football simply dismissed alleged offenders or helped them transfer to another school instead of reporting them 
In some instances, the football program dismissed players for unspecified team violations and assisted them in transferring to other schools.
5. Baylor football coaches and staff allowed their players to act with impunity
[Baylor football coaches] reinforced an overall perception that football was above the rules, and that there was no culture of accountability for misconduct.
6. Baylor football's disciplinary process protected players from university and law enforcement investigation and punishment
This informal system of discipline involves multiple coaches and administrators, relies heavily upon individual judgment in lieu of clear standards for discipline, and has resulted in conduct being ignored or players being dismissed from the team based on an informal and subjective process.
7. Baylor football coaches and staff didn't care to find out why sexual assault complaints against players were so prevalent
Further, no attempt was made to understand the root causes of behavior or steps necessary to prevent its recurrence.
8. Baylor football's leadership completely failed women on campus 
Leadership in football and the athletics department did not set the tone, establish a policy or practice for reporting and documenting significant misconduct.
REAL LIFE. REAL NEWS. REAL VOICES.
Help us tell more of the stories that matter from voices that too often remain unheard.
BEFORE YOU GO
PHOTO GALLERY
Surviving In Numbers: Stories Of Sexual Assault Survivors