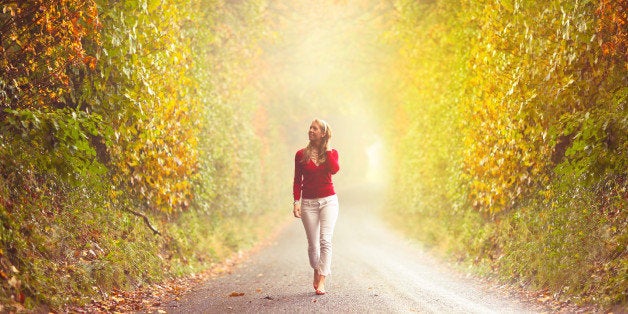 For years I've been noticing my mood going down drastically just before the winter. I felt like sleeping through the whole morning, afternoons suddenly became uncomfortably long, I was cold, got upset too quickly and sometimes without any real reason, I put on a melancholy coat. My solution was usually to escape to a super-hot tropical destination. Today I know that the autumn blues (or rather dreadfulness) can be effectively bypassed by introducing just tiny changes in our daily lives.
It's quite natural to feel a lack of energy when winter approaches. Nature is preparing for rest and probably has the same intentions as us. In an ideal scenario, we would be preparing for hibernation as is a common practice for most animals. Unfortunately, modern society is not aligned with the laws of nature and is acting on the opposite. During this period, most companies are occupied by stressful planning, executives are biting their nails as they hope last-minute sales will save their annual plans, employees are working long hours preparing for the next season ... And after the long day when we finally come home, we usually have only two options: more obligations or loneliness.
Darkness in the middle of the day doesn't do anybody any good. It promotes fatigue. It deprives our willpower and limits our choices for spending quality leisure time. But when you think more thoroughly -- at the end of the day, it's us who have the scissors in our hands and not nature. It depends on us whether we will be left to exhaustion or will be rather actively looking for opportunities to fill ourselves with both positive energy and vigor.
If you are sick and tired of being in a bad mood and worn down, try some of the methods I personally use for bypassing the autumn blues.
1) When you can, catch some sun.
Sunlight is the fountain of energy. Usually in cities we don't get much of it, but be aware of the law of conversion. Even if you are stuck with fog, it is most likely that the sun is spoiling the mountain tops. So at least at the weekends, stay away from the sofa and get out of the city. You won't believe how great you will feel by being a part of extraordinary nature's makeovers. Fresh air, beautiful views and intense colors will fill your heart for the whole week to follow.
2) Make a list of your most popular songs and record them on a disc.
Stay away from sad lyrics and choose uplifting melodies. Listen to swaying music in the morning when you are preparing coffee, get amused with it when you commute, or dance to it during afternoons with your children. You will be surprised at how the right rhythms can uplift the level of your energy.
3) Every night, before you go to sleep, write down on a piece of paper three things you can be grateful for that day.
Did you get help from a stranger when you tried to reach a jar of pickles from the top shelve? Did you unexpectedly find 5 cents? Did your kiddo tell you how much he loves you? Was your boss too busy to talk about the weekly report that's due?
When you start noticing, you will find a myriad of reasons for gratitude. And when you sincerely appreciate what you have in your life, you improve your vibrations and inevitably attract more wonderful things in your life.
4) Have a meal that is not on your weekly menu.
If you haven't tried it for a while, you will be surprised of how delicious typical autumn food like sauerkraut or porridge can be. The food that surprises us stays in our mouths for longer and when we also enjoy it, the memories will easily intrigue our good mood.
5) Surround yourself with cheerful and energetic people.
I know it sometimes seems like there are no such people left on our planet but this certainly isn't true. One option is to actively look for extracurricular activities, which are known to uplift our mood (like mountaineering club, folklore group, theatrical society...).
If you are not too fond of active involvement, the internet is a great alternative and such a great resource for making connections. You can uplift your mood by joining one of the Facebook's groups that support positive thinking. You can also subscribe to weekly email tips from the sages you admire. Or you can join one of the many online mastermind groups that will not provide you just with new knowledge, but also with a group of new friends or supporters. The best supporter can also be you coach or personal mentor.
6) Regularly upgrade you knowledge.
If someone would propose this to me 10 years ago, I would probably think he dropped from the moon. I believed I spent enough time sitting behind study benches and I wanted to focus more on experiences. As my choice of university wasn't the best one, I in the process started hating study. Later on, when I finally found what my passion was, my views changed completely. As I learned about things that excited me and supported my personal growth, I was joyfully swallowing each line I read and new insights led to a complete makeover of my mood.
It is also very easy to educate yourself in modern times. There are tons of inexpensive or even free online courses for almost any interest. All you need is to find a topic that intrigues you. Write three or four key words about it into Google Search and you will get access to tens of different possibilities to choose from. Try it, it is fun!
7) Go to the movies, listen to an exciting audio book or visit a spa. Do whatever fun stuff you want and spoil yourself.
It's important not to give in to procrastination but to just go and do something out of your daily routine. If you don't find a companion who would enjoy these activities with you, all you have to do is ask. Publish a short post on your Facebook profile, write an SMS to your old friends, talk to other moms when you pick up your kiddo from the kindergarten or make a casual conversation as you wait in line at the local pharmacy. Do not lean on the same people all the time. Making new friends is always bringing joy, so it should become common practice.
8) Volunteer or do a good deed.
Helping others works miraculously on our mood. It doesn't take much; even just paying attention to someone and giving him a glimpse of tribute will change your mood drastically. So, next time a stranger passes by, look into his eyes and say a sincere welcome. Or donate a happy smile ... When you are at a petrol station, help if you see someone struggling with opening the lid... Open-heartily transform yourself into a rescue boot to spice up the game for your youngster... Start growing a mustache and support the Movember tribe... Let your imagination go wild and do what suits you most.
9) Fantasize. But never about bed scenarios. When thinking "What if...?" focus on positive outcome.
You can pretend you are in the tropics, on a beach, drinking your favorite cocktail and licking the most delicious ice-cream. Flip through photos of desired destinations or open Google Maps to take a virtual walk around the distant streets. If this is too extreme, focus on Christmas time. Don't try to ignore it but rather make best use of the collective energy that comes from the concept of the holidays. Play with gift ideas, decorate your house with the help of your kiddos and recall a memory of cinnamon scent from the deliciously sweet mulled wine.
Yummy! Hasn't your mood immediately improved?
Do you practice any of my proposals? Share your thoughts in comments below and don't hesitate to add your ideas and experiences for overcoming the autumn blues.