Sen. Al Franken (D-Minn.) announced Thursday he will step down from office after multiple women accused him of sexual misconduct.
Franken said he will step down in "coming weeks."
In a speech on the Senate floor, Franken denied wrongdoing, but said he believes he can no longer do his job effectively.
"Over the last few weeks, a number of women have come forward to talk about how they felt my actions had affected them. I was shocked. I was upset," he said. "But in responding to their claims, I also wanted to be respectful of that broader conversation, because all women deserve to be heard and their experiences taken seriously. I think that was the right thing to do. I also think it gave some people the false impression that I was admitting to doing things that I in fact haven't done"
Franken said he believed an investigation by the ethics committee would have cleared his name.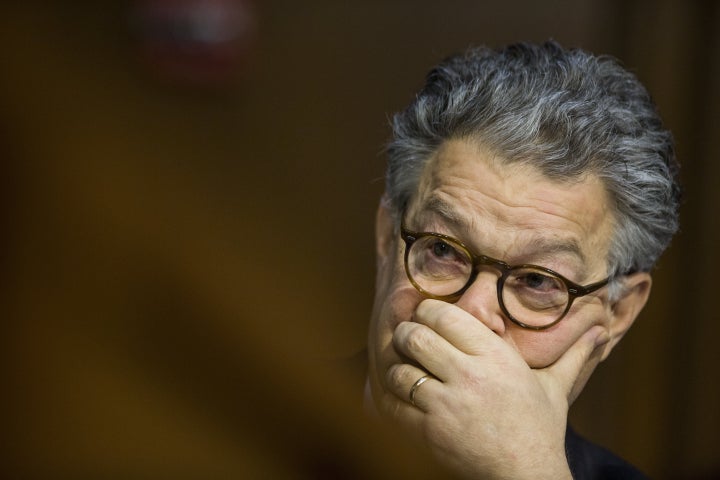 "I am proud that during my time in the Senate I have used my power to be a champion of women. And that I have earned a reputation as someone who respects the women I work alongside every day. I know there's been a very different picture of me painted over the last few weeks, but I know who I really am," he said. "I know in my heart that nothing I've done as a senator, nothing, has brought dishonor on this institution."
Franken also raised the multiple allegations of sexual assault against President Donald Trump and Alabama Senate candidate Roy Moore, and that neither has faced consequences for those allegations.
"I of all people am aware that there is some irony in the fact that I am leaving while a man who has bragged on tape about his history of sexual assault sits in the Oval Office and a man who has repeatedly preyed on young girls campaigns for the Senate with the full support of his party," he said.
Since mid-November, eight women have accused Franken of inappropriately touching them or forcibly kissing them. Several of the women have described Franken grabbing their buttocks or breasts without their consent.
"I believe it would be better for our country if he sent a clear message that any kind of mistreatment of women in our society isn't acceptable by stepping aside to let someone else serve," said Sen. Kirsten Gillibrand (D-N.Y.).
"I consider Senator Franken a dear friend and greatly respect his accomplishments, but he has a higher obligation to his constituents and the Senate, and he should step down immediately," said Senate Minority Leader Chuck Schumer (D-N.Y.).
Minnesota Gov. Mark Dayton (D) is expected to appoint someone to fill the senator's seat until the next statewide election in 2018.
The first accusation came from Leeann Tweeden, an anchorwoman and sportscaster. Tweeden wrote in a post at KABC on Nov. 16 that during a USO tour in December 2006, Franken aggressively kissed her while they were rehearsing a skit he'd written. Tweeden was emceeing the event, which Franken, then still working as a comedian, was headlining.
"He came at me, put his hand on the back of my head, mashed his lips against mine and aggressively stuck his tongue in my mouth," Tweeden wrote. "I immediately pushed him away with both of my hands against his chest and told him if he ever did that to me again I wouldn't be so nice about it the next time."
"All I could think about was getting to a bathroom as fast as possible to rinse the taste of him out of my mouth," she went on. "I felt disgusted and violated."
Later, as Tweeden was sleeping on the flight home to Los Angeles, Franken grabbed her breasts and had a photo taken.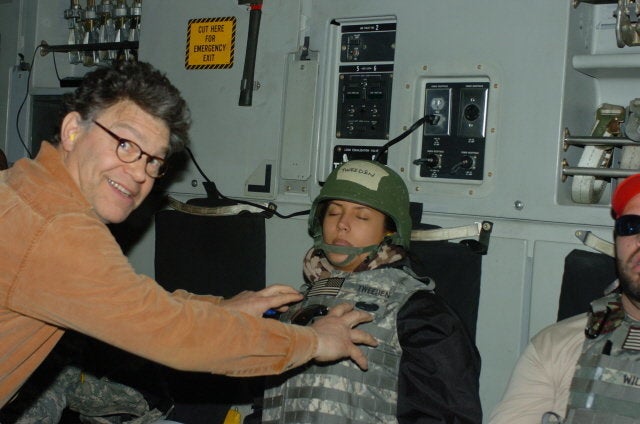 Franken, who was first elected to the Senate in 2008, issued an apology soon after Tweeden went public with her story.
"I certainly don't remember the rehearsal for the skit in the same way, but I send my sincerest apologies to Leeann," he said in a statement. "As to the photo, it was clearly intended to be funny but wasn't. I shouldn't have done it."
In a later statement, Franken again apologized and said he would "gladly cooperate" with an ethics investigation.
On Nov. 20, a second woman, Lindsay Menz, told CNN Franken groped her butt while she posed for a photo with him at the Minnesota State Fair in 2010.
"It wasn't around my waist. It wasn't around my hip or side. It was definitely on my butt. I was like, oh my God, what's happening," she said.
And two days later, two more women told HuffPost about similar encounters with Franken. One woman said he touched her backside while posing for a photo at a 2007 event hosted by the Minnesota Women's Political Caucus. The second woman said he groped her at a 2008 fundraiser at the Loft Literary Center in Minneapolis.
"I shook his hand, and he put his arm around my waist and held it there," said the second woman. "Then he moved it lower and cupped my butt."
"It's difficult to respond to anonymous accusers, and I don't remember those campaign events," Franken told HuffPost in response to the allegations.
On Nov. 30, an Army veteran said Franken cupped her breast in 2003 while he was visiting troops in Kuwait with the USO. That same day, an unnamed former elected official said Franken attempted to give her "wet, open-mouthed kiss" during a live taping of his radio show in 2006.
In early December, a seventh woman — a former Democratic congressional aide — said Franken tried to kiss her forcibly during a taping of his radio show, and told her that doing so was his "right as an entertainer." An eighth accuser then came forward claiming Franken groped her during an inauguration party in 2009.
Franken had said previously at a press conference in November that he intended to stay in office.
"I've let a lot of people down," Franken said. "To all of you, I just want to again say I am sorry."
This story has been updated with quotes from Franken's speech on the Senate floor.
Support HuffPost
The Stakes Have Never Been Higher
Popular in the Community