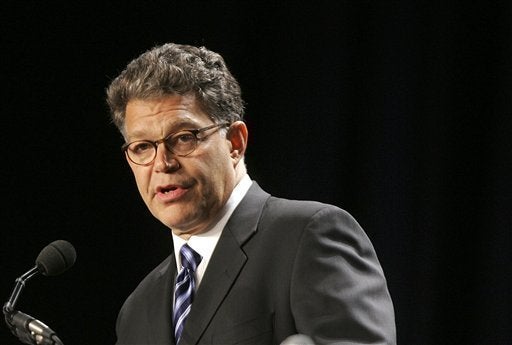 If character were oil, Norm Coleman would be a quart low.
He has lost the Minnesota Senate race -- well, he lost it five months ago. He also lost the recount. And the lawsuit. You see a trend here? Norm, buddy, you lost. As the old country song says, "How Can I Miss You if You Won't Go Away?" But Norm won't go away, because his desire to serve powerful interests in Washington is stronger than his love for his adopted state.
Democrat Al Franken has been a class act through all of this. Like most Minnesotans, Al is patient. (I guess you've got to be when you have about nine months of winter.) But this is getting ridiculous. Minnesota has been without a senator for 101 days -- 101 days in which Moorhead, Minnesota was threatened by a disastrous flood. 101 days in which over a trillion dollars of taxpayers' money has been spent. 101 days in which the Children's Health Insurance Program was revamped. 101 days in which energy, health care, education and national security have been debated.
101 days during which Minnesota has had half of its constitutional share of senators. That truly is taxation without representation. To be sure, Sen. Amy Klobuchar has done yeoman's work (yeowoman's? Yo, Woman!?), but the North Star State does not deserve half the representation as, say, my beloved Lone Star State. (Quick aside, you probably already knew Texas was the Lone Star State, but who knew Minnesota was the North Star State? I thought it was something like the Nutmeg State, but Al Franken corrected me. If Al were already in the Senate, everyone would know that Minnesota is the North Star State. I think.)
Every single ballot has been reviewed. The five-person State Canvassing Board (which has only one member who's a Democrat) ruled that Franken won -- unanimously.
Then a three-judge panel conducted an exhaustive, seven-week trial. The evidence, if it were all stacked up, would stand 21 feet tall. The judges ruled -- again, unanimously -- that Franken won and that the election was fair. "The overwhelming weight of the evidence," the judges ruled, "indicates that the Nov. 4, 2008, election was conducted fairly, impartially and accurately." The result? The court ruled that Al Franken "received the highest number of votes legally cast in the 2008 United States Senate general election and is therefore entitled to the certificate of election." For good measure, the court even ordered Coleman to pay some of Franken's legal fees and court costs.
Coleman, through his attorneys, says he will appeal to the Minnesota Supreme Court. Should Franken prevail there -- and experts think he will -- he may take his case to the US Supreme Court, where there is at least a proven record of stealing elections from a guy named Al who got more votes.
Even if Coleman takes his case to the US Supreme Court, Franken should be seated in the Senate. Minnesota law calls for the governor to certify an election once all state appeals are exhausted. Cynics think the state's Republican governor, Tim Pawlenty, may refuse to certify the election even if the State Supreme Court rules for Franken, in order to ingratiate himself with the right-wing of his party for a potential presidential bid. But, let's be honest, if your party has already decided that you're slightly less qualified than Sarah Palin to be VP, they're not going to make you president.
In the end, this is about power. Republicans don't want the Democrats to have 59 votes in the Senate. But the American people do. Like the 2000 presidential recount, this is a contest between the will of the American people and the Republicans' lust for power. Republicans pulled off a judicial-sanctioned coup d'etat in 2000, giving us the worst president in a century. Here's hoping Minnesota's reputation for fairness is justified. Five months after election day, it's time -- way past time, actually -- to allow Senator Al Franken to start job the people of Minnesota elected him to do.
REAL LIFE. REAL NEWS. REAL VOICES.
Help us tell more of the stories that matter from voices that too often remain unheard.