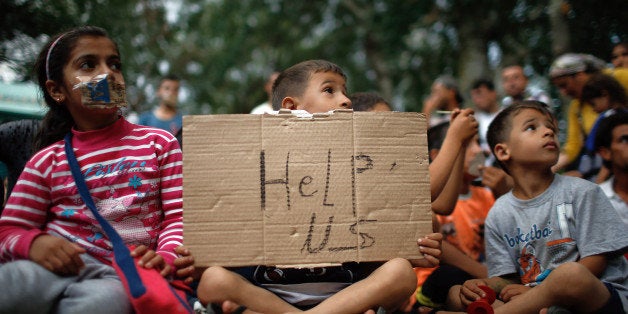 As experts meet in Bangkok this week to further develop the UN's set of indicators to measure progress against its global Sustainable Development Goals (SDGs) for the next 15 years, here in the United States, several important events will echo the importance of accurate and comprehensive data to ensuring the well-being of children everywhere.
November 8th will mark the tenth anniversary of the landmark Assistance for Orphans and Vulnerable Children in Developing Countries Act of 2005 (PL 109-95). On the same day, churches across the country will celebrate Orphan Sunday, On November 20th we will observe the global Universal Children's Day, and on November 21st, National Adoption Day. Each of these events is a powerful reminder that even as we celebrate the millions of children who are healthier, safer and more hopeful today, there are millions more who suffer unheard, unseen, and forgotten.
Why does this matter?
Consider Theo, a 12-year old boy living in an orphanage just outside of Port-au-Prince, Haiti. Theo was separated from his family as a result of the 2010 earthquake. He was seven years old at the time. He still does not know if all of his family members died or if maybe someone is still looking for him. He doubts that anyone who knows him is aware that he is now in an orphanage - one that is, like him, neither registered nor taken into account.
Theo's situation is not unique. He is one of millions of children who live in orphanages around the world. Low estimates indicate that as many as eight million children may live in such places, though in fact, we are not sure exactly how many children live in unregulated residential care. Many orphanages are unregistered and most countries lack systems to routinely collect and monitor data on institutionalized children.
The world's most vulnerable children - those living in institutions, on the street, trafficked or separated from their families as a result of conflict, disaster, forced labor, or disability have literally fallen off the world's statistical map. Given the inextricable links between data, advocacy, and strategic action, this kind of invisibility in the data world has real life repercussions for millions of children.
The fact is, we measure what we care about and we care about what we measure.
To date, the millions of children living outside of families and households have not made it on to the global agenda, but it's not too late to consider them and ensure that they're made visible on our data maps and in our policies and action plans.
In a stunning and much-welcomed announcement at the UN SDG Summit in New York in September, Facebook founder Mark Zuckerburg announced a plan to help the United Nations link refugee camps to the Internet. Just imagine how that might help to mobilize resources to reunite children and families separated by the world's many conflicts and disasters.
There are many encouraging examples as to how data and technology can be harnessed to effect real change in the lives of real people experiencing real hardship. For instance, over the past 50 years, child mortality has dropped by 70 per cent worldwide. In the past two decades alone, child deaths have fallen dramatically, plummeting from 12 million in 1990 to under 6 million today.
This rapid progress is largely due to high-impact interventions and tools for child survival, notably new vaccines and improved health care practices. The "child survival revolution" was built on clear goals, agreed targets and indicators that fueled strategic and coordinated action.
Nevertheless, nearly 230 million children under the age of five - 45% of the global under five population - have never had their births registered. While many of us who've grown up in industrialized nations may take our birth registration (and legal identity) for granted, nearly half of children under five in less developed countries live without this basic security. This is despite Article 7 of the Convention on the Rights of the Child that specifies that every child has the right to be registered at birth without discrimination.
The U.S. Government has made commitments to increasing the number of births registered, reducing the number of children living outside of protective family care, and reducing the number of children experiencing violence, exploitation, abuse and neglect.
How much money has the US Government channelled towards such laudable goals? We don't know. It's not measured. And as we near the tenth anniversary of the Orphans and Other Vulnerable Children in Developing Countries Act on November 8th, the US Congress might consider reviewing the effectiveness of this important piece of legislation.
As Bill Gates once said, "How you gather, manage, and use information will determine whether you win or lose."
Are we preparing a win for the world's most vulnerable children?
Imagine what child advocacy organizations, the UN, Mark Zuckerburg, Bill Gates and the US Government - among others - could do if they decided to put data to work and allow the world to truly see these invisible children.
Gillian Huebner is director of policy and advocacy for Lumos USA in Washington, D.C.