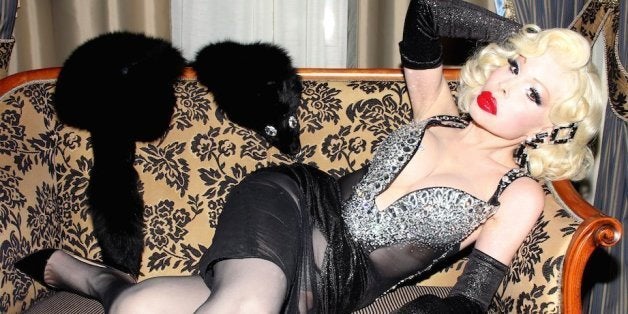 This is the twenty-eighth installment in HuffPost Gay Voices Associate Editor JamesMichael Nichols' 30-part series "After Dark: NYC Nightlife Today And Days Past" that examines the state of New York nightlife in the modern day, as well as the development and production of nightlife over the past several decades. Each featured individual in this series currently serves as a prominent person in the New York nightlife community or has made important contributions in the past that have sustained long-lasting impacts.
HuffPost Gay Voices believes that it is important and valuable to elevate the work, both today and in the past, of those engaged in the New York nightlife community, especially in an age where queer history seems to be increasingly forgotten. Nightlife not only creates spaces for queers and other marginalized groups to be artistically and authentically celebrated, but the work of those involved in nightlife creates and shapes the future of our culture as a whole. Visit Gay Voices regularly to learn not only about individuals currently making an impact in nightlife, but those whose legacy has previously contributed to the ways we understand queerness, art, identity and human experience today.
The Huffington Post: You're a legend in the NYC nightlife scene -- what did your journey to becoming such a cultural fixture entail?
Amanda Lepore: It all started out as a job -- I love dressing up and I also had a make-up job in the late '90s after Limelight closed, but I was still dancing at Twilo. People would want to take pictures with me and I would be dressed up anyways so it seemed better to be in a nightclub.
My first night out my roommate took me, on my birthday, to Disco 2000. It was there that Michael Alig hired me to start working on a Wednesday. Immediately after that I was hired the following Saturday at a club called Building, and then the following week I was on "The Joan Rivers Show" with Leigh Bowery, James St. James and Michael.
At that time you were likely one of the first mainstream representations of transgender people in the media. Were you thinking about it in those terms when it was happening?
I don't think so -- I was just really scared. I was really shy when I started so I didn't really think about making an impact, it was more just about getting through it [laughs].
I think educating people came more later, with Facebook and that sort of thing. A lot of really young transgender people who don't necessarily go out would message me looking for advice and tell me that I was a role model. It became more like that as time went on -- nightlife is kind of a weird environment for that sort of thing.
In retrospect, what are your feelings surrounding that time period? How significant was it to defining who Amanda Lepore is today?
Well it really got a lot of attention -– there wasn't any Internet or Facebook back then so you would get known more through the talk shows. I didn't really set out to do that and I didn't really have any ambitions -- it was more just the cards that I was given. But it did make a really big impact. When I look back on "The Joan Rivers Show" I think I was more natural than the others... in terms of personality [laughs]. People could relate to me, whereas I think the other people involved were more over the top and trying to be outrageous. I think that made me stand out.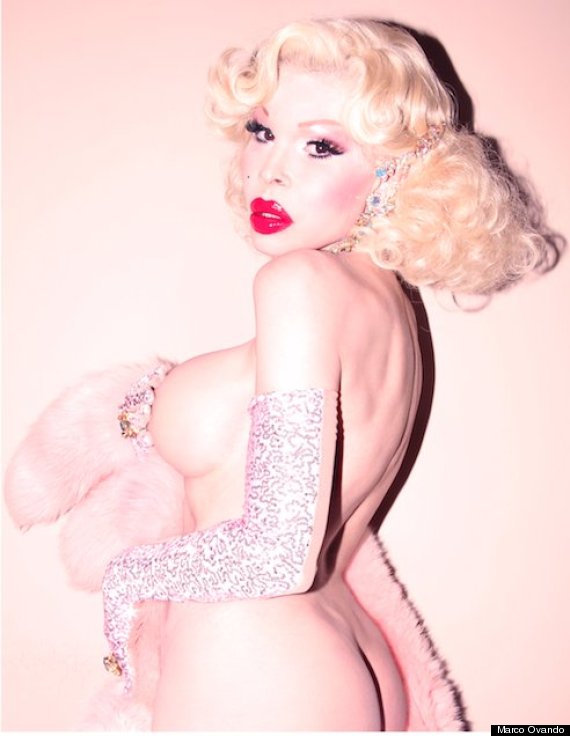 How has your career taken off since then?
I definitely did a more underground scene before David LaChapelle photographed me in the last '90s. But David made me world famous in a way. Those photos could have been disastrous but people loved it and the pictures for years. It was kind of an alternative look to what was going on -- I didn't really think about modeling or anything because I was tiny with breast implants, lips and all of that stuff. It was kind of like an anti-model thing. Regardless, it was successful.
At first it felt like I was more just unusual and then it started getting accepted by the fashion world and art community. People started to think about me as an art piece. Of course, there was some backlash where people didn't like me -- but the right people did. I started thinking differently when respectful articles were being written about me.
Throughout your time in the scene how have you seen the Internet reshape and change the structure of nightlife?
Definitely at Disco 2000 and everything before the Internet the crowds were a lot more mixed -- it became more segregated. Gay people were a big thing because there wasn't Grindr or the Internet to hook up with so you would go out. Everybody would meet people when they went out. Now there has to be some sort of entertainment in clubs for people to come out, which is very different. Things also used to be more crowded; after the Internet big clubs would open and promoters couldn't fill them up. With the exception Brooklyn and the big raves there everything successful seems to be pretty small and segregated.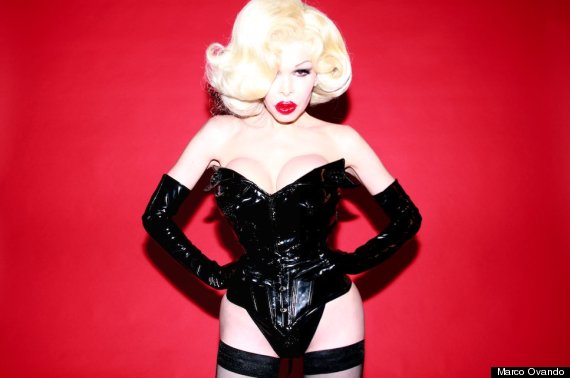 How did you start making music? Are you working on anything right now?
Music kind of went together with everything else. I initially dabbled in it a little bit but it wasn't until I met Cazwell, since he was in the electroclash scene and rapping, that it became a thing. He saw me partying one day with Pamela Anderson, Jocelyn Wildenstein and David LaChapelle and decided that he was going to help me. At first it seemed kind of impossible to learn the lyrics but he helped me a lot. Then he started making more stuff and actually helped me with a lot of my album. I definitely wouldn't have been able to do that when I first started; I just didn't have the confidence.
When I started singing going out became a lot more fun for me. I got to make outfits and I would be on a proper stage so I felt like I was giving more -- I was actually doing something. It went over really well and I still do it now.
I just think it's much better to do something in nightlife than to just sit there with a bottle. Taking pictures with people is definitely a big thing for me but I think it's better to perform as well.
Right now I have all of the material for a new album but I haven't been in the studio yet. I'm also working on a book with a ghost writer who has been interviewing me and people who've been in my life. It's sort of like a memoir and focuses on how to succeed when the odds are against you.
When you were first starting out in the New York nightlife scene did you ever think that you'd get to the point that you're at today?
No. My initial thoughts were, "Oh wow, this is a really great advertisement to get a husband." I really thought that I would just get married -- I had my sex change by the time I was seventeen and I got married right after that.
I never knew it would get as big as it is now, but I also think that's part of my success... because I didn't really care. It sort of just came to me and I wasn't in a hurry to do anything. I kind of always did my own thing; sometimes I would be in and other times out. I'd be busy at times and not busy other times. I've always been very go with the flow [laughs].
What do you see as the value of nightlife for queer artists and performers?
Nightlife is definitely good for people that are different. There are a lot of people that self-destruct in it because liquor and drugs are around, but there are people who are really disciplined and artistic and express themselves, going on to be really successful. A lot of people who are outcasts in some way come together in nightlife. Whether it's good for you or not depends on what you're like. If you're respecting yourself, dressing up and paying your rent then it's obviously good for you. But if you're not working or messing up your real job then it could be the opposite. But I do think that a lot of valuable creativity definitely comes out of nightlife.
When you first entered nightlife did you feel like one of those outcast people that you referenced?
Definitely. I was a dominatrix at first and when I was married my husband didn't want me to work and didn't want people to know that I had a sex change. So when I did the dominatrix stuff I would have to make up stories, like that I had a daughter or I was going to college -- extremely elaborate stuff. When I first started working there I came across a lot of kids with similar experiences as me, like bullying. Being an outcast is definitely related to that, I just had a different experience. There weren't really any people with sex changes on the scene at that time either.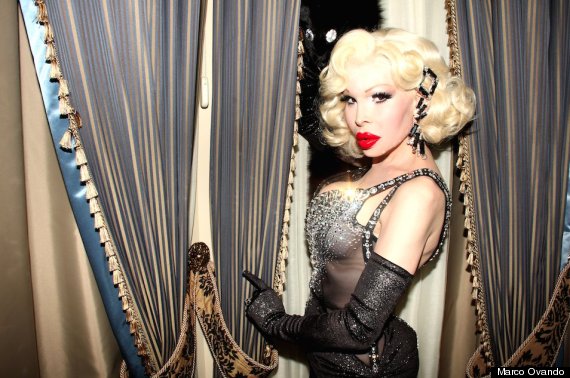 What is next for Amanda Lepore?
I definitely want to keep on performing and doing what I'm doing now, and I'd like it all to be bigger at some point -- more elaborate shows. I recently did a Spanish movie that's going to be on Netflix that I with Joey Arias and Sophia Lamar. I'd really like to do more film, video and that sort of thing.
What parties and gigs are you currently engaged in?
I've been away recently but it's all changing a bit right now. I'm going to start a new party with Brandon Voss and Kenny Kenny at The Crystal Palace -– we're celebrating my birthday there Dec. 6. Hopefully I'll be there often since I've been away so much [laughs]. I've also started doing Frankie Sharp's Westgay on Tuesdays.
What do you hope to see as the future of nightlife in NYC?
I hope that it goes back to being more mixed and not quite so segregated. I think it's so much more interesting and fun to have different scenes together -– people play off each other. I'd really love to see that.
For more from Amanda Lepore head here visit the icon's website. Missed the previous installments in this series? Check out the slideshow below.
Popular in the Community