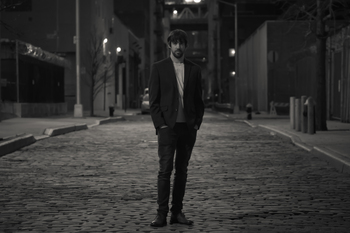 David Crowell is a Brooklyn-based composer and multi-instrumentalist who creates rhythmically complex music with an easy, almost floating quality to it. His work has been performed at numerous venues, such as the Museum of Modern Art and Carnegie Hall. As a performer, he tours as a member of the Philip Glass Ensemble, traveling the world from Houston to Budapest to play such Glass classics as Koyaanisqatsi and Einstein on the Beach.
His band Empyrean Atlas performs Crowell's music, and has recently finished recording their second album. His work with Empyrean Atlas has an African-music inflected style that also brings to mind Ornette Coleman's record Dancing in Your Head.
Crowell has an upcoming performance of a new work entitled Celestial Sphere, which was commissioned by Ian David Rosenbaum and a consortium of percussionists. Rosenbaum will perform it on March 23rd at the Philips Collection in Washington D.C.

Crowell also has an upcoming concert on March 24th at Roulette in Brooklyn, performing with his band Empyrean Atlas and sharing the bill with Victoire, Build & itsnotyouitsme.
I interviewed him while he was traveling and performing in Berlin.
JG: What are you doing with your compositions? What are you working on?
DC: My major project right now is finishing the second Empyrean Atlas album. At this point, it's close to done and I'm really happy with the result. For the new record I switched from saxophone to guitar, so the instrumentation is three electric guitars, bass and drums. The music is inspired by the work of Zimbabwean artists Thomas Mapfumo, The Four Brothers, and Oliver Mtukudzi (primarily the album Tuku Music), as well as the composer Steve Reich and the saxophonist/composer Steve Coleman. The common thread with all these musicians is an intense focus on rhythm, unique melodic phrasing and counterpoint. The goal was always to create music with an original sound, though, even if it's interesting to analyze influences in hindsight.
In addition to Empyrean Atlas, I'm working on a new commissioned piece for the German ensemble SPARK, who released their latest album on Deutsche Grammophone. This group features two virtuoso recorder players. They're very popular in Europe, performing 60+ concerts a year, and the piece I write will become part of their touring program in 2015. I'm excited to work with them!
Lately I've also been conceiving of some new music for multiple alto/soprano saxophones & flute, which I would play and record myself. I've done some of this in the past, including a piece, Eucalyptus (for alto saxophones + electronics), that I performed several times at the New York Museum of Modern Art in 2011. I often record and mix my own projects. It's interesting to investigate how engineering and mixing decisions shape the final product.
JG: What are you up to with the Philip Glass Ensemble?
DC: Right now the Philip Glass Ensemble is in Berlin, and we are getting ready to perform the final run of Einstein on the Beach. In the past two years, we've been all over the world with this production -- Ann Arbor, Montpellier, Reggio Emilia, London, Toronto, Brooklyn, Berkeley, Mexico City, Amsterdam, Hong Kong, Melbourne, Los Angeles, Paris, and now finally, Berlin. Due to the enormous complexities and finances of producing Einstein on the Beach, this is the last time the original creators -- Robert Wilson, Philip Glass, and Lucinda Childs -- will ever be involved. It's been an honor working with them, and the rest of the company, to bring this masterpiece alive one last time.
Then later in the month, we're going to Budapest for a performance of La Belle et la Bete, Philip's score to the classic 1946 Jean Cocteau film. And coming up in a few months is a performance of Music in 12 Parts, in Los Angeles.
JG: Tell me more about Eucalyptus, and what is was like working on a project at the MoMA and performing there.
DC: The MoMA asked me to do several performances in collaboration with Carlito Carvalhosa's exhibition Sum of Days. One of Carlito's primary goals for the installation was to alter visual and audio perception as a method of generating new insight, to be accomplished by full immersion in his environment. I felt that concept was something I could relate to musically.
So in thinking about the piece, I started with the physical space of not only Sum of Days, but the MoMA itself. The atrium, where the exhibition was installed, reaches from the second floor all the way to the top of the museum, about six floors high. I imagined a sound that would fill up the space, and hit on the concept of consciously utilizing the overtone series. So, at the beginning of the piece you hear two sets of the same three note chord overlapping, but you also hear a number of prominent pitches above and below those notes. They are manipulated in subtle ways electronically to enhance the effect. The sound is a bit otherworldly, a big sound for a big space!
JG: What is it like working with Philip Glass?
DC: It's been amazing, a great learning experience. I've been touring with the Philip Glass Ensemble since October 2007 -- although compared to founding member Jon Gibson, who has performed Philip's music since 1968, it's only a drop in the bucket! Or Michael Riesman, our musical director/keyboardist, who joined in 1974 and is completely integral, on many different levels, to the presentation of Philip's music. Because of low turnover in the ensemble, specific performance practices have developed between a small group of people. Some of it is represented notationally, but a large part of it isn't. It's quite a special thing.
The repertoire we play, with a few exceptions, ranges from 1968 to the early 80's and is composed specifically for the ensemble, or an augmented version of the ensemble. While there are many great pieces, including Einstein on the Beach, I think the heart and soul of the PGE repertoire is Music in Twelve Parts. It's like playing the hardest concert you've ever done in your life, four times in a row. It's completely fantastic!
JG: Do you consider yourself a Minimalist?
DC: I definitely don't consider myself a Minimalist, although certain pieces (including Eucalyptus and some of the other compositions on that same album) have some of those tendencies in them. By definition, classic Minimalism is primarily a process based compositional form, and I prefer to write intuitively.
JG: What is the state of Minimalism in music today?
DC: I'm not sure I know of many Minimalist composers around today, other than the original crew. But their influence is felt far and wide. Broadly speaking, I think that lineage was passed down first to composers like Michael Gordon, Julia Wolfe and David Lang, of Bang on a Can, and from them to my generation. I think we look at those concepts as one useful tool, among the many available.
JG: What is life like for a composer in Brooklyn?
DC: Life is pretty good! In New York City, and Brooklyn in particular, there is an explosion of music happening right now. In fact, there's so much, I discover amazing new things on a regular basis. Part of the fun is seeing your friends and colleagues push themselves creatively, and in turn allowing that energy to inspire you. So as a composer (and a performer), there is an endless resource of people to collaborate with.
JG: How does improvisation influence your music? Do you use improvisation in your compositions?
DC: I'd say most of the time my music is completely composed. But having studied improvisation for many years, and knowing musicians who have done the same, I'm aware of how to write for improvisers, how to utilize their individual strengths/voices, and what special elements it can bring to a piece of music. These days, most of that takes place in Empyrean Atlas. Even then, I'd say 90 percent of the EA music is composed. But we've hit on a specific way of improvising, which includes a textural ambient element, and a concept of staying with a feeling or an idea, without the energy of trying to develop it. Sometimes this involves actually playing written parts, but in a certain way, or with small variations. It's a little abstract, I know, kind of hard to explain, but one of the great things about working with the same people for awhile is you develop this way of feeling music together, consciously and unconsciously. Sometimes you talk about it, and sometimes you don't.
I'd also say, a little more concretely, that the role of our drummer, Jason Nazary, is pretty interesting. I don't write out full parts for him, like I do for everyone else. We use sketches and rehearsal to get to a part that feels right.
JG: Tell me more about Empyrean Atlas and how that group and album came to be.
DC: Empyrean Atlas evolved organically out of previous projects, and from a circle of musicians that I've been working with for as long as 15 years (dating back to my time at the Eastman School of Music). These are people I know well, as musicians and as friends. It took a few years of writing and playing the music live to really understand what EA was about. In making our first record, we were able to codify some of the concepts and sound of the band, and I was able to see pretty clearly how to move forward with writing new music. In some ways, the feel of the second album is quite different, but if you listen to both of them they definitely make sense together, like two sides of the same coin. It's exciting to me, to have a project like this, that can develop over a period of time. I can't wait for the new album to come out, and for people to hear it.
JG: Tell me about your works for chamber ensemble.
DC: A few months ago I finished a piece, Celestial Sphere, for Ian Rosenbaum and a consortium of percussionists. Ian is performing it in a few weeks at the Philips Collection. This is one of those projects I talked about earlier where I also engineered and mixed. It's a lot of work to do everything, but completely worth it, especially with someone like Ian playing! In this case, the composing process bled quite a bit into the editing/mixing of the piece. I was able to make some significant changes, after recording, that completely altered the direction of the music.
Fairly recently I had the opportunity to work with some heroes of mine, Alarm Will Sound. If you don't know about this ensemble, you have to check them out. The piece I wrote for them is called Fallout. We were talking about improvisation before, and this piece has a solo at the end for Caleb Burhans. Knowing Caleb and his playing gave me the confidence to include the improvisation, which I wouldn't have done otherwise. The whole piece itself is kind of an experiment, a cut up of very different sections put together, with the challenge of making each transition flow in a reasonably coherent fashion. I also mixed this, from a live performance in Columbia, Missouri.
Over the years, I've developed a nice working relationship with the JACK Quartet, who are probably most famous for their Xenakis recording on Mode, but who do many different things very well. They are an amazing string quartet. Last year, they premiered a new composition of mine for string quintet, with Mak Grgic on guitar. Around the same time I had a premiere of a piece, Hashimoto, for three flutes at Weill Hall, performed on the recording below by Andrew Sterman. And Waiting in the Rain For Snow is a piece I wrote for the excellent NOW Ensemble, which they recorded for their second album on New Amsterdam Records.
JG: How do you categorize your music? Is it classical, pop, something else completely?
DC: When I listen to someone's music, I'm searching for their personality, feel, and what they're trying to say. If I know them, does their music seem to make sense with who they are, or at least who I perceive them to be? If not, or if so, why? If I don't know them, what does their music tell me? Are their intentions genuine, calculated, or some combination of both? Are the heart and the intellect interacting on an equal level? A lot of times these questions are impossible to answer, but it's fun to try.
I saw a recent interview with Philip Glass, and he said that music is a place you can go to, an actual place in your mind, and I think this is a great way to think about it. When I listen to a new piece of music, live or on record, I want to go to a place I haven't been before. The power and honesty of a musician's creativity is related to how vividly you experience that place. I think this is the best way to think about genre.
Subscribe to get new articles by Joel Garten in your inbox. Click Here.
Joel Garten is a composer, pianist, artist, and writer. You can view his artwork and listen to his music on his website, www.joelgarten.com

Other articles by Joel Garten you may enjoy:
This article was also published on the Arts Journal Fresh Pound