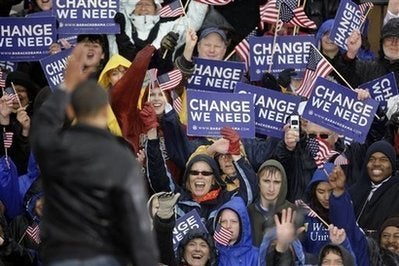 As the election nears, examples of political dirty tricks are emerging with greater frequency.
On Tuesday, the Virginia Pilot reported that a phony Board of Elections flier was circulating the state "advising Republicans to vote on Nov. 4 and Democrats on Nov. 5." Voting, of course, is on the 4th only, creating fear among neutral observers and the Obama campaign that people were simply going to miss the opportunity to go to the polls.
Earlier this month, meanwhile, an anonymous flier was circulating in predominantly African-American neighborhoods in Philadelphia telling voters they could be arrested at the polls if they show up to vote with outstanding arrest warrants or unpaid parking tickets. This is also untrue.
Dirty tricks and phony fliers represent the dark underside of nearly every election. And certainly, when it comes to the current contest, these tactics started long ago. Last March, as Time Magazine noted, a letter was being sent around Colorado, warning that out-of-state students could not register if their parents claimed them as dependents in another state." One of the more common falsities making its way through email chains has warned voters in some states (updated below) that they will be turned away from the polls if they wore paraphernalia demonstrating their support for one particular candidate.
Since these antics are becoming more and more common we encourage readers to send in tips or episodes they have witnessed to the Huffington Post.
UPDATE: Several readers have pointed out that, in fact, several states do prohibit passive electioneering (buttons, t-shirts, etc.) in polling places. In Texas, for example, the law is as follows:
[A] person may not wear a badge, insignia, emblem, or other similar communicative device relating to a candidate, measure, or political party appearing on the ballot, or to the conduct of the election, in the polling place or within 100 feet of any outside door through which a voter may enter the building in which the polling place is located.
Calling all HuffPost superfans!
Sign up for membership to become a founding member and help shape HuffPost's next chapter