Honesty is the best policy ― even in ads for missing kitties.
When Mary Irwin's 6-year-old shorthair cat, Babou, slipped out the front door of her apartment in Charlotte, North Carolina, she knew her flier needed to tell the truth.
She didn't mince words, basically calling out Babou for being "kind of a jerk" with "strong opinions about things."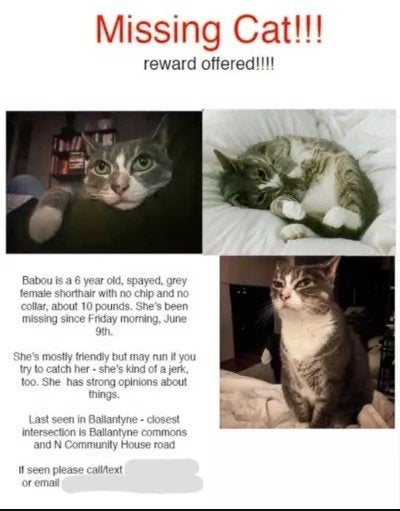 "I live in a big apartment complex and my guess is someone found her and took her in," Irwin told the Charlotte Observer. "But Babou is not the kind of cat people would keep. I assume whoever found her wants to get rid of her. She is the weirdest cat ever."
Irwin didn't pussyfoot around Babou's personality flaws.
"She likes to sit on you, but doesn't want you to touch her," Irwin elaborated to the Observer "She likes to sleep on your head and she's a talker. She has opinions about things and is very verbal. She will sit next to you, stare you in the face, and start a conversation that is a bit uppity."
Also, Babou apparently likes to watch people wash their hair, even sitting in the shower to get a better view.
Irwin swears that Babou wasn't always a "jerk cat."
When she and her husband, Don West, first found the caustic cat in a Miami parking lot in 2011, Babou was downright charming.
Babou's bad attitude even earned a mention in West's wedding vows when he married Irwin last year.
"I will be by your side for richer or for poorer, in sickness and in health until death do us part or Babou finally accomplishes the world domination we both know she is plotting," he said during the ceremony, according to ABC News.
So it's no surprise that Irwin wanted to make sure anyone who might have taken in Babou would know they were really getting a hellcat.
"She's my cat and I want her back," Irwin told ABC when Babou was still missing. "I also figured for people who might try to take her to the shelter, in a new situation sometimes she's an angel, and sometimes they might be like, 'Maybe we'll just put this one back because she's kind of Satan.'" 
She also speculated on what the reunion would be like.
"It's going to be like the Sharks and the Jets and she's going to be leading this team of wild cats," she told ABC. "She'll show up in two weeks missing an ear and patches of hair and smoking a cigarette all like, 'You should see the other guy. I'd tell you where he is but then I'd have to kill you."
The media attention given to her "jerk cat" flier led to a bunch of leads.
However, none of them led directly to Babou.  
Instead, Babou came back to the apartment on her own Tuesday night during a heavy rainstorm. The reunion, while not as dramatic as she imagined, was still happy. 
"She's a little thinner and totally soaked but home safe and sound," she told ABC.
Calling all HuffPost superfans!
Sign up for membership to become a founding member and help shape HuffPost's next chapter
BEFORE YOU GO