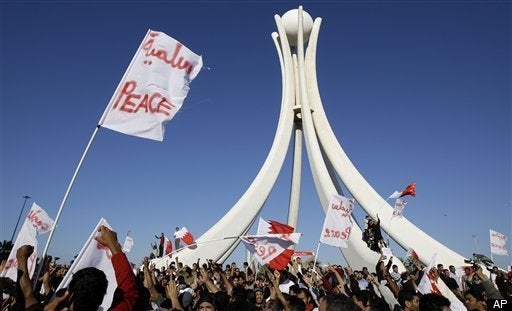 MANAMA, Bahrain - Thousands of singing and dancing protesters streamed back into Manama's central Pearl Square Saturday after Bahrain's leaders withdrew tanks and riot police following two straight days of a bloody crackdown by security forces in the tiny monarchy.
SCROLL DOWN FOR LIVE BLOG
The royal family, which was quick to use force earlier this week against demonstrators in the landmark square that has been the heart of the anti-government demonstrations, appeared to back away from further confrontation following international pressure from the West.
The demonstrators had emulated successful uprisings in Tunisia and Egypt in attempting to bring political change to Bahrain, home to the U.S. Navy's 5th Fleet -- the centerpiece of Washington's efforts to confront Iranian military influence in the region.
Crown Prince Salman bin Hamad Al Khalifa, deputy supreme commander of the armed forces, appealed for calm and political dialogue in a brief address on state TV.
People circling through the square clapped, whistled and wept. Some wore white sheets symbolizing their readiness for martyrdom, while others carried Bahraini flags, flowers and signs that said "Peaceful."
"We are victorious!" they chanted as they marched back into the square that has been the headquarters for their revolt against the Sunni monarchy in the predominantly Shiite island nation.
They also chanted: "The people want the removal of the regime."
President Barack Obama discussed the situation with King Hamad bin Isa Al Khalifa, asking him to hold those responsible for the violence accountable. He said in a statement that Bahrain must respect the "universal rights" of its people and embrace "meaningful reform."
The violence has already forced the cancellation of a lower-tier auto race in Bahrain that had been scheduled for this weekend. Formula One officials also are weighing whether to cancel the season-opening event in Bahrain on March 13 -- a move that would be a huge blow to the nation's prestige.
Ibrahim Sharif, head of the opposition Waad Society, said that pulling the armed forces off the streets of Manama was not enough and demanded guarantees that protesters can stage rallies without fear of being attacked. Waad is an umbrella group of protest factions.
Related
Popular in the Community