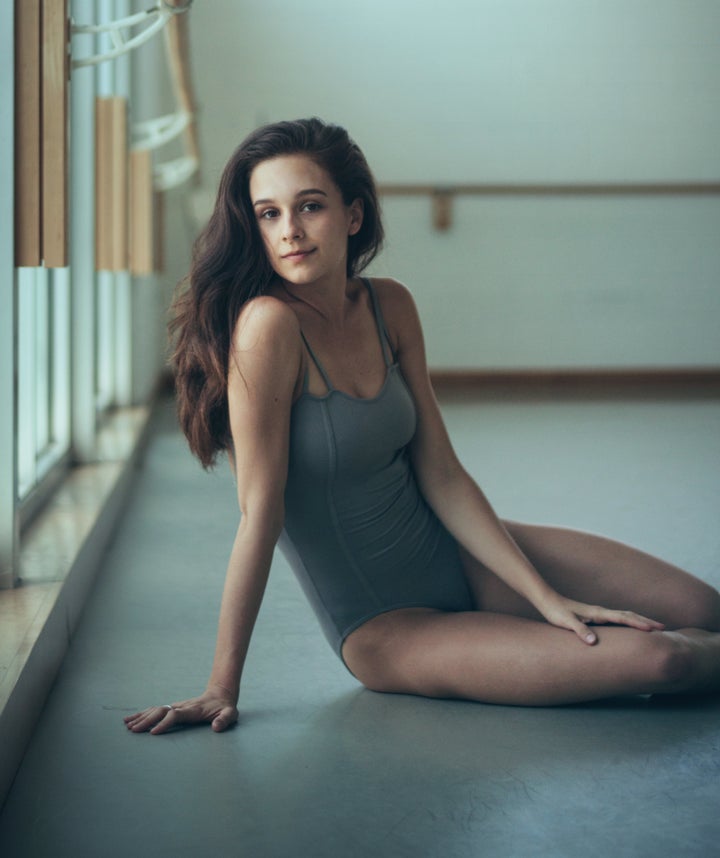 WASHINGTON ― Lauren Lovette has taken thousands of ballet classes in her life. The New York City Ballet principal dancer, 25, started ballet at age 10, and has for years started almost every day with the same routine: plié, tendu, port de bras. Left hand on the bar, then right. At this point, the days on which she's gone to ballet class vastly outnumber the ones on which she hasn't. But today, she's teaching ballet class, something she's only done a couple of times in her life, and she's nervous.
So are the kids waiting outside the studio. Out in the lobby of The Washington School of Ballet, some 30 girls aged 8, 9 and 10 in leotards and pink tights (and one boy in a white t-shirt and black tights) are stretching and jumping and spritzing last-minute hairspray on their sleek high buns. They were nervous last night, too, at the meet-and-greet that followed Lovette's performance at The Kennedy Center on June 10. After watching Lovette sparkle and spin to the strains of George Gershwin's "Rhapsody in Blue," a dozen baby ballerinas stood with their parents under the giant bronze head of former President John F. Kennedy, waiting for Lovette to materialize from backstage. "I hope I don't say something stupid in front of her," one girl fretted to her mother, shifting her weight from one foot to the other. "What if I say something stupid?"
The young dancers in the lobby don't know, and probably wouldn't care, that Lovette has barely taught ballet before; they're here to spend a few hours learning from — and hopefully impressing — their idol. Lovette doesn't hesitate to tell them the truth, though. After they've all taken their places at the barres that line and dissect the large, bright studio, as they're all looking at her expectantly, anxiously, she says, "I haven't really done this before. So it could go really wrong. But I think it's going to be OK."
And so it is. The class proceeds without incident. For 90 minutes, she puts the ballet students through their paces, correcting their arm placement ("No chicken arms," she warns, when outstretched elbows begin to droop) and urging them to remember that even their standard, repetitive daily exercises are, in fact, dancing, and should be performed, not simply completed.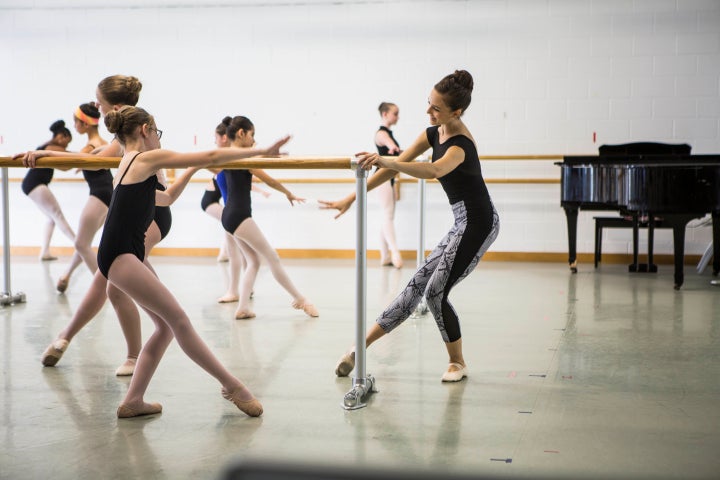 At one point, she's talking the students through the port de bras arm-stretching exercise she's set for them; it's a languorous, luxurious reach toward the barre, and then away from it. The second part requires taking their supporting hand off the barre and floating it over their heads, bending sideways at the waist as far as they can. "Don't be afraid to fall over," Lovette says, stretching her head far past the midline of her body. "What's the worst that can happen, you fall on the floor?"
The girls around her giggle, but Lovette is serious. As it turns out, her little pre-class warning is something of a motto for her. "It could go really wrong, but I think it's going to be OK" is the kind of thing you could see her stitching onto a throw pillow. (She loves crafting, she tells the students in a post-class Q&A session.) The same goes for what she tells the students about the port de bras, a phrase she'll repeat several times throughout the class: "Be brave."
Jessica Wallis, the executive director of Ballet in the City, which organized the weekend of masterclasses, said she wanted to work with Lovette because she is a positive role model for young dancers. Wallis particularly admires how Lovette uses social media ― one major way in which dancers across the country get to "know" their favorite ballet stars. "Dancers feel compelled to put themselves out there and a lot of it is all about me and how great I am," Wallis told HuffPost. "Every day it's another image of them with an arabesque and whatever. But when Lauren shares herself on social media it's very much her thoughts about her self as a dancer, as a person, as member of society, and that translates on stage and in her teaching." 
Lovette grew up 40 miles outside of Los Angeles, the daughter of a conservative Christian pastor; she and her three siblings were all home-schooled. One day, when she was 10, Lovette was visiting the dance-wear store owned by her aunt when the owner of a local dance school saw her playing around among the leotards and wrap skirts. Kim Maselli, the Artistic Director of the nearby California Dance Theatre, noticed Lovette's feet, and suspected the young girl might have the right body, or at least the right feet, for ballet. She offered Lovette a week of classes for free. Then a month, then a year, and on it went, until Lovette was 14 years old and moving away to Manhattan to board and take intensive classes at the School of American Ballet, the feeder school for New York City Ballet.
"It was a gift," Lovette says of Maselli's offer. "I owe her a lot."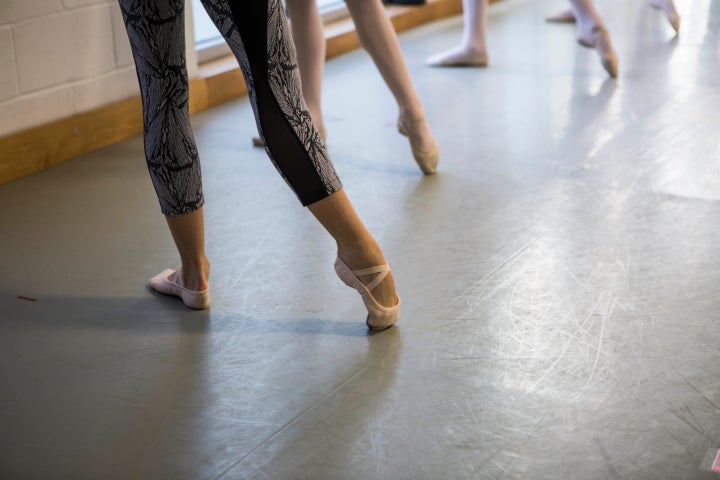 For Lovette, who was a shy and self-conscious child, the prospect of performing in tights and a leotard, of being lifted in the air, of failing in front of people, was daunting. Her family was tightknit and nurturing, and she was encouraged to play outside and use her imagination ― a necessity in a family with little money that largely shunned television ― but Lovette was an anxious kid. "I was afraid of the water, I was afraid of heights, I was afraid of any game I didn't know how to play, afraid I would be bad at it," she recalls.
She'd skip pool parties, because she was afraid of swimming. She'd miss out on sleepovers because she was afraid of being around so many kids. "Taking my first ballet class was the first really brave thing I did. I didn't know what I was doing and everybody else did, and I felt very overwhelmed," Lovette recalls.
But she felt a desire to push through it, because she knew that her teachers saw potential. When she was one of the few people in the nation selected for the School of American Ballet, she was terrified. "I was going to move away from my family, I never went to school in my life, and now I was going to live in New York City with all these other kids and go to a boarding school?" It was, she says, "this really big moment when I knew I had to brave."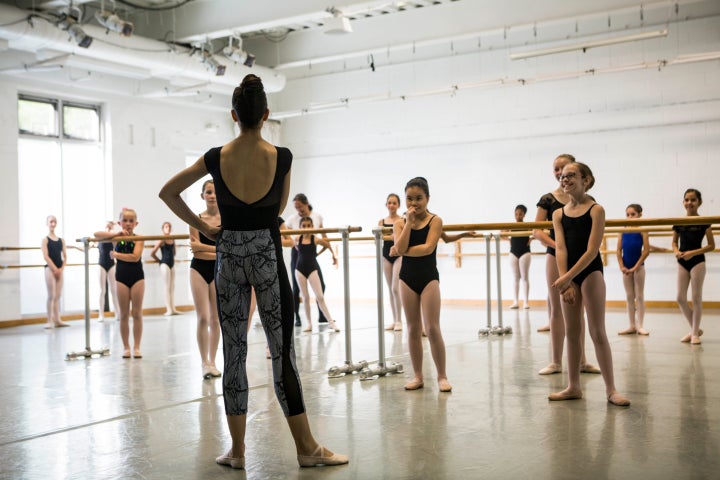 Lovette says she gets her outlook on life — the imperative to seize opportunities, to better herself continuously — from her father, who was an avid reader of self-help books when she was a child. "He'd read them to us, and I started reading books like that around 14, and one of the things I read was that you should do something scary every day."
The tone of her Instagram feed, which Wallis praised, has noticeable "self-help" feel. A post this month about deciding to start running again reads, "Sometimes you don't feel like it... Sometimes you are sore, tired, uninspired, or any number of different excuses. The only way to silence that negative pattern is to look your mountain square on and shout the time is now! Then start climbing." It's accompanied by a photo of a grinning Lovette in a black bra and panties and pink pointe shoes, hair down and flying around her as she leaps in the air.
When Lovette left home to study ballet full-time, she made a personal rule for herself: whenever there was a sign-up sheet, no matter what it was for, no matter if she thought she stood a chance of being picked, she'd put her name on it. "Even if you didn't know if you could do it, just go for it, and kind of leave it up to the universe," she says. "So I forced myself to sign up for things."
That was how she ended up emceeing a school fashion show, even though she was scared of public speaking. And it's how she ended up choreographing for the first time.
In the post-class Q&A, she tells the class that she'd never really intended to choreograph; she'd just followed the rule and put her name on a sign-up sheet once, as a student at the School of American Ballet. To her surprise, she was chosen to make a piece for her classmates.
Certain she was going to fail, she went to the school principal and explained that she wanted to bow out. But the principal told her that she'd made a commitment, and she had to follow through on it. She had to pick her dancers last, and was left with a group of people she didn't think she could work with.
"I had this random group of dancers of all different heights," she recalls, but they ended up having fun together. Now, she's once again choreographing on her peers, but her peers aren't students anymore: they're dancers in one of the highest profile ballet companies on the planet.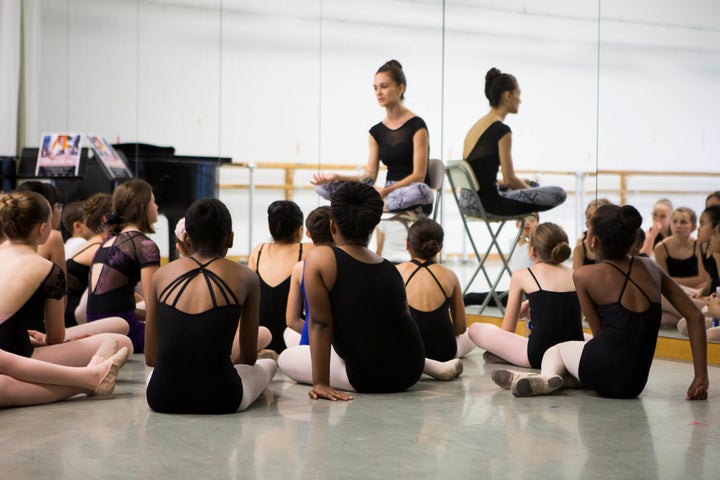 The dearth of women choreographers in ballet is a longstanding problem, and ballet companies' failure to solve it has drawn complaints in recent years.
In the 2016 spring season, in major companies in the US and around the world, works by women were a tiny fraction of the dances permitted on stage. But when people in the ballet world argue that the overrepresentation of men is waning, they often point to New York City Ballet's 2016 fall season, which featured works by two women choreographers. Lovette was one of them; her first ballet "For Clara," made on City Ballet dancers, premiered at Lincoln Center. The New York Times dance critic was unimpressed, calling the staging "cluttered," the partnering "sexist," the music unsuitable for dancing and concluding that Lovette's work "showed talent without looking ready for presentation by one of the world's foremost companies." Still, she'll premiere her second ballet at the company's high-profile fall gala later this year.
The stakes are high when Lovette choreographs. There are lots of eyes on her, and she's been unwillingly turned into something of a poster child, or at least, one of the few data points in the case that things really are getting better. "It's a lot of pressure," she says. Making "For Clara" was especially hard, because she hadn't choreographed since her school days.
"Not only did I have to choreograph after not practicing for six years, I had to make it on the big stage, with lights and costumes and everything, stuff that I hadn't been practicing," Lovette explains.
The critics were watching, and so was the Ballet master in chief, Peter Martins, who decides which ballets the company performs. "I tried to ignore it as much as I could and just get the job done, but now looking at it I feel like it is a lot of pressure," she says. Lovette's cheered, though, to see more young women expressing interest in choreographing. "It's hard, and it shouldn't be that way. I don't think it's going to be like that forever."
Wendy Whelan, who danced for City Ballet for 30 years, and whom Lovette names as a role model, has concerns about women like Lovette being thrown into the glaring spotlight with relatively little choreographic experience.
"Of course it's wonderful to develop young female choreographers," Whelan told HuffPost. "But I don't know if they're necessarily ready for making something for New York City Ballet."
Whelan places the responsibility of fixing the gender imbalance in programming at the feet of artistic directors (Martins has indeed been a longtime supporter of Lovette's choreographic efforts), and says that the choice to bypass more seasoned choreographers could be to the detriment of the company and the choreographers themselves ― the older ones and the newer ones. "They're awfully young," Whelan says of some of the women being granted a chance at ballet immortality, "and less experienced than the ones who are out there. So that's my question: Why aren't you bringing in ones who've had lots of experience already? Rather than somebody who's making their first ballet?"
Lovette acknowledges that not all her ballets will be successful, just as not all her performances are flawless. One of the things she's been practicing since her early teen years is "casting the line out, before you're really ready to fish." And sometimes, it doesn't work out. She told the class about how, once, she fell onstage while she was dancing the role of the Sugarplum Fairy in the company's flagship production, "The Nutcracker." The Lincoln Center house was full; a dozen little girls in angel costumes were gathered around her, and she ate it, tearing a ligament. "But at least I went for it," she says, as the students laugh at the image of their suddenly humanized heroine splatting onto the stage. As for choreographing, "I know I'll fail at that too, if I keep going. You're going to lose some fish on the line."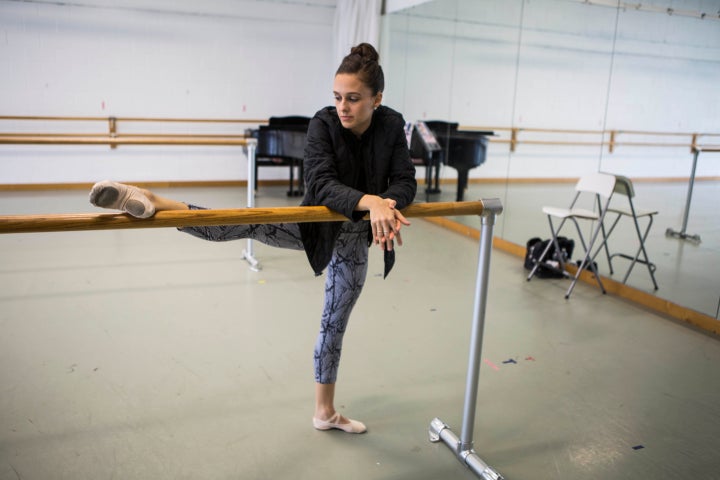 She still gets scared performing, she admits. "That hasn't gone away. And I still have shows where that gets the best of me." Stepping into the role of Aurora, the technically gruelling lead in "Sleeping Beauty," was frightening, and upsetting. "I remember being in tears after my first dress rehearsal," Lovette recalls. "And really broken up about my first show [of "Sleeping Beauty"], because I watched the tape of it and I thought it was so terrible."
Lovette finds roles that involve plenty of acting to be the most freeing, because being someone else helps with the fear. "Lauren is afraid of heights, but Juliet isn't," she told the class in Washington, D.C. Lauren might balk at the big lifts in the balcony scene pas de deux, but Juliet throws herself into them.
For a former anxious kid who's now an anxious adult, flawlessness isn't always the point: trying is. In an artform that prizes perfection, Lovette tries to remember that the victory can be in the attempt. "I feel good when I put myself out there and I make the attempt," she says. "Because when you're somebody who's filled with a lot of fear and anxiety, even putting your neck out there is a success. If I turn down an opportunity because I'm afraid, that feels like more of a failure than getting a bad review or falling on stage."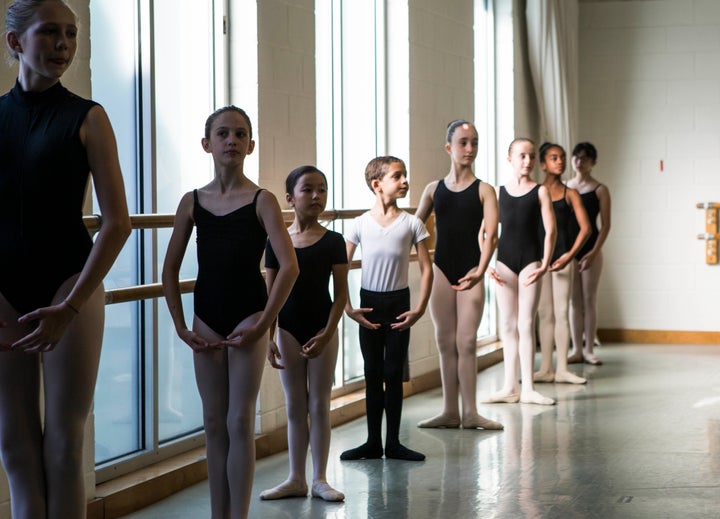 Back in the studio in D.C., Lovette tells the students that choreographing requires courage. It can be a little "unusual and uncomfortable" not being told what the steps are ― especially for ballet dancers, who are used to following instructions to the letter. It was odd "to not be told what to do, like, uh, what do I do with my arms?" In the second half of the class, she runs some choreography exercises with the students, encouraging them to make up their own steps and instructing them teach the moves to each other. "I want you to do what the music makes you feel," she says, "even if that's ballet, steps you know."
When she turns the music on, switching from one song to another after 30 or so seconds, a lot of the girls play it safe, repeating phrases of dances they clearly already know. "This is not being graded," Lovette reminds them. "I want you guys to practice being brave."
It's something she's been practicing since she took Maselli up on the offer of a free ballet class at age 10, but she admits that her bravery is still very much a work in progress. "I don't know if you ever really know when you get brave," she explains. And while she's still afraid of heights, and still nervous about teaching a ballet class, she's no longer afraid of falling in class, or on stage. "I get over falling very easily now," she says. "I'm like, that's OK: I went for it."
Calling all HuffPost superfans!
Sign up for membership to become a founding member and help shape HuffPost's next chapter
BEFORE YOU GO