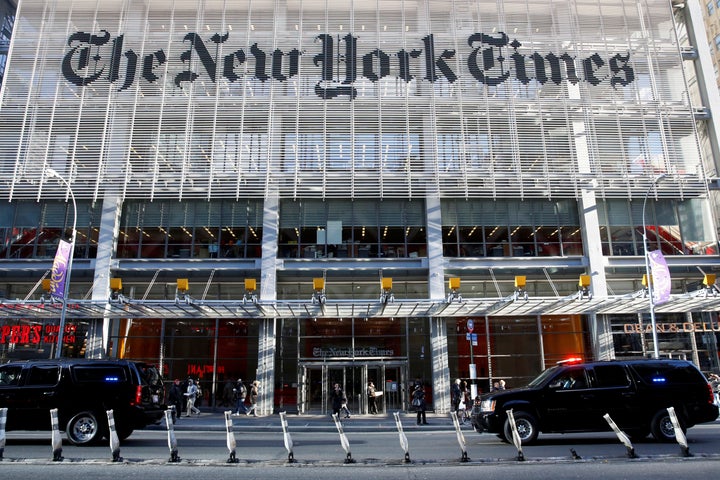 New York Times opinion writer Bari Weiss found herself at the center of another firestorm after her most recent column cites a fake Twitter account to justify her criticism of the political left.
Weiss argues in her essay that liberals have become intolerant of alternative views and ― in a deeply cliched straw-man argument ― says they're more offended by the American right than by global tyranny. She promoted the piece on Twitter as a look at "when liberals get tossed into the slop bucket with the likes of Richard Spencer," but didn't mention she's actually the one who's making that comparison in the first place.
"Leftists ... seem to believe that the real cause for concern are the secret authoritarians passing as liberals and conservatives in our midst," Weiss writes. "The main effect is that these endless accusations of 'fascism' or 'misogyny' or 'alt-right' dull the effects of the words themselves. As they are stripped of meaning, they strip us of our sharpness — of our ability to react forcefully to real fascists and misogynists or members of the alt-right."
As proof, she cites progressive commentator Dave Rubin, who she claims liberals have "denounced as an 'Anti-L.G.B.T. fascist' and a 'fascist lieutenant' for criticizing identity politics."
The New York Times published a correction later on Wednesday, and Weiss apologized for the fallacious link.
Weiss, a former Wall Street Journal writer who joined The New York Times last year, has inspired plenty of controversy before. She was resoundingly criticized during the Winter Olympics last month, when she paraphrased a quote from the musical "Hamilton"― "immigrants, we get the job done"― in reference to U.S. figure skater Mirai Nagasu.
When social media users pointed out that Nagasu was born in California, Weiss doubled down, and noted that Nagasu's parents are immigrants. Not even Weiss' co-workers had her back on that one.