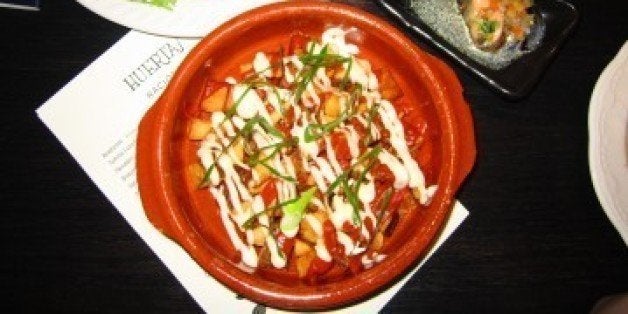 I lived in Barcelona for a hot second. It wasn't so very long ago, though it feels another lifetime. In the February of 2012, I moved there for the only thing essential enough to tear me from my native city: love.
Let's pretend, for the sake of decorum, that it was my love of food that lured me: that it was the nutty, purple-hued, fat-veined jamón Iberico that beckoned me with its black cloven hooves. Let's assume it was the promise of pintxos on platters like glistening gems in a jewel box, awaiting my eager grab. Let's let it be the menus del día (daily changing chef's tasting menus) with their accompanying Tempranillo and desserts. Sure, it could have been so. Thankfully, I need now travel only 10 blocks to Huertas, the new Basque restaurant in the East Village, to satisfy my nostalgia.
I returned to Spain last night, guided by chef Jonah Miller's take on traditional bites, like lollies of boquerones (marinated white anchovies wrapped around pickled peppers eaten off a stick) and patatas "Braviolas" -- Huertas' version of the classic tapas dish of crispy potatoes with spicy tomato sauce, here served with the requisite aioli drizzled artfully over top and garnished with bias-cut green onions. In fact, those Braviolas were so good, I'd be hard pressed to find simple Spanish food executed with the same exacting eye in Spain.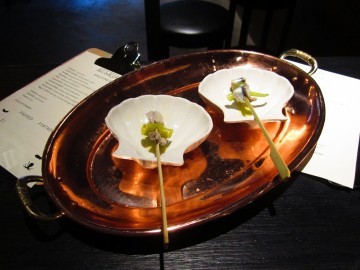 The clever crew of native New Yorkers who opened Huertas in April adopt commonplace tapas dishes like patatas rotas and tortilla Española (fried potato omelet), and deliver them with rapt respect for their origin as well as great ingredients; it's a gastronomic holiday, no passport needed.
While we nibbled pulpo a la Gallega (octopus braised with aromatics then grilled on the plancha -- I'm guessing here), with crisp salty, spicy pimentón exterior and tender moist white meat within, we sipped cold Galícian Albarino tasting of the sea and propelling us to reach for our next savory bite. A green salad with pickled veg (beets and scallions) refreshed before we dove into a bowl of meaty mushrooms, aka setas: rich, oily hen-of-the-woods, scored boletus stems and quartered creminis, balanced with clean parsley, which could have been a meal in and of themselves.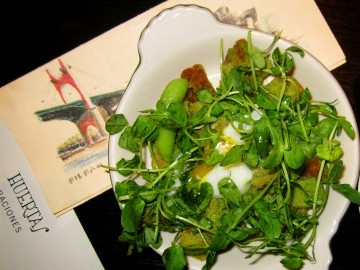 The nonchalant enchantment of a night in Spain surrounded us as arrays of pintxos were passed on trays, lending an inclusive celebratory atmosphere. The best were toasts of egg salad with celery crunch and a just-cooked shrimp atop, and the shimmering mussels escabeche, served in their half shell. The herbal, garlic-laced aromas that wafted from the open kitchen to our ready noses made us desirous of "well, maybe just one more..."
Huertas embodies that special Spanish relaxed magic, where things start late and go later--appropriately, Huertas is the last stop in Bon Appétit's upcoming Grub Crawl, so New Yorkers can experience the endless procession of a summer night in Spain, where life is not so easily defined by time, but instead by enjoyment. What better way to end an evening of excellent noshing and sipping than with Huertas house-made vermouth, served as I endlessly drank it in Spain: on the rocks with a twist. Theirs has a negroni nose and flavors of sherry-soaked cherries, while Channing Daughters' new VerVino vermouth, which they carry, is light and herbal in comparison, so full of lemon balm and verbena, I could happily be convinced it would do the same job as a pot of verveinne tea before bed.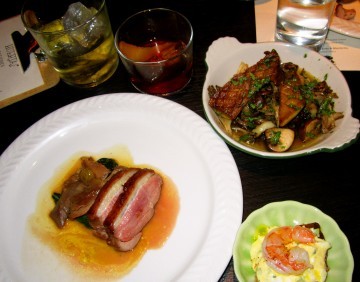 I have a two-prong plan for Huertas. Next time I'll go early and enjoy the tasting menu, including spring green 'migas' -- soaked yet still crunchy croutons beneath a slow-poached egg with garlic scapes and sugar snap peas, and the duck -- Catalán-style, with crisp-skinned pink breast and sautéed chard with sweet confit raisins. Or I'll stop by late, when savory anchovies, a plate of cheeses, some pintxios and an herbal concoction are the only things that can set me straight. Either way, I know I'll reap the rewards of Spain (in the East Village).
This was originally published on The Lovage. To learn more about Bon Appétit's delicious Grub Crawl -- including Contra, Pig & Khao & the lovely Huertas -- click here, but immediately!