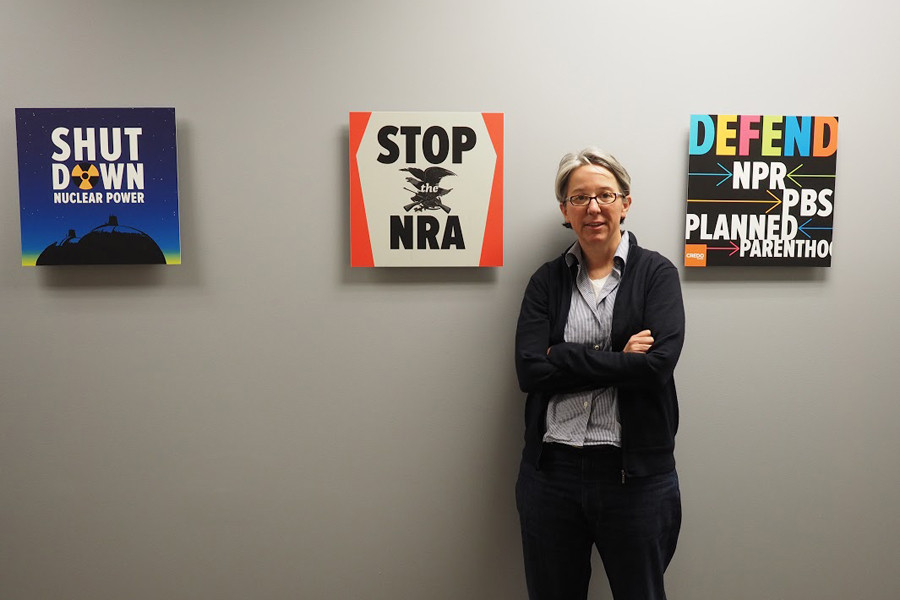 This article is part of a Huffington Post series, on the occasion of the site's 10th anniversary, looking at some of the people and issues that will shape the world in the next decade.
Becky Bond, the political director of the progressive activist organization CREDO Mobile, hopped on a conference call on a sunny April day in San Francisco with a message for Democrats: We're watching you.
Bond was reacting to a newly minted deal to give President Barack Obama the authority he will need to fast-track massive new trade deals, like the Trans-Pacific Partnership, through Congress. In a conference room decorated ironically with life-size cardboard cutouts of former Rep. Allen West (R-Fla.) and former Republican vice presidential nominee Sarah Palin, Bond told reporters that CREDO members had made more than 10,000 calls to Sen. Ron Wyden (D-Ore.), the top Democrat on the finance committee who participated in negotiations over the bill, and donated nearly $60,000 to Public Citizen, a consumer rights group and one of the leading opponents of the developing trade deal.
"Congress is throwing Americans under the bus by giving President Obama and future presidents a blank check to bypass Congress and cut an anti-environment, anti-worker, anti-consumer deal with multinational corporations," Bond said. "Now that the fight is moving to the House, CREDO members will be counting on [House Democratic Leader] Nancy Pelosi to unite House Democrats and stop this disastrous trade deal."
The fight over the Trans-Pacific Partnership is likely to be the defining intra-party battle of Obama's second term, if not his entire presidency. For months CREDO has been right in the thick of things, urging its members to sign petitions, make calls and demand would-be party leaders like Hillary Clinton make it clear where they stand.
Bond calls this a "structural" fight. If the trade deal goes through, it could weaken progress CREDO has made on other issues, like protections for workers and environmental regulations. "Almost everything we care about is at play. If we lose that one fight we lose on so many issues," Bond said.
CREDO has supported the president on other fronts, like the nuclear negotiations with Iran. But Bond hasn't shied away from criticizing Democrats when she feels they stand on the wrong side of an issue, or aren't being aggressive enough. She is guided by the theory that change comes from those outside the nation's capital pushing the boundaries of what seems politically feasible.
"When you start with a compromise, and there's an inevitable compromise on the compromise, then you don't see the change you want to see," she said.
What's also striking about Bond's message is that it was delivered from the headquarters of a private, for-profit mobile phone company with more than 100,000 customers, housed just steps from the San Francisco waterfront. One might not usually associate corporate interests with progressive causes, but that gets to the core of the company's unique DNA.
"CREDO's a social change organization, which is very different than saying that we're a mobile company. We're a social change organization, first and foremost, that runs a very good mobile service in order to fund our activism and our philanthropy," co-founder Michael Kieschnick told The Huffington Post.
CREDO began in 1985 as a credit card company called Working Assets Funding Service. It added long-distance phone service in 1991 and mobile service in 2000. Since then, it has directed a portion of its revenues toward a range of fellow progressive groups. To date, it has given away more than $76 million to groups like the climate change-focused Friends of the Earth, the digital civil liberties group Electronic Frontier Foundation and the youth-led immigrant advocacy group United We Dream. CREDO has also been Planned Parenthood's largest corporate sponsor since 1986.
Plenty of companies give money to various groups and organizations. CREDO's model, however, departs from the traditional understanding of corporate social responsibility, in which company executives meet in a boardroom and decide, on behalf of their shareholders, which foundations or nonprofits to fund.
At CREDO, the monthly donation process begins when members and customers nominate groups to receive funding. CREDO staff members pick three recipient organizations from that nominee pool, and then members vote for their preference to determine how to allocate the money. Groups can receive anywhere from tens of thousands of dollars to more than $100,000 in a month.
CREDO's activism also involves engaging with a broader network of 3.6 million members, many of whom aren't mobile customers. They are asked to make calls to politicians, sign petitions and even volunteer to get arrested. Bond herself has been arrested three times -- twice protesting the Keystone XL pipeline and once protesting the Iraq war.
The company's corporate and activist spheres are intimately linked, often in unexpected ways. In January, Bond received a call from an unknown number. It was a mobile customer having problems with his account. He had somehow managed to acquire Bond's personal number, and asked if she was the person who could finally resolve his issue.
"I said, 'No, I'm not that person,' but when he said that he had been an activist and a customer for a really long time and the manager couldn't solve his problem I just said, 'OK, what is going on?'" Bond recalled. "This happens all the time, by the way, that I end up doing customer service for people."
What would appear to be a relatively unglamorous task -- walking down the hall to talk to a customer retention expert about the caller's account -- was, to Bond, an integral part of what differentiates her company from others.
"If we have a customer who has chosen to be with us to support this work and something goes wrong, then I want to fix that," Bond said. "You never know who is on the other side of that account -- you find out that they were big student leaders in the Vietnam war protests or we find out they're willing to get arrested to stop the Keystone XL pipeline, so every one of the people is the kind of person who stands up and does something for their beliefs."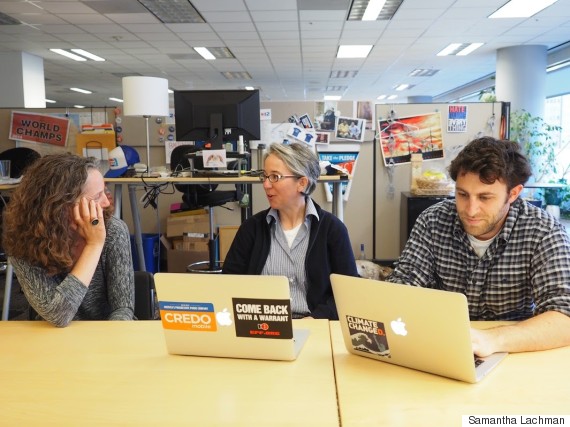 Kieschnick told HuffPost Bond has created a political team "like the best of a campaign team, but which keeps going."
"In most political campaigns, people are thrown together in very intense circumstances, work excessive hours, drink bad beer and then they go away," he said. "She's created an atmosphere where her team operates at a super high level, but over years rather than months."
When she isn't calling out Democrats or criticizing Republicans, Bond fully enjoys the northern California lifestyle by hiking, biking to work and enjoying local farmers' markets. She grew up in Nashville and in a much different political setting, but social justice was something she embraced from an early age.
"As someone who grew up in the Christian church, where you were taught to love your neighbor as yourself and to take responsibility for the least among us, I had values instilled in me from a young age about stewardship of the world around us and about our obligations to our brothers and sisters," Bond said. "I think both of those things, coming out as gay and having come from a really strong values-based background, have made it important to me to have social justice be a part of my life."
In 1988, Bond left Nashville for the liberal Williams College, where she excelled in political theory classes and hosted a queer radio show on the student-run station. Her former political science professor, Mark Reinhardt, described Bond as "the kind of person in a seminar who would totally enliven the dynamic of the conversation."
"She was creative, imaginative, politically astute and engaged then. She was a fairly rambunctious personality," Reinhardt said, recounting that when he left his young son with Bond at a faculty-student party, she had taught the child how to spit by the time he returned.
As graduation approached, Bond convinced a group of friends to move to San Francisco -- "Where gays went to be happy," she said. There, her penchant for making mischief continued as she pursued various conceptual art projects, including dressing up in a giant chicken costume to give away free passes to the San Francisco Museum of Modern Art. But by the late 1990s, Bond felt compelled to do more "than just talk about things," so she became an editor for a CREDO publication and produced a company radio show.
Then, in 2000, she ran the campaign demanding Florida officials count all the votes in the contested presidential election.
"It was a really good example of the sort of things Becky does well. We weren't ready; within a few hours we got ready, she overcame naysayers, developed a clear message, and worked beyond any human reason over the next two weeks to try and prevent the election from being stolen," Kieschnick said. For the 2004 election cycle, he promised that CREDO would register one million new voters, and with Bond spearheading the efforts, that ambitious goal was comfortably reached.
For the 2012 elections, CREDO created a super PAC to boot some of the most conservative members of Congress out of office. Some called it ironic that a critic of lax campaign finance laws was joining the race to the bottom, but Bond felt progressives couldn't "unilaterally disarm." Instead of spending their resources for television advertisements like other super PACs, however, Bond's team opened field offices, hired organizers and recruited volunteers with the $2.5 million they raised.
Under Bond's political leadership, CREDO has been a consistent ally of groups fighting for reproductive rights, according to NARAL Pro-Choice America President Ilyse Hogue. The groups partnered last year to sink the nomination of controversial Georgia judicial nominee Michael Boggs, a former state lawmaker with a socially conservative legislative record on abortion and other issues.
"CREDO has, long before I got here, been an unabashed advocate for abortion rights and reproductive freedom more broadly, and I think that sets them apart from other groups," Hogue said. "Other businesses wrongly perceive these as controversial issues, but that's sort of part and parcel of who CREDO is."
While combatting attacks on reproductive rights mostly requires going on defense, and fighting the Keystone XL pipeline involves maintaining the status quo, Bond also wants to go on offense more frequently.
"We're very excited to not be losing on some things, but the next thing is that we need to be winning and changing the game," she said. She said areas where CREDO members could help make progress included fights over Wall Street accountability, National Security Agency surveillance and state-based ballot initiatives on background checks for gun purchases. "Our whole model depends on people wanting to do things and getting people involved in the process, but it has to be something they want to fight for."
Popular in the Community