Disturbing allegations of child abuse at yet another Chinese kindergarten have prompted a government investigation into early education facilities across the country, as Chinese parents and other netizens express their fury and anxiety online.
Several children, some as young as three, who attended RYB New World Kindergarten in Beijing's Chaoyang district told their parents they'd been fed pills that made them "drowsy," jabbed with needles as punishment and forced by naked adults to strip naked, according to local media.
The school is run by RYB Education, a company that is based in Beijing but listed in New York. It operates kindergartens and day care centers in about 300 Chinese cities.
China's Ministry of Education said on Thursday that it had launched a special investigation into the operation of kindergartens nationwide, Reuters reported. Beijing's municipal education authority said that it had begun its own probe.
Authorities have not confirmed any of the allegations of abuse.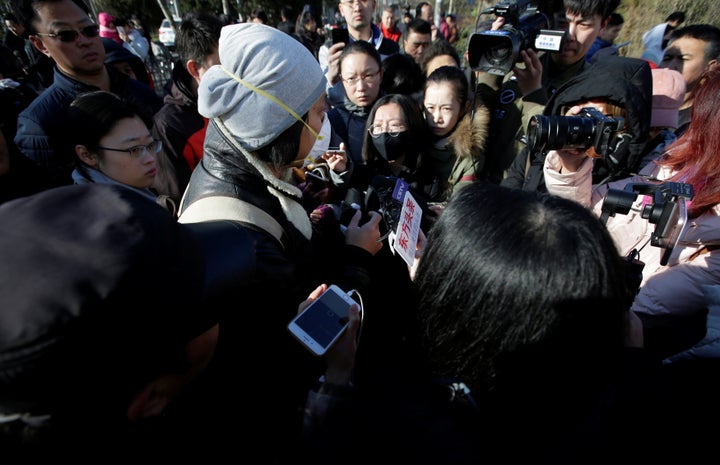 One mother said that at least eight parents had told police that their children were "drugged and molested" at RYB New World kindergarten, CNN reported, citing a video circulating on Chinese social media.
The same mother later told reporters that her 3-year-old daughter had been "injected with a brown liquid by a teacher" and made to strip naked by a naked man who conducted a "medical check-up" on her and other students.
Another parent told Xinhua news agency that some students had been given unidentified pills "to take after lunch." These pills made the children "drowsy," reported other news outlets.
Local police said on Friday that needle marks had been found on some students.
One parent told reporters that the teachers had intimidated the children into believing that their words and actions were being watched ― even when at home.
"The teacher told the kids, 'I've got a long, long telescope that can see right into your home, and I'll know just what you've been saying and doing,'" the unidentified mom said, according to The New York Times. "How could a child not be scared? That's why the kids didn't dare tell their parents."
RYB Education, whose shares plummeted on Friday by almost 40 percent on the New York Stock Exchange as the abuse allegations made global headlines, apologized in a statement and said it was cooperating with police in their investigation. 
"We deeply apologize for the serious anxiety this matter has brought to parents and society," RYB said, per Reuters. "We are currently working with the police to provide relevant surveillance materials and equipment. The teachers in question have been suspended and we are cooperating with the police investigation."
The statement added that the school's principal had filed a police report against "individuals who have engaged in false accusations and framing." It didn't elaborate on the specifics, however.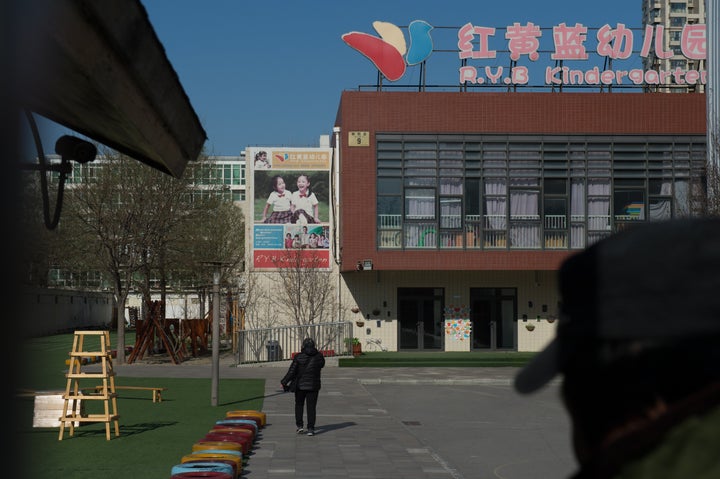 This is at least the third time that an RYB kindergarten has been accused of child abuse. Earlier this year, a teacher at an RYB facility in northern Beijing was allegedly caught on camera kicking a student. In April, four teachers at an RYB kindergarten in northeast China were sentenced to more than two years in prison for using sewing needles to pierce more than 20 children on their bodies.
Several other educational facilities in China have also recently come under fire for alleged abuse of students. Just this week, a video showing a kindergarten teacher in Zhejiang province grabbing a boy by the neck and slapping a young girl went viral.
As such abuse allegations have grown more common in China, the public has become increasingly incensed at what many now see as a systemic problem.
The latest RYB allegations have touched a particular nerve. According to Reuters, there was more than 76 million mentions of "RYB" on China's popular WeChat messaging service on Thursday alone. And that was despite apparent attempts by Chinese authorities to tamp down on some of the fury by deleting related videos and posts online.
Even Xinhua, the state-run news agency, expressed horror at the slew of accusations. 
"If this happened only occasionally, it could be put down to personal factors. But these incidents happen again and again, and must draw high-level attention. The departments concerned must show a highly responsible attitude toward society and the future," said a Xinhua editorial on Thursday.
Calling all HuffPost superfans!
Sign up for membership to become a founding member and help shape HuffPost's next chapter
BEFORE YOU GO