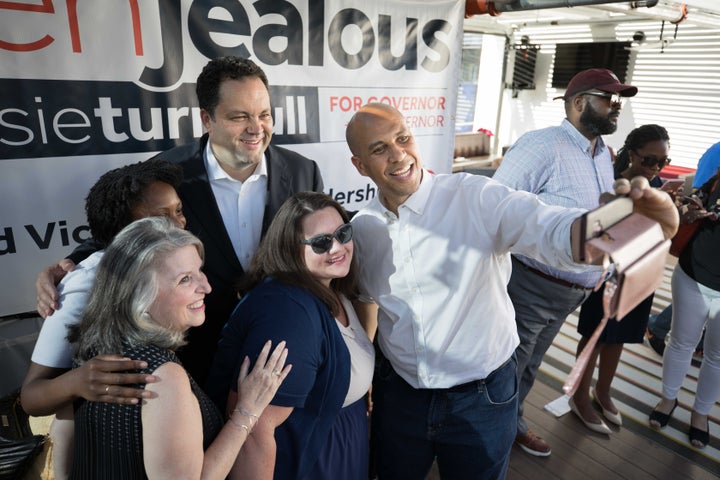 Former NAACP President Ben Jealous won the Democratic nomination for governor of Maryland on Tuesday night, defeating the establishment's candidate with a blitz of national progressive star power.
Now he'll face a much stiffer test: upsetting Republican Gov. Larry Hogan, who public opinion polls indicate is one of the nation's most popular governors, with approval ratings hovering around the 70 percent mark. 
Jealous' main competition in the primary was Prince George's County Executive Rushern Baker. While Jealous campaigned with a slew of possible 2020 Democratic presidential contenders ― Sens. Bernie Sanders (I-Vt.), Kamala Harris (D-Calif.) and Sen. Cory Booker (D-N.J.) all did events for him in the final weeks of the race ― Baker was earning endorsements from a who's who of powerful local Democrats, including former Gov. Martin O'Malley and House Minority Whip Steny Hoyer.
State Sen. Rich Madaleno, Obama administration officials Alec Ross and Krish Vignarajah, and lawyer Jim Shea also competed in the Democratic primary. 
Maryland is considered a top Democratic pickup opportunity in 2018, when more than two dozen governor's mansions are up for grabs. Defeating Hogan will not be easy, even in Maryland, where Democrats have a 2-to-1 voter registration advantage on the GOP. Polls have shown him beginning the race with a double-digit advantage over Jealous. While national Democrats are hopeful Hogan's support will prove to be a mile wide and an inch deep, there are reasons to believe he'll be resilient.
Jealous ran on an ambitious platform of single-payer health care, legalizing marijuana and using the proceeds to pay for free community college and raising the minimum wage to $15. Strategists will now have to hope his ambitious agenda is enough to motivate Democratic voters to turn out to defeat Hogan. 
The model for a Democratic win in Maryland over a popular Republican incumbent is O'Malley's 2006 victory over GOP Gov. Bob Ehrlich, who had an approval rating above 50 percent in the weeks leading up to Election Day. But Hogan's approval numbers are stronger than Ehrlich's ever were. 
The Republican, who survived a fight with cancer early in his term, is airing ads touting his bipartisan record and saying he's fed up with politics in both the state capital of Annapolis and in Washington. And he has plenty of money to air more ads: He had more cash in his campaign account than the entire Democratic field combined as of the last reporting period. 
And while O'Malley succeeded, in part, by tying Ehrlich to an unpopular President George W. Bush, tying Hogan to President Donald Trump could prove more difficult. Hogan famously didn't vote for Trump and hasn't been shy about criticizing the president's moves on health care and immigration. 
Calling all HuffPost superfans!
Sign up for membership to become a founding member and help shape HuffPost's next chapter