A couple of admissions. First I was wrong. After my first visit to Cuba in April 1989, I made a prediction.
On April 2nd, I watched Mikhail Gorbachev and Fidel Castro embrace. I reported the end of cheap Russian oil and massive Soviet economic support for Cuba was near. The American trade embargo was biting. I thought Fidel's Cuba would have to change. Crippled by a Russian cutoff, Castro would move quickly to reform. Rapprochement with the United States might follow.
It didn't work out that way. Rejecting Gorbachev's fledgling economic reforms, Fidel stubbornly proclaimed "Perestroika is another man's wife. I don't want to get involved."
I had no doubt been too much influenced by China where from 1978 to 1988, I had covered Deng Xiaoping's startling economic reforms.
Spin ahead 26 years. Change or at the very least the hope of real change is finally coming to Cuba.
On August 14th, John Kerry becomes the first American Secretary of State in 60 years to visit Havana. Normalized relations are finally proceeding step by step. And the Russians: Vladimir Putin forgave at least 90 percent of Cuba's $35 billion Soviet-era debt when he visited Cuba last summer.
The Cuban people are embracing change - as former NPR Latin America correspondent Gerry Hadden reveals in a remarkable new documentary film: Reinventing Cuba. [My second admission: I worked as advisor on the film and serve as consultant to its producers.]
The film is produced by the American arm of China Central Television based in Washington. The Chinese connection helped Hadden gain access sometimes denied by the Cuban government to American film teams. It was not an easy film to produce. Having shot films in Cambodia, Vietnam, China, and North Korea, I know from long experience, they never are. In this case the film is ably executed by the loving cinematography of Cuban-born producer/cameraman Armando Guerra.
What emerges from Hadden's Reinventing Cuba is a story of an extraordinarily inventive, independent, creative and vibrant people who have learned to overcome any obstacle. No matter whether those obstacles have been imposed by the Americans and their now 53-year-old embargo, or by the policies of the Cuban government itself, Cubans have not only survived but thrived.
Hadden examines a Cuba as he puts it "beyond cigars and salsa, mojitos and Malecón" and discovers some remarkable characters. There is 8-year-old Jan Carl and his dream of baseball growing from the 'Lions' of central Havana to the big leagues. There is Robin, a hip, ambitious entrepreneur who has started a digital magazine, perhaps a Cuban 'Rolling Stone,' in a country where internet access is a challenge at best. And Idania, one of several beautiful and creative designers and artists, Hadden portrays. Wonderfully talented, Idania creates commercial design work out of hand-me-downs. She struggles however with simple things -- obtaining a permit for a store sign or finding wall screws to hang up her art. It is an island where so much is scarce.
What is most striking is how out of such adversity have come real accomplishments; none more so than in the fields of biotechnology and medicine. What becomes clear is that better US-Cuba relations will of course be good for Cubans, but good also for Americans in ways not widely known. We learn from Dr. Yuri Valdez of Cuba's Finlay Center for Vaccines Research that Cubans are pioneers in vaccinations, most notably for Meningitis B.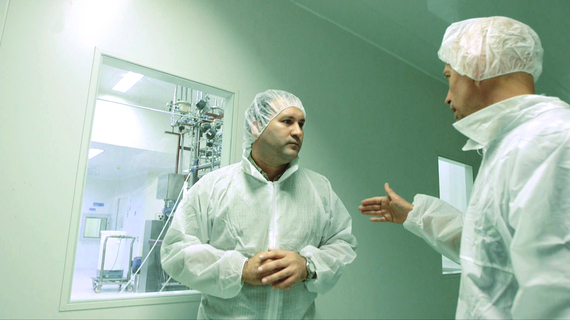 Meningitis causes inflammation of the brain and spinal cord. It can mean death, particularly among children. Cuba has had a vaccine for the B strain of the disease since the 1990s; a vaccine not available in the United States and banned for sale here by the trade embargo. Cuban research and treatment has advanced across a wide array of medicine: leukemia, diabetes, bone marrow transplants and even a rare degenerative eye disease called Retinitis Pigmentosa.
Dr Valdez, noting Cuba remains a very poor country, says "only by exporting our medical products can we get enough money to support research and a high healthcare standard." The medical work is clearly not only good for Cuba but for the world.
This is a film about the aesthetics of scarcity. We cannot help but watch with admiration as Cubans, many of whom are part of an emerging, entrepreneurial and professional middle class, work their way forward, escaping want and scarcity, reinventing themselves, and building a new Cuba.
"REINVENTING CUBA" airs Wednesday, September 23rd, 9pm West Coast time on KCET Public television in Los Angeles.