"Why does such a large gap exist between what donors say they would like to achieve with their philanthropy and where they actually make their biggest bets?"
That question--posed in the Stanford Social Innovation Review (SSIR) article, "Making Big Bets for Social Change"--is an important and timely one that warrants exploration.
Why aren't more philanthropic gifts being focused on powerful social change?
After all, large problems usually require large investments. Significant, multi-year funding has the greatest potential to transform and solve society's most pressing challenges. And yet, only a small proportion of big bet gifts--investments of at least $10 million--are actually targeting societal change.
But the SSIR analysis misses an important source of big bets. Foundations, corporate donors, and individual givers are certainly the biggest investors in the philanthropic space, but they are hardly alone.
Nonprofit organizations, themselves, are investing in social change giving--making big bets on unlikely partnerships and other nonprofits to magnify their impact and drive profound change.
The work being done to support America's service members provides some good examples. This generation's veteran population is diverse and dynamic. While many veterans are able to apply their unique skills and experiences from the military with great effect, many live with the visible and hidden wounds of war.
They feel alone, isolated, and mission-less. Nearly 15 percent--or approximately 378,000 post-9/11 warriors--meet symptom criteria for post-traumatic stress disorder (PTSD), according to the Rand Corporation's study, Invisible Wounds of War. As many as two million veterans struggle to reintegrate and thrive in their post-deployment lives.
There isn't one solution for fostering the most successful, well-adjusted generation of wounded service members in our nation's history. Accomplishing this vision requires big bet philanthropic investment.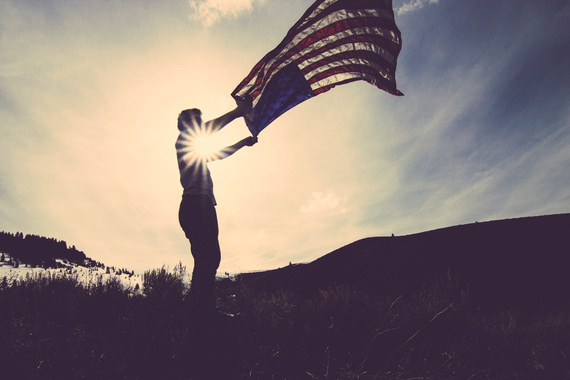 Wounded Warrior Project® (WWP) was founded 13 years ago to start making those big bets. Recent press coverage on questionable spending and inappropriately skewed overhead ratios is, unfortunately, masking a more fundamental story of programmatic impact and aggressive funding of other veterans service organizations, relentlessly focused on transforming the lives of this generation's injured veterans and their families.
Today, the impact of our direct support is profound. Through 20 free programs and services, we put money in the pockets of injured veterans, save lives, rebuild crumbling families, ensure long-term care for our most seriously wounded veterans, and help our nation's heroes re-enter the labor force and broader community.
WWP provides cutting-edge mental health support to wounded veterans struggling with depression, PTSD, traumatic brain injury, and other mental health challenges. We invest heavily in continued education and employment support, helping tens of thousands earn advanced certifications, college degrees, and careers. We offer physical health and wellness programs to increase activity and reduce obesity. And we established a trust to ensure the catastrophically wounded always have the care they need and deserve.
The impact of this direct service provision would, in and of itself, be significant. But WWP also understands that institutional giving and funding, alone, isn't enough. As a single organization, WWP is unlikely to create the radical social change needed to transform the lives of an entire population.
And so, between 2015 and 2020 WWP is investing more than $100 million in the wider veteran service community to be deployed in ways very similar to the big bets outlined by SSIR.

A compelling example is WWP's Warrior Care Network™. This year, WWP launched an initial three-year $100 million initiative with some of America's greatest academic medical research hospitals. The investment is designed to launch the program with partners Operation Mend at UCLA, Rush University's Road Home Program, Home Base at Massachusetts General Hospital, and Emory Healthcare's Veterans Program. Ultimately, the program will reduce the gaps between mental health diagnosis, referral, world-class treatment, and essential follow-up support.
Warrior Care Network is designed to provide smoother and more efficient treatment that can save marriages, help veterans sleep through the night, reduce suicide ideation amongst patients, and in the case of UCLA, combine mental health treatment with transformative surgeries to help veterans live more complete lives.
But what makes Warrior Care Network so unique is how its impact is multiplied. The program, in cooperation with the U.S. Department of Veterans Affairs, is creating a better mental health treatment system, forged through an unusual alliance between the government, leading academic medical centers, and a nonprofit.

WWP is also making big bets on a wide variety of veteran service agencies that in any other sector would be considered competitors. Team Rubicon and The Mission Continues are dynamic, emergent veteran service organizations whose ability to reconnect veterans with their hibernating sense of "mission, purpose, and service" is unparalleled in the veteran's space.
Our emerging partnerships break down traditional organizational barriers to put veterans first. We are stronger when aligned, and more effective at helping wounded veterans and their families heal and contribute. WWP will, when all is said and done, have invested more than $125 million in these impactful organizations since the program's inception through 2020.

By blending finance with our skills in benefits, employment, physical and mental health care, we will create opportunities that generate a new and powerful ripple in the philanthropic investment space.
If successful, more of this generation's injured veterans and their families will contribute to American society, driving increases in city revenue and limiting the use of emergency services. These big bets have the potential to open a new chapter in nonprofit cooperation--a new chapter, in which nonprofits recognize their limitations and unleash capital in unconventional ways for the good of those they serve.
Calling all HuffPost superfans!
Sign up for membership to become a founding member and help shape HuffPost's next chapter