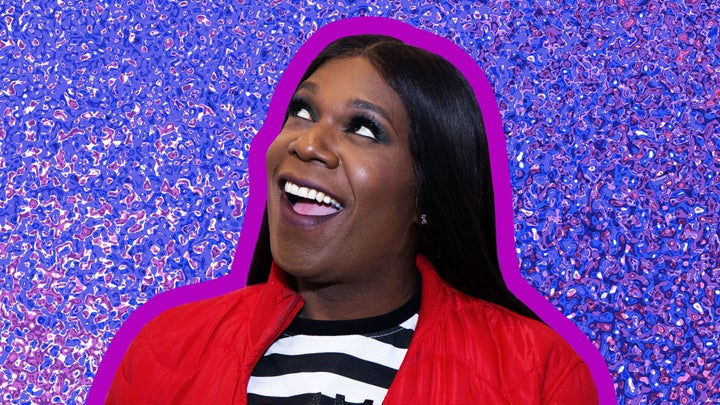 Big Freedia did not come to play with you hoes, as she'd say. She came to break barriers and make noise and live out loud. Really loud.
You may have heard her booming vocals on hit songs like Beyoncé's black girl anthem, "Formation," or Drake's new summer single, "Nice for What," but she's way more than a disembodied voice on a track. She's the reigning queen of New Orleans bounce music with hit songs of her own like "Excuse," "Drop" and "Rent."
And believe it or not, Queen Bey and Champagne Papi are just the tip of the iceberg for Big Freedia. With her EP "3rd Ward Bounce" dropping at the beginning of this month and her world tour kicking off soon, she's just getting started.
Big Freedia has overcome violence, adversity and the tragic loss of her greatest cheerleaders and has proved she's an unstoppable force of positivity and pride. She is on a mission to increase LGBTQ visibility, to challenge stereotypes about queer artists and to encourage everyone who hears her voice to live their best life and shake their ass while doing it.
"Pride means being free, living your best life and just showing your true colors. Feeling the rainbow, honey, and feeling every color in it!"
I am Big Freedia, Queen Diva, born and raised in New Orleans. I am the queen of bounce. I am the ambassador sent to popularize the music outside New Orleans, take it out in the world and show people the culture of New Orleans.
I want to be known and remembered for my influence [to] bounce music and music in general. [I want] to be a very influential artist who makes people happy through their music and through twerking. To make people be themselves and be free and be happy with their lives.
What is bounce music and who is it for?
Bounce is up-tempo, heavy-bassed, call-and-response-type music. It is a subgenre for hip-hop based out of New Orleans.
I create music for myself first of all because if I'm not happy with the music I create, I can't make anybody else happy. I create for the platforms that I need to speak to and not just the LGBTQ audience, but also for people who just love to live their life out loud.
And I create just for inspiration [for] people of color. I come from a community plagued with so much poverty and violence and homophobia. Now I can express myself, make my music how I want. I choose my visuals how I want. I don't have to ask anybody for permission.
Your music and your personality make people (including me) feel hype and really inspired. I want to know, who inspires you?
My biggest inspiration was my mom, whom I lost to cancer [in 2014]. My mom helped me to become free when she accepted me for who I was and really embraced me. That helped me to start being myself and be unapologetic about living my life and just doing what I wanted to do. And being a young person growing up in New Orleans and having a mom who was [such a] big cheerleader, that's what helped me to live out loud and be who I am now.
Most people know you from being featured on songs with Drake and Beyoncé. Does it bother you that people can hear your voice on these popular tracks but they don't get to see you in the equally popular videos?
Of course, I feel like I should get more visibility. Who wouldn't want to be in a Beyoncé or Drake video? But I mean, I'm just happy to be a part of those projects. It's a starting point. It takes baby steps and it has been taking baby steps throughout my whole career.
I'm getting more recognition and, you know, everything is not always visual. I tell people all the time, "I may not be in the video, but as long as that check came, I'm good, I'm OK!"
I'm breaking barriers. I'm really one of the first out, gay artists to work with two of the most huge artists in the music industry. That's a big accomplishment, you know? You may not see me visually but as long as you hear this voice. They gonna find out who I am one way or another. I'm pushing through regardless!
"People are still scared of working with a gay artist. They're so scared of what people are going to say."
What's the biggest barrier that you feel you have yet to break through?
People think because I'm black and gay that I won't get to the next level. The next level is when I have truly proved them wrong.
People are still scared of working with a gay artist. They're so scared of what people are going to say. As soon as somebody collaborates with a gay person, it's, "Oh, they must be sleeping with each other." You know, just a lot of bullshit that be very unnecessary.
I never even got with Drake in person but just for him to want to work with me for whatever reason, it was such a blessing for a straight male to want to work with a gay artist and not worry about what the world has to say.
You've had some enviable collaborations. What's next? Who else would you like to collaborate with?
I've been dying to do something with Ms. Patti LaBelle because she is so iconic. I grew up listening to her with my mom in the house. She is such a big inspiration to me.
I would love to do something with many artists, you know: Fantasia, Cardi B, Lil Wayne, J.Lo, Alicia Keys, Jennifer Hudson. There's so many of them! All of them are iconic in their own way and to collaborate with any of those artists of that magnitude would be such an honor for me because I grew up listening to them and I love their music.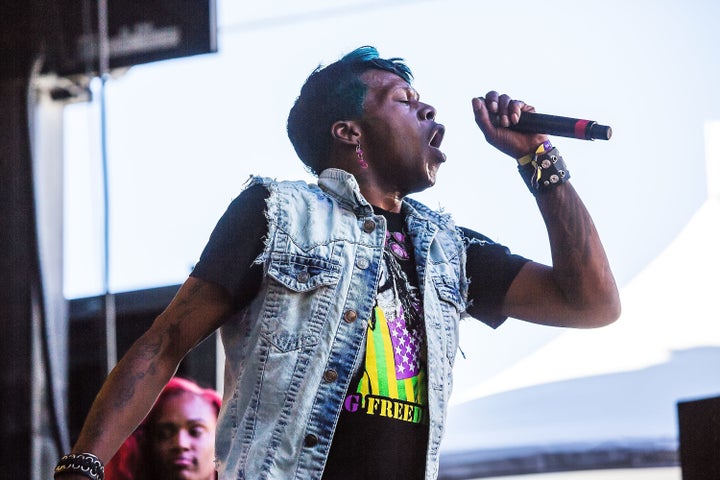 This month, we're celebrating Pride under the theme "The future is queer." What does a queer future look like to you?
More visibility, more people living out loud, more people joining the force of the movement and making a statement. Back when I was growing up, people were not very accepting of gay people and now you see gay people on so many different talk shows, so many different TV series. I mean, baby, we are pushing through and we are breaking barriers and we letting them know that we're here and we're here to stay!
And what makes you feel Pride?
To me, Pride means being who you are, being yourself, being free, living your best life, not being apologetic and just showing your true colors. Feeling the rainbow, honey, and feeling every color in it!
I feel proud every day I wake up just to know that I'm still living and can live out my life the way that I want to. I feel proud every day that I open my eyes and I feel grateful that I'm still living and can still have a platform to tell my story.
I'm so happy to be able to represent the LGBTQ community. I just want everyone to just be free. Free like Freedia.
For LGBTQ Pride 2018, HuffPost is highlighting 30 different cultural influencers who have shifted the narrative when it comes to queer issues and whose work has contributed to building a more inclusive and equitable future for us all.
#TheFutureIsQueer is HuffPost's monthlong celebration of queerness, not just as an identity but as action in the world. Find all of our Pride Month coverage here.