This year's Democratic National Convention is unprecedented for many reasons and among them is the fact that it's been powered by a bevy of remarkable black women.
Chief among them are three women who occupy the top positions of the DNC: Donna Brazile, Leah Daughtry and Marcia Fudge, who serve as the interim chair, CEO and the chair of the convention, respectively.
The world should know the names of these women, which is why we have rounded up and given the backgrounds of a few of the notable black women who have made an impact at the DNC.
Donna Brazile, interim chair of the DNC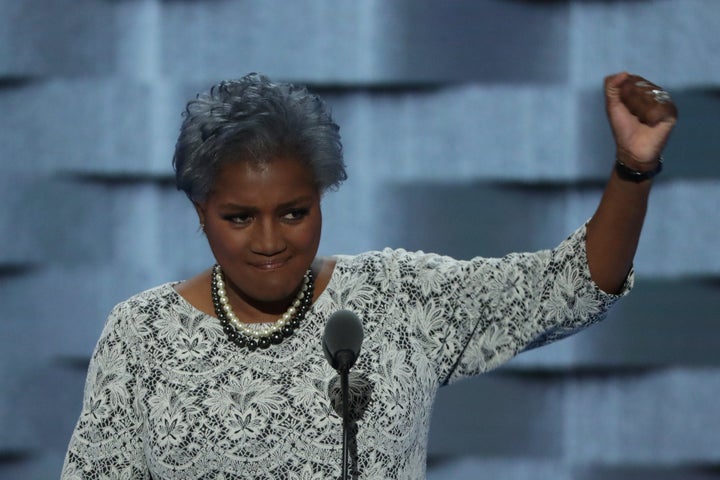 Brazile, a veteran Democratic strategist, commentator and former vice chair of the DNC, recently took over her new role following the resignation of former party chair Debbie Wasserman Schultz on Sunday. Schultz left her position after internal emails from the DNC were leaked just days before the start of the convention that questioned the integrity of her role and those of others, as well.
"We are embarking on a convention today that ― thanks to the great efforts of Secretary Clinton, her team, Senator Sanders, his team and the entire Democratic Party ― will show a forward-thinking and optimistic vision for America, as compared to the dark and pessimistic vision that the GOP presented last week in Cleveland," Brazile said on Monday. "Our focus is on electing Hillary Clinton, Tim Kaine and Democrats across the country, thanks to a Democratic Party that is strong, unified, and poised for victory in November."
Brazile's statement exemplifies great leadership in a moment that had potential to breed even more turmoil and scandal. Despite protests from Sanders' supporters who interrupted some speeches, Brazile's actions, as well as those of other convention leaders like Fudge, helped to quell some tensions and pave way for peace and order.
Marcia Fudge, chair of the DNC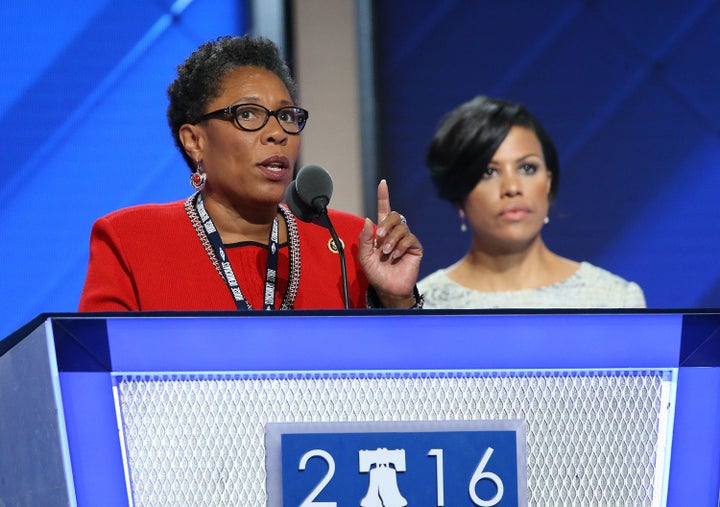 "We're all Democrats and we need to act like it," Congresswoman Fudge said at the beginning of the convention on Monday. "I know there are many of you in this room who don't know me... I intend to be fair, I want to hear the varying opinions here. I'm going to be respectful of you, and I want you to be respectful of me."
Fudge's political history is remarkable in its own right. She currently serves as the U.S. Representative for Ohio's 11th congressional district, which is a position she has held since 2008. Prior to that, she was not only the first woman but also the first African-American to be elected mayor of a Warrensville Heights, Ohio ― a town known as the "Friendly City." She held that position for eight years prior to her election into congress. In 2012, Fudge was unanimously elected as chair of the Congressional Black Caucus and has relentlessly fought for equal rights for all Americans.
"Marcia Fudge is an exceptional leader," said Chairman Emanuel Cleaver at the time of her election in 2012. "As we welcome the most diverse Congress in our nation's history, I am confident that Rep. Fudge and the executive board will lead the CBC in the great spirit of our legacy as the 'Conscience of the Congress.' I also know she will do her best to ensure the CBC continues it vital role in moving this great country forward."
Leah Daughtry, CEO of the DNC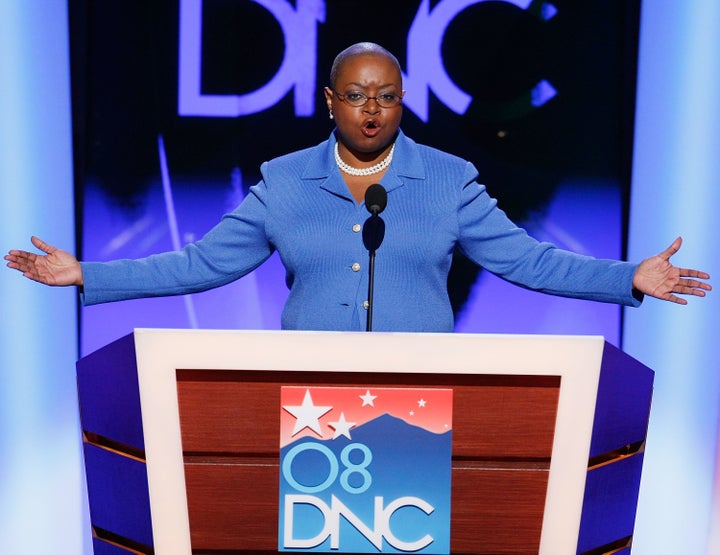 Rev. Leah Daughtry also recognizes the importance of striving for equity and inclusivity in her role as the chief executive officer of the DNC. She also held the position during the 2008 convention, which makes her the only person in the history of the Democratic party to serve as CEO of the convention twice.
Daughtry's leadership, however, extends far beyond her current role. She has long held senior positions at the U.S. Department of Labor during Bill Clinton's presidency and is also the president and CEO of her own company called On These Things LLC. Daughtry, is also a devout Christian and her faith guides much of her work.
"My Christian upbringing was greatly influenced by my experience as an African-American girl in a world that didn't fully accept me," Daughtry wrote on her website. "I grew up acutely aware of inequalities and injustices ― from racism and sexism to poverty and inequitable wealth distribution to just the ways we were treated by police officers and school teachers."
These experiences have helped to shape Daughtry as a nationally recognized pastor, political strategist and organizer. In an interview with NBC BLK, she promised to make this year's convention "the most diverse and the most forward-looking convention that we've had in recent history," which seems to be a promise she has kept.
Michelle Obama, First Lady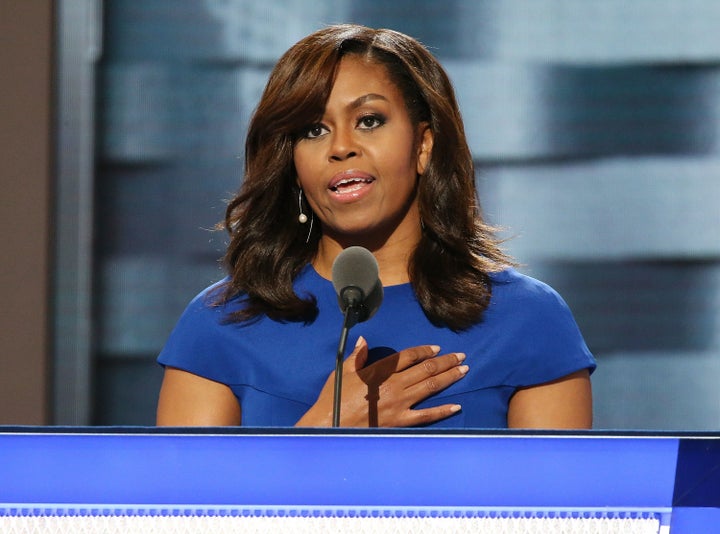 Among the prominent people who spoke, it was first lady Michelle Obama's speech on Tuesday night that was the real standout. Obama's address, which was widely celebrated, was by far one of the most brilliant speeches ever delivered on the convention stage. Her delivery, both honest and remarkably powerful, spoke to the experiences of parenthood, leadership and race and how the three intersect in her world as the nation's first black FLOTUS.
"I wake up every morning in a house that was built by slaves. And I watch my daughters, two beautiful, intelligent black young women, playing with their dogs on the White House lawn," she said in a powerfully honest and riveting statement.
As the most powerful black woman in the nation, Obama's speech held special meaning to black women everywhere who look up to her excellence and wisdom. Her empowering calls for change and celebration of womanhood was a moment that was praised by people across the country who connected with her message and celebrated all that she stands for.
Mothers of the Movement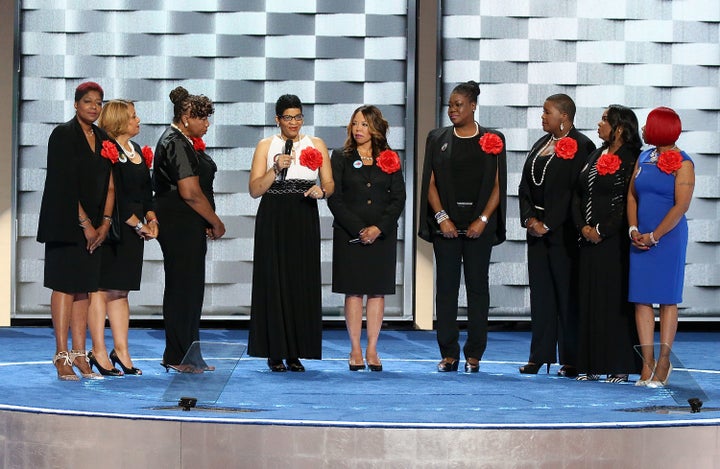 A similar, and stronger, sense of strength was exhibited by the Mothers of the Movement on Tuesday night. Seven black women, who are the mothers of the men, women, boys and girls who have died in police encounters, stood onstage to demand an end to gun violence and share their support for Clinton, whom they said they trust to help bring about change in this vital effort.
"I lived in fear that my son would die like this," said Lucia McBath, the mother of Jordan Davis who was fatally shot at a gas station in Florida in 2012 by a white man who grew angry over the teenager's loud music. "I warned him that, because he was a young black man, he would meet people who didn't value him or his life. That is a conversation that no parent should have with their child. Hillary Clinton isn't afraid to say that Black Lives Matter. She isn't afraid to sit at a table with grieving mothers."
Other mothers joined McBath onstage to share their heartbreaking experiences in losing their loved ones to such horrific circumstances, including Geneva Reed-Veal, the mother of Sandra Bland; Sybrina Fulton, the mother of Trayvon Martin, Gwen Carr, the mother of Eric Garner; Lezley McSpadden, the mother of Michael Brown; Cleopatra Pendleton-Cowley, the mother of Hadiya Pendleton; Annette Nance-Holt, mother of Blair Holt; Wanda Johnson, the mother Oscar Grant; and Maria Hamilton, the mother of Dontre Hamilton.
The crowd erupted into a standing ovation following their heartfelt speeches. It was a memorable moment that prompted an outpouring of support from people in the audience, and millions more online, who mourn the deaths of their children and praise the strength these mothers exemplify.
Felicia Sanders and Polly Sheppard, survivors of Charleston church massacre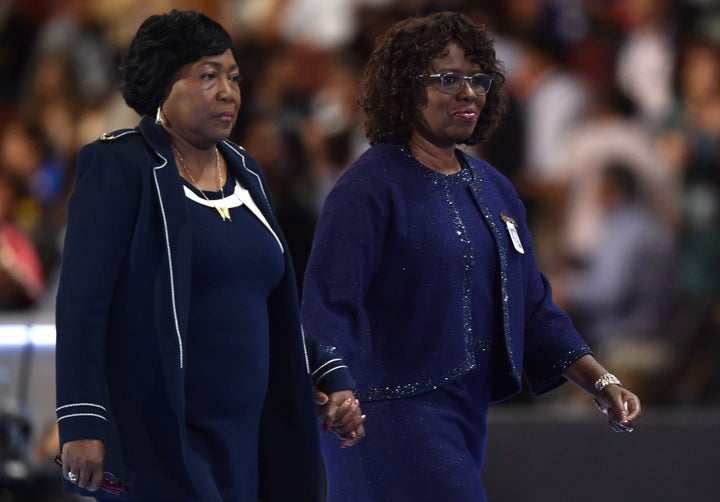 Many other influential black women, like Alicia Keys and Angela Bassett also made impassioned calls for peace on the DNC stage. Felicia Sanders and Polly Sheppard, two black women who survived the mass shooting at Mother Emanuel Church in Charleston, South Carolina, also delivered powerful pleas for racial unity.
Ultimately, the purpose of the convention is not only to nominate and confirm the party's candidate for president, which Clinton was honored with on Tuesday night, but to also aim to unify the party. Daughtry, Brazile, Fudge, along with the countless black women Clinton has employed through her campaign, have been relentlessly committed to this mission and have powerfully used their platforms to amplify the experiences of all women of color.
This year's DNC is helping to prove that.
Before You Go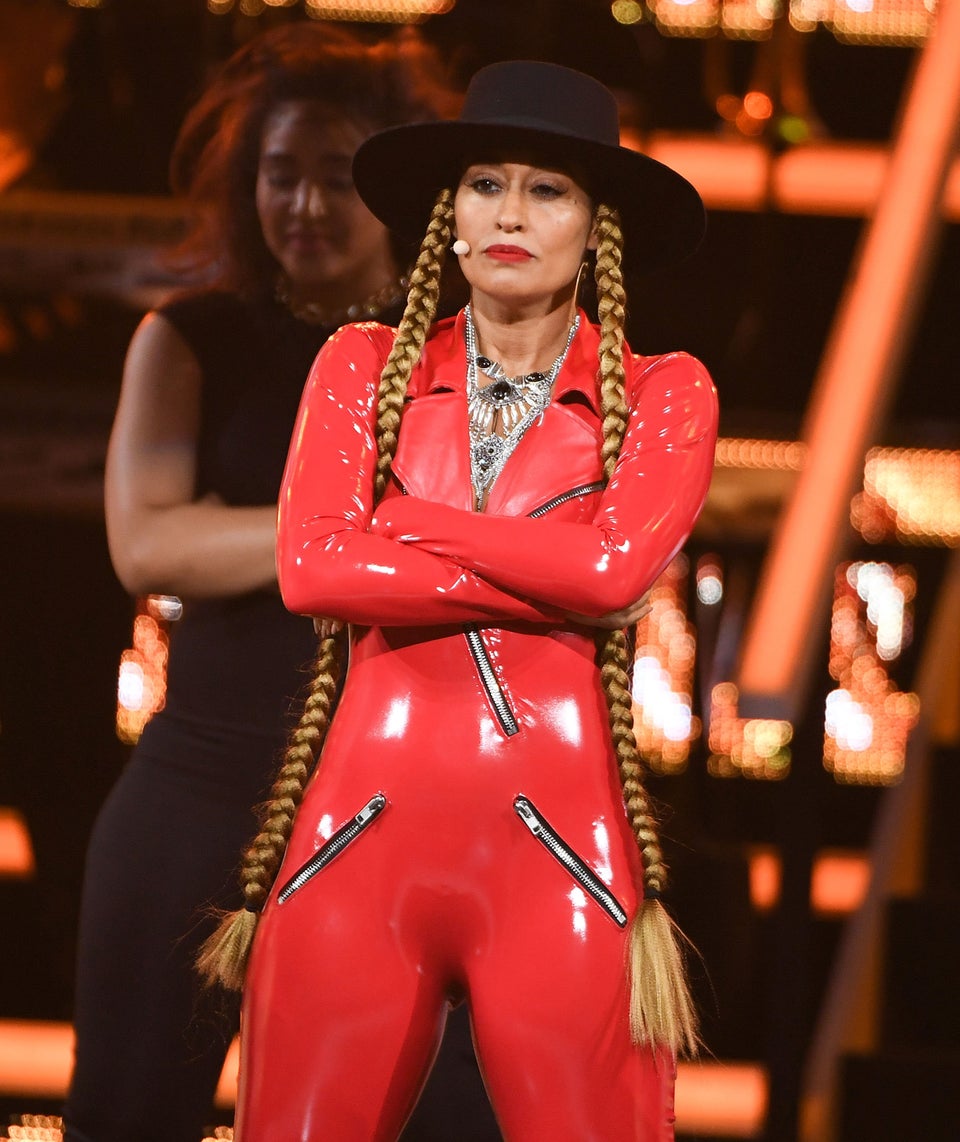 2016 Black Girls Rock!
Popular in the Community