Here's a quick roundup of four of the biggest books of the fall and which ones are worth your time.
THE MARRIAGE PLOT BY JEFFREY EUGENIDES ** 1/2 out of ****
THE ART OF FIELDING BY CHAD HARBACH ***
GRAND PURSUIT BY SYLVIA NASAR ***
RIVER OF SMOKE BY AMITAV GHOSH *** 1/2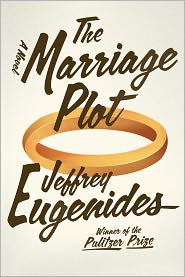 THE MARRIAGE PLOT BY JEFFREY EUGENIDES ($28; Farrar, Straus and Giroux) ** 1/2
Can a "marriage plot" still drive a novel, wondered best-selling author Jeffrey Eugenides? It used to be a staple of fiction but now with women having careers and quickie divorces and pre-nups making marriage a matter of convenience, the choice of whom to marry doesn't have the same weighty impact for a woman that it did in the 1800s. Back then, it was often the single defining decision of their lives (if it was their choice at all). So will a marriage plot work today?
Of course it can, since the search for true love is still fraught with peril and desire. But it helps to have a heroine to root for. In his follow-up to the deservedly Pulitzer Prize-winning book Middlesex, Eugenides focuses on a collegiate love triangle.
Madeleine Hanna is an English major devoted to Jane Austen and George Eliot. Mitchell Grammaticus is the dopey childhood "friend" who has always loved her but never found quite the right moment to act. And Leonard Bankhead is a sexy, driven, compelling but fragile bad boy who is just the sort of damaged, highly medicated soul a woman can make her life's work. Eugenides is strong on Bankhead's mental breakdown and best of all Grammaticus' religious journey to India to find himself, where the novel truly comes to life.
Several problems here: Madeleine simply isn't a winning heroine. Worse, she's torn between two men and we can't help feeling that neither one is right for her (nor she for them). In effect, we're reading a novel in which we are hoping no one gets together. Well, a marriage plot can work, but a "please don't get married just yet" plot isn't quite so compelling.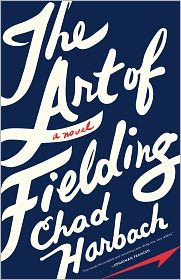 THE ART OF FIELDING BY CHAD HARBACH ($25.99; Little, Brown) ***
One of the most hyped books of the year, Harbach's debut proves a genuine crowd-pleaser and smart commercial bet of the best sort. Comparisons to John Irving make sense since like Irving Harbach is a deceptively straightforward writer with a talent for character and narrative.
The story here is about a college baseball phenom named Henry Skrimshander. (The names in this book are so out there, it must be a sign that writers are running out of names for characters that can be cleared for use; maybe real people should rent out their names and provide a waiver?) Henry is a natural at shortstop and is spotted by Mike Schwartz, who soon recruits Henry to the tiny liberal arts Westish College.
Don't worry if you're not a fan of baseball. Harbach makes the joy of sport -- and specifically the pleasure of refining a skill and getting better and better at it -- universal for anyone. And this is not a novel that climaxes with the big game. (Though of course there is a big game.) It climaxes with a cast of characters and how they bounce off each other.
Henry's roommate is Owen Dunne, a casually out member of the baseball team who finds himself being wooed by the college President Guert Affenlight (!), heretofore happily heterosexual until Owen rocks his world. A widow, Guert is trying to reach out to his estranged daughter, who washes up on his shore after a collapsing marriage. The last thing Pella Affenlight wants is a relationship but the blunt, straightforward, determinedly caveman-like Mike Schwartz simply can't be denied.
A freak accident pushes Henry's ascent to the majors off course and derails everyone around him. Harbach captures the pressure of expectations that weigh down on Henry beautifully, down to the illogical but heartbreakingly believable eating disorder and self-destructive behavior that plagues the kid. Certain plot twists feel just like that -- artificial twists to gin up the excitement -- but Harbach rescues this by having his characters react movingly to them. Plus, he ends the novel on just the right note. So first time at bat he's scored a hit. Great. Now, like any ballplayer, we expect Harbach to do it again.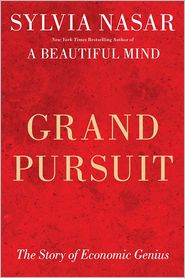 GRAND PURSUIT: THE STORY OF ECONOMIC GENIUS BY SYLVIA NASAR ($35; Simon & Schuster) ***
Despite policy makers and trouble makers (like Marx), I've always blithely considered economists to be people who describe and clarify the actions of the economy, rather than dramatically change it. But Sylvia Nasar's new book opened my eyes to the radical and powerful influence the men and women devoted to economics have had in the world, much of it for good. Her first book was the surprise bestseller A Beautiful Mind, a biography of John Nash that demonstrated Nasar's gift for elucidating complex mathematical ideas.
Here she turns that skill to a fascinating story on a much bigger canvas. Like the popular histories of David McCullough and other acclaimed authors, Nasar's Grand Pursuit is chock-full of fascinating men and women and their stories, with one drama-filled account tumbling on top of another. She compellingly tells all their achievements as one overarching tale. Charles Dickens and Karl Marx (among others), bring to light the miserable conditions under which so many people lived and say, this needn't be. Beatrice Webb virtually invented the welfare state and proved that ensuring decent education, food and medical care would dramatically boost the private sector. Irving Fisher had the insight that governments that managed their money supply smartly would increase the likelihood of economic stability (a point echoed by Paul Krugman just today in discussing the European Union's debt crisis). And that's just in the first 170 pages.
It's not a dry recitation, either. Webb earnestly ventures into parts of London most proper women would never dream of seeing. Marx indulges in his own welfare state at the expense of Engels. Fisher's bout with tuberculosis (usually a killer in those days) took years to recover from and turned this academic into a crusader. Grand Pursuit is a very entertaining tale bursting with great stories, like the deftly painted scene at 78 Regent Street, the address where the first women to attend Oxford resided in bohemian splendor. Don't think for a moment you need to have a dog in the fight between Keynesians and the Chicago School to enjoy this book. You may not realize how dramatically the lives of so many people have improved in the last 200 years, but Nasar's Grand Pursuit will show you a major reason why and how it happened.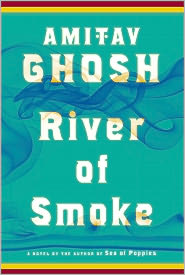 RIVER OF SMOKE BY AMITAV GHOSH ($28; Farrar, Straus and Giroux) *** 1/2
Whatever you do, DON'T read Amitav Ghosh's new novel River Of Smoke. It's the second book in a sprawling trilogy that began with the international bestseller Sea Of Poppies. By all means, dive into Sea Of Poppies and then you can read River Of Smoke. These two books are so artfully written, you will feel a sense of satisfying completion after each one, even though the story is going to be continued and you're eager to find out what happens next.
They're part of the Ibis trilogy, so-called because the books pivot on the journey of the Ibis, a ship that looms large in these tales. It might just as easily have been called the Opium Wars, since it is set in the early 1800s and leads up inexorably to that showdown between China and Great Britain, with India squeezed in the middle.
Where to begin? With the vision that reveals to an illiterate woman in a tiny village that she will embark on a voyage on the Ibis (even though she's never even seen a sailing ship like that before)? With the opium trader Bahram Modi, who has a gift for navigating the tricky politics of Canton and his dual existence at home and with his true love, a woman on a tiny boat who cooks for sailors? With the naturalist who ventures from England to discover if a fabled plant actually exists or is just the fantastical imaginings of an artist who wanted to beguile?
Ghosh is such an artist. Dickensian is the word the invariably springs to mind, because he has an endless supply of vivid characters and enough plot to keep all of them -- and dozens more -- dancing away for years. His talent for dialogue is especially remarkable for Ghosh is writing in English while capturing the distinctive patterns of both speech and the written word in a bygone era by people who might speak Mandarin or some Indian dialect but are using English to communicate with one another. His dialogue is musical, vivid, funny, utterly original and a sheer delight.
Sea Of Poppies was flawless. This second book does not disappoint, but you do see the gears of this massive tale move the story along here and there as Ghosh leaps from continent to continent and character to character. Pirates, romance, despair, love, suicide, fate, the gods, addiction, redemption and history -- it's all here. Can Ghosh bring his marvelous tale to a satisfying conclusion? If River Of Smoke is any indication, the answer is yes, if "satisfying" includes heartbreaking and moving. We may have to wait till 2014 to find out. But it's worth the wait and you've got two books to read and reread until then.
NOTE: Michael Giltz is provided with free copies of books to consider for review, including digital and physical galleys as well as final review copies. He typically does not guarantee coverage and invariably receives far more books than he can cover.
Popular in the Community