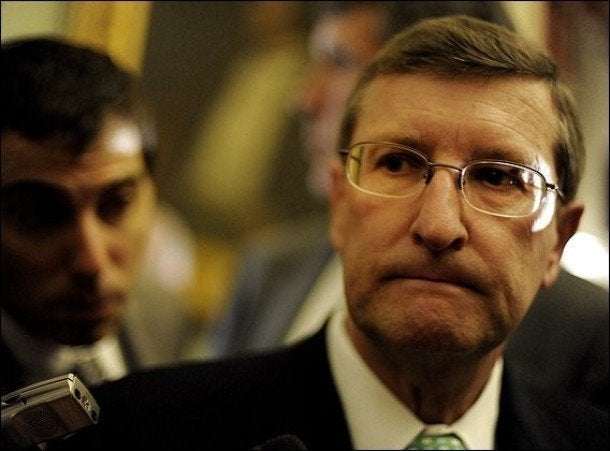 Kent Conrad, the Democratic Senator who declared the public health insurance option dead on Sunday, portrays his activism on behalf of health insurance cooperatives as the conscripted service of a pragmatic warrior.
The public option, he has said over and over, just doesn't have the 60 votes he thinks are needed to overcome a filibuster in the Senate.
The accuracy of that supposed whip-count aside, Conrad's opposition to offering consumers a government-run alternative to private insurance companies goes deeper than political pragmatism.
Though he has refused to take a public position on the matter, in private meetings with colleagues and staff dating back to the beginning of the year, Conrad has repeatedly expressed his opposition to a public option, four top Democratic aides who've sat in meetings with him told the Huffington Post.
Conrad, they say, sees the public option as a dangerous expansion of federal responsibility for health care spending. "His position seems based on ideology more than practicality," said one of the aides.
Without fundamental changes to the health care system, Conrad sees the public option as unable to reduce the cost of health care. The argument by proponents of the public option that a government-run alternative within the insurance market would drive that fundamental change and help push health costs lower apparently doesn't hold any water with him.
Instead, he has presented a vague proposal to create health insurance cooperatives as an alternative.
But if it were up to Conrad, the Senate wouldn't be talking co-ops, public option or health care reform in 2009 at all, the aides say. The focus on health care runs afoul of his singular and career-long devotion to cutting the federal deficit.
The more responsible move, Conrad has argued behind closed doors, would have been to straighten out the budget first and then work on a health care overhaul. President Obama's position is that the budget can't be fixed without controlling health care costs -- and Conrad has been dragged along.
Conrad's fixation on federal spending is legendary; it's easy to imagine him waking in a cold sweat in the middle of the night, praying that those Medicare cost projections were only a nightmare.
And it is his fear of runaway spending that has made him extremely cautious in his approach to health care negotiations. Conrad has been a consistent and loud voice on the Finance Committee -- and within the bipartisan "Gang of Six" -- pushing a go-slow approach.
He has repeatedly rejected deadlines with the mantra that "we'll be ready when we're ready." He fought against the Democratic leadership's attempt to include language in the budget that would allow health care reform to be achieved using the reconciliation process, which only requires a simple majority rather than 60 votes. He lost that fight, but was able to make it much harder to pull off the legislative maneuver by insisting on a five year window rather than ten -- meaning any changes achieved through reconciliation will lapse in five years and need to be renewed.
And when the White House put out its health care proposal with a five-year timeline, Conrad insisted on using a ten-year frame. That's why we're talking about a $1 trillion price tag rather than a $500 billion one. The real-world difference is negligible -- the two scenarios are the same -- but the trillion dollar figure increases the political focus on costs.
At a July 16th Budget Committee hearing, he argued against expanding health care coverage if it raised the debt, emphasizing that "[w]ithout fundamental changes in the organization and delivery of care, expanding health insurance coverage will worsen the nation's long-term budget outlook."
Conrad worked early on to make the deficit the year's top priority. One of the first supporters of Obama's presidential candidacy, Conrad pushed the new administration to hold a summit on fiscal responsibility as one of his first official events, angering progressives who saw it as undermining an agenda that might need to rely on increasing the deficit in the short term.
His deficit concerns go way back. When a 38-year-old Conrad first ran for the Senate in 1986, he made a pledge that would define his career: If the federal deficit increased while he was in office, he wouldn't run for reelection.
It was quintessential Conrad, telegraphing both his ambition and his (wildly misplaced) sense of what a freshman senator could accomplish in office. But when the red ink kept running, his response was equally telling. Instead of merely breaking his pledge, Conrad ran for the state's other Senate seat -- vacated by former Sen. Quentin Burdick, who had died in office. It wasn't, after all, technically in violation of his promise. The deficit pledge only applied to the first post.
Conrad would win a special election in 1992, with his old spot taken over by his mentor, Dorgan. He ran for and won reelection in 1994 -- when a conservative wave wiped most rural Democrats to sea -- and again in 2000 and 2006, with nearly 70 percent of the vote in the most recent tally.
Beyond ideology or pragmatism, however, the North Dakota Democrat has a pocketful of other reasons to oppose a public option. Despite being from a state where campaigns cost a relative pittance, Conrad has found himself the recipient of largess from a host of private actors with interests in the health care debate. Over the course of his career he has received more than $828,000 from insurance companies, $610,000 from health professionals, and $255,000 from pharmaceutical and health product companies, according to the Center for Responsive Politics.
In 2009 alone, Conrad has watched industry cash pour in at a high rate, according to a review of FEC filings. His Political Action Committee, DAKPAC, received a $2,500 donation from the American Medical Association; $2,000 donations from the pharmaceutical companies Merck & Company and Eli Lilly; as well as $1,000 donations from Johnson & Johnson, Blue Cross and Blue Shield, American Hospital Association, AstroZeneca, Abbott Laboratories, Boehringer Ingelheim, and the Federation of American Hospitals.
Meanwhile, a slew of prominent industry lobbyists have been donating to Conrad's leadership PAC as well.
• David Castagnetti, of the firm Mehlman Vogel Castagnetti, donated $1,000 to the Senator's PAC. Castagnetti and his firm have been paid $877,500 to lobby on behalf of America's Health Insurance Plans, including $250,000 in 2009 alone. He has also earned $825,000 ($180,000 in 2009) to lobby on behalf of PhRMA.
• Charles Brain, of Capitol Hill Strategies, donated $1,000 to Conrad's PAC. Both he and his firm have been paid $1.4 million to lobby on behalf of PhRMA.
• John Jonas, of the firm Patton Boggs, gave $1,000 to Conrad's PAC. He and his firm have been paid $280,000 to lobby on behalf of American Healthcare Association in 2009, as well as $280,000 by BristolMyers Squibb for lobbying this year alone.
• Brian Griffin, a lobbyist for the Duberstein Group, made a $1,000 donation to Conrad's PAC. He and his firm have earned $300,000 to lobby on behalf of AHIP in 2009, as well as $960,000 overall.
• Michael Levy, a lobbyist for the firm Brownstein, Hyatt, Farber and Schreck, donated $500 to Conrad's PAC. He and his firm have lobbied on behalf of a host of insurance and pharmaceutical companies including United Health Group, for which it was paid $110,000 in 2009.
The money from these private interests is coming in at rates greater than past cycles, even though he isn't up for re-election until 2012. But both the Senator's staff and many other who know him insist that Conrad is a true believer and that the cash doesn't unduly influence him.
"It's actually more philosophical than that," said one senior aide about the connection between Conrad's opposition to a public option and his contributions from the health insurance industry. "He sees skyrocketing deficits. He thinks the number one priority should be cutting deficits by not spending money."
"For anyone who has survived a lecture with him in a private room, these are pretty deeply held beliefs," said one senior Democratic aide who has survived his fair share.
"Conrad is a real master of the material," said longtime strategist Paul Begala. "He is the substance guy. He always has these budget charts. And when I worked in the White House, every single day year round, I would spend one to two hours a day on the budget. It is what you do. That's how you govern. The budget is the nation's destiny. It is the most important document. So in my world, guys like Kent Conrad and [OMB Director Peter] Orszag are sex symbols."
The Senator is certainly well trained for the current role he plays, with a high school diploma from the prestigious Phillips Exeter Academy, a degree from Stanford University and an MBA from George Washington University. It's a background omitted from his official bio, which jumps from junior high to tax commissioner. Still, Conrad has been a budget wonk for decades. After grad school, he became the assistant to the state tax commissioner at the time, a man named Byron Dorgan who would become the junior senator from North Dakota. Conrad succeeded him and became commissioner in 1980.
While Conrad hasn't given up his deficit hawkishness, not all spending has been equal. Conrad quickly spiked Obama's plan to trim nearly $10 billion from the federal budget by cutting farm subsidies. The subsidies are given to wealthy farmers regardless of market conditions and help prop up the North Dakota economy.
The stance on farm subsidies neatly illustrates the paradox that is the conservative Democrat. Typified by House Blue Dogs, the faction claims the mantle of principled, fiscal responsibility. But, in practice, the position is often defined by fealty to the business interests that fund their campaigns or dominate their states.
In Conrad's case, it's difficult not to see how North Dakota affects his approach to health care. Thanks largely to farm subsidies, the state has one of the nation's lowest rates of unemployment and few uninsured people -- under 70,000, according to data from the Kaiser Family Foundation.
Conrad also bases his support for health insurance co-ops in his state's experience, calling it a good example of an efficient and workable system.
And yet, in North Dakota, one insurance provider has near monopolistic dominance, and although it is technically a co-op -- a nonprofit owned by its members -- it hardly serves as an example of best practices. Indeed, Blue Cross Blue Shield of North Dakota raised its insurance premiums 74 percent from 2000 to 2007 and its incoming president commands a salary of somewhere between $500,000 and $750,000.
Before his recent proclamation on Fox News Sunday, Conrad's biggest moment in the health care debate came when, as Budget Committee chairman, he gave a gut punch to Obama's effort to get a bill done before the August recess. At a July 16th hearing, he prompted testimony from Congressional Budget Office chief Doug Elmendorf that mirrors his own concerns.
Conrad had already gotten a letter from Elmendorf in which the director said that the reform proposals he had seen so far -- because of their subsidies for coverage -- would increase the federal responsibility for health care provision.
"I am going to really put you on the spot because we are in the middle of this health care debate, but it is critically important that we get this right," Conrad said in his opening question to Elmendorf. "Everyone has said, virtually everyone, that bending the cost curve over time is critically important and one of the key goals of this entire effort. From what you have seen from the products of the committees that have reported, do you see a successful effort being mounted to bend the long-term cost curve?"

"No, Mr. Chairman," said Elmendorf. "In the legislation that has been reported we do not see the sort of fundamental changes that would be necessary to reduce the trajectory of federal health spending by a significant amount. And on the contrary, the legislation significantly expands the federal responsibility for health care costs."
Elmendorf's answer ignored savings that Democrats insist will come from large parts of the bill, but a media uproar over the testimony erupted anyway, just as Conrad knew it would. The Finance Committee continued to drag its feet, and emboldened Blue Dogs in the House clamped on to the bill hard. Conrad would tell reporters later that day that he knew the essence of what Elmendorf's answer would be and wanted it out there for public exposure.
The Finance Committee's Gang of Six have inched toward Conrad's co-op idea, with Republican Senators Charles Grassley (Iowa) and Mike Enzi (Wyoming) speaking warmly of it. The rest of the Republican caucus has been much less impressed. Indeed, although the push for co-ops is tied to the effort to get bipartisan support for the bill, that's a prospect that aides see as less likely by the day.
When the debate shifts to one between Democrats, the co-op proposal will meet stiff opposition. Advocates of the public approach didn't meet Conrad's proposal kindly. Senator Chuck Schumer, (D-N.Y.) initially said the idea didn't "come close to satisfying anyone who wants a public plan."
Conrad, in response, has tried his hand at political diplomacy. In June, the budget wonk sat down with Schumer to try to merge the two ideas. After the talks, Conrad said a number of points had been agreed on, including allowing the co-ops to have a national structure and to have bargaining power. Schumer, meanwhile, said his hope was to endow the co-ops with enough leverage that they could then use to keep private insurers honest, negotiate lower prices and trim health care costs. Conrad, however, only wanted to appropriate just a few billion dollars in start-up capital for the co-ops, several times less than what Schumer and others say is necessary for them to be competitive with private insurers.
But the more competitive they become, the more the insurance industry, conservative Democrats and the Republican Party object to them as a "Trojan horse" that will destroy private insurance.

Conrad is insulated from reelection pressure in 2010 and comfortable in North Dakota, with its population of less than 650,000. And he sees nothing untoward about a man representing so few people guiding policy for so many.
Indeed, he wouldn't have it any other way. Told in June by the Huffington Post that the largest coalition of health care reform groups opposed his co-op proposal, he couldn't have been less impressed.
"They have no votes on the floor of the United States Senate. And I am dealing with votes in the Finance Committee and the floor of the United States Senate. I am frankly not terribly interested in what these myriad groups all think. I am interested in what people who vote think," Conrad said.
Citizen researcher Lew Okun contributed to this report.
Popular in the Community