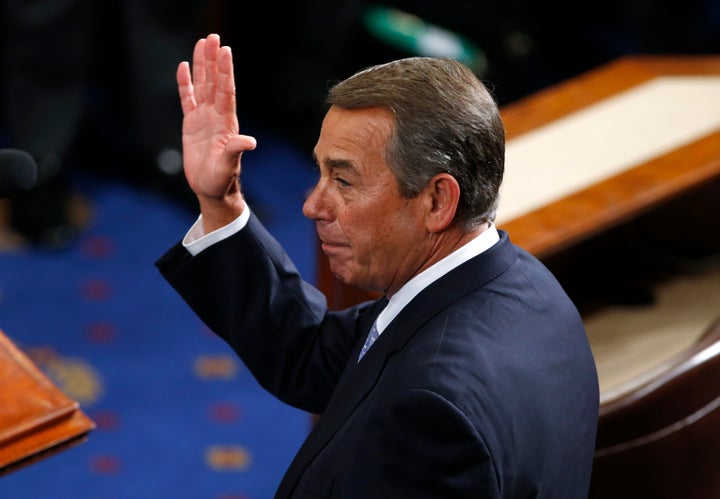 WASHINGTON -- Just before midnight on Monday, congressional lawmakers and the White House tentatively agreed on a major budget deal that would end such standoffs in the Obama presidency and solve a potentially catastrophic debt default coming within days.
Several aides said that, absent last-minute drama, it could be voted on by the House as early as Wednesday and by the Senate a day later. That would place it on the docket at roughly the same time that House lawmakers vote on Rep. Paul Ryan (R-Wis.) as their new speaker.
"Patience is a virtue," said one congressional source, when asked about the timing of the deal. "We are still on track."
Under the arrangement detailed by congressional aides, the debt limit, predicted to be hit on Nov. 3, would be extended into March 2017 -- well into the next president's term.
Additionally, over the next two years, government spending would rise $80 billion above the caps that sequestration currently allows. That money would be doled out evenly between defense and non-defense accounts, with $50 billion budgeted for the first year and $30 billion for the second.
On top of that, the bill would include $32 billion for the overseas contingency fund -- a veritable piggybank for administrations to cover the costs of wars -- split over the next two years. That would bring the deal's total spending increase to $112 billion over two years.
A congressional aide noted that these spending levels are far greater than the $63 billion from two years of sequestration relief passed during the last deal hammered out by Rep. Ryan and Sen. Patty Murrary (D-Wash.) at the end of 2013. Unlike that deal, this one has been negotiated largely in secret between top leaders from each chamber.
"The president has repeatedly called on Congress to pass a budget that lifts harmful spending cuts known as sequestration and that invests in both our economic security and national security. The agreement reached by Congressional leaders last night meets these key tests," said a White House official. "While this agreement is indeed a compromise, it is promising that Democrats and Republicans in Congress were able to come together to reach a strong agreement that would break the cycle of short-sighted, crisis-driven decision-making. We urge members of Congress from both parties to take the next step and pass a budget based on this agreement."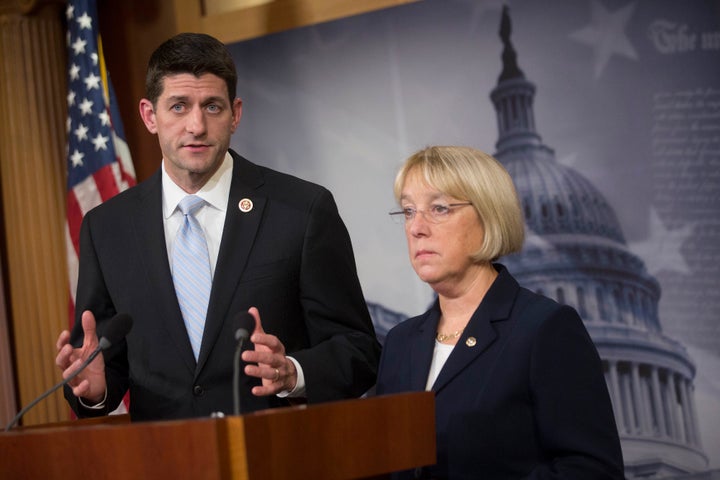 The deal is offset with cuts elsewhere. According to sources, Congress would cover some of the costs by selling additional broadcast spectrum bandwidth and oil from the strategic petroleum reserve, as well as by making changes to crop insurance programs. A host of lesser known items also would likely find the chopping block.
But the real pay-for would be felt on two major entitlement programs. The deal would extend the sequester's cuts to mandatory spending through 2025, which mostly involves a 2 percent cut in reimbursements to Medicare doctors. That reduction was scheduled to expire in 2021 under the 2011 Budget Control Act, which put sequestration into place. It was extended to 2023 under Murray-Ryan deal.
The new agreement also would prevent a 20 percent cut in benefits next year to the 11 million Americans enrolled in the Social Security Disability Insurance program. The cut would be avoided by diverting some of the incoming payroll tax money from Social Security's much bigger retirement insurance program for six years, something Republicans previously said they wouldn't do without cuts to benefits.
Hill sources said the disability changes would save roughly $4 billion to $5 billion over 10 years by requiring all states to have doctors review initial disability applications, which in some states are now checked by Social Security Administration officials and not medical professionals.
One source said the deal would also set up demonstration projects in which some people who receive disability benefits could earn money from working with less fear of triggering a review that can result in benefits being cut off. Instead, people participating in the projects could see their benefits gradually curtailed as their income rises -- an idea Ryan seemed to favor at a hearing earlier this year.
Democrats are unlikely to be overly offended by a demonstration project if the deal prevents the looming 20 percent benefit cut. Demonstration projects also served as a consolation prize for conservatives after they failed to get bigger cuts to food stamps in a farm bill last year.
One source questioned why Republicans would like the disability part of the bargain, since it's unlikely to be too upsetting to Democrats. "It's not bad enough to buy Freedom Caucus votes," said the source, referencing the band of House conservatives who have demanded continued austerity in such negotiations.
Though the topline numbers appear favorable to Democrats, the negotiations didn't come without concessions. Two major lingering issues -- the extension of the highway trust fund and the reauthorization of the Export-Import Bank charter -- are not addressed in the prospective deal.
A source familiar with the talks said the bill also makes an alteration to the president's health care law by repealing a provision that requires employers with more than 200 workers to automatically enroll employees into employer-sponsored health care coverage. This change mirrors legislation sought by the business community, sponsored by Sen. Johnny Isakson (R-Ga.).
Laura Barron-Lopez contributed reporting.
This entry has been updated.
Popular in the Community