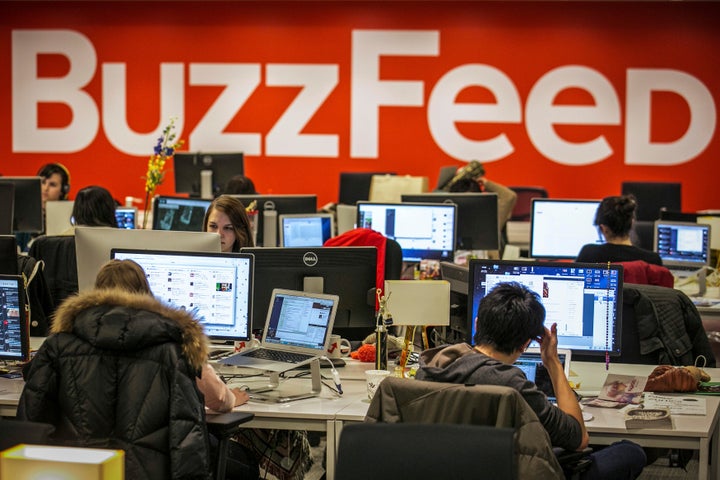 NEW YORK ― As politics obsessives turn to Twitter on Election Night, BuzzFeed editor-in-chief Ben Smith wants his site's coverage to be right there with them.
BuzzFeed and Twitter are teaming up for an Election Night broadcast streamed exclusively on the social media platform. "We're going to be doing this live from inside the platform that is the beating heart of the election," Smith told The Huffington Post.
Twitter, which has been a second screen for viewers of major sports and politics events on television, is increasingly providing live video within its platform.
The social media company has recently streamed NFL games, partnered with CBS for the summer Democratic and Republican conventions, and joined Bloomberg for the recent presidential debates. Its live stream of Sunday's second Donald Trump-Hillary Clinton debate reached 3.2 million unique visitors, an estimated 70 percent of who were younger than 35.
Twitter's partnership with BuzzFeed gives the social platform an opportunity to capitalize on the high level of youth engagement it's seen throughout the presidential race, with more than half of election-related tweets from users 25 and under.
Adam Sharp, Twitter's head of news, government, and elections, suggested the company may be the first screen for a mobile-first, cord-cutting audience. He said there's "absolutely an appetite among these younger, really engaged" news and politics users for a combined experience of live video and conversation. On Election Night, for instance, Twitter's audience could watch key speeches and discuss them without ever turning on CNN or Fox News.
But Sharp acknowledged many Election Night Twitter users will be watching results live on television, with BuzzFeed's broadcast serving as a second-screen experience offering "unique vibrancy and perspective."
In addition to BuzzFeed journalists sharing reporting and analysis through the night, Smith said he hopes to demystify how winners are called in key races. Smith said television anchors still announce decisions as if they require "mystical, special knowledge ― like tablets coming down from on high." Yet he said there's "intense, sophisticated conversation among analysts" in real-time on Twitter about the state of key races.
BuzzFeed will work with Decision Desk HQ, a volunteer-run polling and data operation launched by Brandon Finnigan, a blogger from conservative site Aces of Spades. Smith described Decision Desk HQ as "America's fairest new election night vote counter" in a 2014 profile of the group. He wrote how Finnigan and his growing team were disrupting the Election Night model in which major networks and The Associated Press have traditionally announced the winners.
Smith said there "ought to be a very transparent conversation, where these calls are coming from and why." Sharp noted how Decision Desk HQ volunteers brought primary election viewers into the process into how they counted precincts using live-streaming app Periscope.
"This is not going to be your grandparents election night broadcast," Sharp added.
Smith suggested BuzzFeed's partnership with Twitter would differ greatly from the manner in which television networks graft elements of social media onto otherwise traditional broadcasts. "Cable news is largely just people reading tweets," he said.
"One of the opportunities of Twitter, you don't have to pretend it's 1976," Smith added. "It's an open conversation."
Related
Popular in the Community