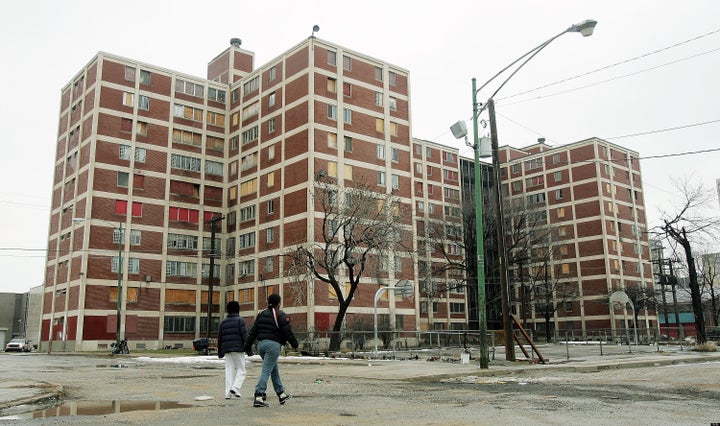 It has been the dream of a city, the scourge of a nation, and even, briefly, the home of a mayor. As of Wednesday, the Cabrini-Green Housing Project will be relegated to history once and for all.
The final high-rise on the site, at 1230 N. Burling St. in Chicago, is set for demolition on Wednesday. And as a community pays tribute, a city reflects on the troubled life of the project and prepares for the future of the neighborhood.
Construction began on Cabrini-Green in 1942, and lasted for twenty years, the peak years of the "urban renewal" movement. It began as a development of row houses, but several high rises were added to the complex, which ultimately housed 15,000 people, as NBC Chicago reminds readers.
The idealized vision of a vibrant new development in the city quickly collapsed, however. It wasn't long before the towers were controlled by gangs, and violence became a fact of life. The situation at the projects became so grave through the '60s and '70s (including the stunning shooting of two police officers there in 1970) that in 1981, Mayor Jane Byrne moved into an apartment in the complex to draw attention to the problems it faced. Here's footage of an Easter celebration she held at Cabrini-Green that year:
Still, conditions at the projects continued to decline. In the 1990s, high-profile crimes drew continued national attention to the state of things at Cabrini. In 1992, 7-year-old Dantrell Davis was killed by a sniper's bullet on his way to school. Five years later, "Girl X," as nine-year-old Shatonya Edwards was known, was brutally raped, choked, had insecticide sprayed down her throat, and was left for dead.
These and other outrages, coupled with the rapid gentrification of surrounding neighborhoods like the Gold Coast and Lincoln Park, ultimately spelled the end of Cabrini-Green. In 1997, the city came out with a plan for redeveloping the neighborhood that included knocking down the projects. Other housing is being built on the site, but there are also plans for commercial development there, including a reported deal to bring a Target to the site.
Demolition began almost immediately, and residents were slowly relocated to other housing projects, or to row houses in the immediate vicinity. In December of last year, the final residents, Annie Ricks and her daughter Rose, were evicted from their home in 1230 N. Burling, after battling with the city on where she was to move. She now lives in the Wentworth Gardens project on the South Side, according to the Chicago Tribune.
With Ricks evicted, the last of the project's high-rises was set to be destroyed. Former Cabrini-Green residents, neighbors and friends gathered on the site of the tower Tuesday night, to bid farewell to a community that was, for better and for worse, their home.
The next morning, the wrecking ball arrived.
WATCH NBC Chicago's footage of the final tower's demolition here:
Related
Popular in the Community