Republican presidential candidates will meet Sunday night to chart changes they want to the presidential debates amid mounting criticism of what many of the campaigns say has been an unwieldy and unfair process.
The meeting follows the Republican National Committee's decision on Friday to suspend its debate partnership with NBC News, in response to claims that CNBC moderators mistreated its candidates at Wednesday night's forum. Sunday's gathering has being described by sources on campaigns and at the RNC as an opportunity to produce reforms that the committee could then present to networks still scheduled to host debates.
Spearheaded by the campaigns of Dr. Ben Carson and Louisiana Gov. Bobby Jindal, the process has been haphazard. As of late Friday afternoon, one top campaign official said they had not yet settled on a place to meet in Washington. And it remained unclear if an official from the RNC would be allowed to attend.
"Some of the candidates are interested in pursuing the idea of seeing if there is additional common ground that the RNC can advocate for," said Sean Spicer, a top RNC official.
Regardless of who attends, finding commonality may prove exceedingly difficult.
Being considered is a proposal to split the 14-candidate Republican field into two equal-sized debates, with candidates drawing straws to determine who competes in each. The proposal is being pushed by campaign representatives of Jindal and Sen. Lindsey Graham (R-S.C.), who would naturally benefit from the even distribution. Both men have been relegated to the "undercard" debates, which have a far smaller audience than the main-stage events, and a kiddie-table stigma.
In the past, top-tier candidates have resisted the idea. And there was pushback when it was proposed to the campaigns immediately after the CNBC debate, including from middle-tier candidates like Sen. Rand Paul (R-Ky.). "They all are worried that they won't be on the stage with Trump," said one top campaign official, in reference to the audience the business mogul draws.
However, antipathy for the existing format is running so high that even some of the top-tier campaigns are sounding amenable to the idea.
"We're listening," a senior official with a higher-polling candidate, who has been featured in each prime-time debate, told HuffPost. "About time we trim the stage down from 10, and that's one way."
Among the other possibilities that have been discussed is getting rid of the undercard debate altogether and inviting all 14 qualifying GOP candidates to appear on stage at the same time. This idea, however, was quickly cast aside as likely only to worsen the current predicament.
Another proposal being batted around is to provide candidates with several minutes for opening statements. But because the campaigns of Carson and Trump insist that the debates go no longer than two hours, this would severely cut into time spent on question and answers.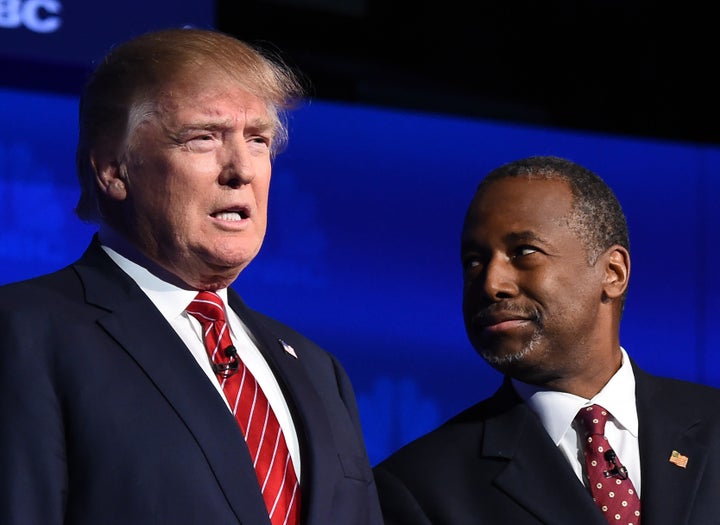 In addition to format overhauls, campaigns are debating reforms on the margins. According to a high-ranking campaign source, several campaigns have requested getting veto power over who moderates the debates.
Campaigns are also proposing a system in which during every commercial break, the moderator would be handed a listing of the amount of time allotted to each candidate in the preceding segment. The next question would then go to the candidate who got the least amount of time up to that point.
"We want to prevent another disaster from occurring, where the moderators become the story," said Hogan Gidley, a senior adviser to former Arkansas Gov. Mike Huckabee's campaign. Gidley was not advocating any specific proposal. "We are going to decide what the rules are and then agree before we step foot on the debate stage."
The meeting on Sunday will bring to a head a crisis that has been building for months. Campaign backlash against the RNC was inevitable, given that party leaders took much firmer control over the debate process this election cycle after the 20-debate circus of 2012 was deemed too chaotic. In January, RNC Chairman Reince Priebus announced plans for nine scheduled debates and named network sponsors. The RNC mandated some networks, such as CNN, needed to have a conservative media partner, while others, such as Fox News, Fox Business and CNBC, did not.
This criteria was established to assuage long-running Republican gripes that major media outlets can't be trusted to be fair to the party's presidential candidates on stage.
CNBC, with its pro-business slant, wasn't expected to be a controversial choice. But the forum on Wednesday proved to be problematic from the get-go. The campaigns complained that the questions veered away from economic policy and into personal matters. They also were aggrieved over the distribution of time between the candidates. One campaign official said an RNC aide had claimed to have an algorithm to ensure equity of time. "Which is ridiculous," said the official. "You don't need an algorithm. You need a stopwatch."
Priebus got out in front of the criticism on Wednesday night as the candidates cleared the debate stage, calling out CNBC's moderators for doing "a disservice to their network, our candidates, and voters." A top Republican official told The Huffington Post that Priebus called many campaigns -- though not all -- to ensure that he had their support in suspending the next debate with NBC. And when he met no pushback, he sent Friday's letter to NBC News chairman Andy Lack, saying that CNBC conducted the debate "in bad faith."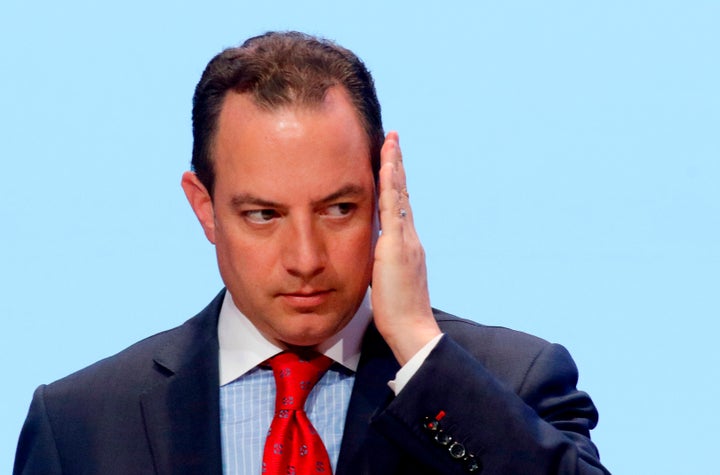 The RNC still intends to hold a debate on Feb. 26, even if NBC and sister network Telemundo -- the only Spanish-language partner in the Republican debate schedule -- are no longer involved. Priebus wrote that National Review, the conservative media partner for the debate, remains part of the event.
National Review editor Rich Lowry did not respond to a request for comment on the RNC's decision.
The RNC's move to penalize NBC puts the networks hosting the six remaining Republican debates -- ABC News, CBS News, CNN, Fox News and Fox Business -- in a tricky position.
The TV networks can continue debate preparations as planned, but run the risk of looking weak in not pushing back against a political party abruptly deciding fellow broadcasters aren't fit to host a debate. Even competitive news organizations, at times, have acted collectively after one is sidelined over claims of unfair coverage. For instance, network bureau chiefs banded together in 2009 to defend Fox News as the White House attempted to freeze out the network. The following year, the White House Correspondents Association gave Fox News a front-row seat in the briefing room.
So far, the networks haven't rushed to show solidarity. Representatives from CNN, CBS News, and ABC News declined to comment. A Fox News representative did not immediately respond.
Beyond competition, rival networks may be hesitant to stand up for CNBC, given how poorly the debate was conducted. Even within 30 Rock, the event was viewed as everything from a missed opportunity to challenge candidates on substantive economic issues to an outright disaster. There's now frustration within NBC over being penalized for CNBC's errors, according to network sources, especially when many believe NBC's political team would've done a better job conducting the debate if given editorial control.
NBC, officially, holds out hope that an agreement can be reached with the party and the now-suspended debate won't be canceled.
"This is a disappointing development," NBC said in a statement Friday. "However, along with our debate broadcast partners at Telemundo we will work in good faith to resolve this matter with the Republican Party."
PHOTO GALLERY
Moments From The CNBC Republican Debate
Calling all HuffPost superfans!
Sign up for membership to become a founding member and help shape HuffPost's next chapter