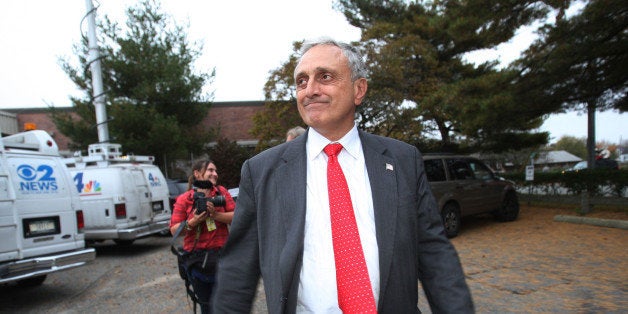 Former New York Republican gubernatorial nominee Carl Paladino says he may run for governor next year -- and remove the GOP as a major party in the state in the process -- if Republicans are unable to put forth a worthy challenger to Gov. Andrew Cuomo (D).
Paladino, a tea party favorite who now serves on the Buffalo Board of Education, told the Buffalo News that he may seek the Conservative Party nomination for governor next year if Republicans do not unseat state Senate Co-President Dean Skelos (R) and Assembly Minority Leader Brian Kolb (R).
"If the Republicans don't get rid of Skelos and Kolb, I would seriously consider taking a Conservative nod in order to put the Conservative Party on Line 2," Paladino said.
Paladino has accused Skelos and Kolb of not being vocal enough in opposing Cuomo's agenda or in pushing a conservative alternative for governor. He said in July that he wanted to "blow up" Kolb.
Paladino sent out a fundraising email for Assemblyman Steve McLaughlin (R), a potential Cuomo opponent, and has expressed support for another, Westchester County Executive Rob Astorino. But he said he may run if no Republican appears able to beat Cuomo.
The New York Conservative Party was founded to push the GOP to the right. Paladino held both the Republican and Conservative nominations in his unsuccessful 2010 race.
Unseating the GOP as one of the top two finishers in the gubernatorial election would render it a minor party under state election law. In New York, the top two finishers in a gubernatorial election are designated "major parties" and each control half of the state Board of Elections and half of county Boards of Elections. This includes both full-time and part-time patronage positions.
The last time the Republicans faced such a threat from the Conservative Party was in 1990, when Conservative gubernatorial nominee Herbert London finished one percentage point behind Republican nominee Pierre Rinfret, in a race ultimately won by Mario Cuomo (D).
Gerald Benjamin, a distinguished professor of political science at SUNY New Paltz, told The Huffington Post that it would be disruptive to state politics if Paladino were able to move the Conservative Party into major party status, but he questioned if Paladino would be successful.
A New York Republican Party spokesman did not return a message left for comment.
Paladino's threats come as New York Republicans battle for relevancy. The GOP's only statewide foothold is in the state Senate, which they control through a coalition with renegade Democrats. Former Gov. George Pataki and former Lt. Gov. Mary Donohue were the GOP's last statewide winners in 2002. The party does hold congressional seats and powerful county offices.
REAL LIFE. REAL NEWS. REAL VOICES.
Help us tell more of the stories that matter from voices that too often remain unheard.
BEFORE YOU GO
PHOTO GALLERY
2014 Gubernatorial Candidates