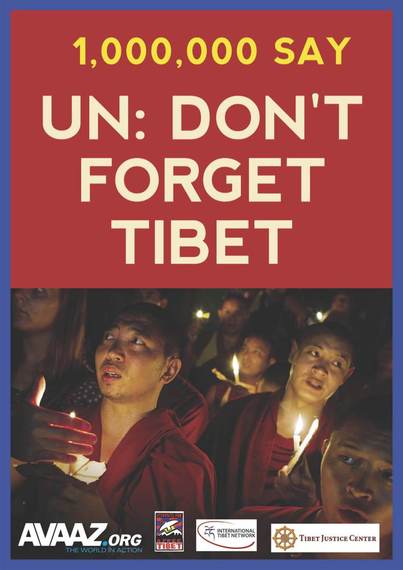 Today in New York the United Nations General Assembly will vote to elect new Members of its Human Rights Council. Among the nations standing are a number of candidates with a history of widespread human rights violations, whose governments certainly do not "uphold the highest standards in the promotion and protection of human rights," as required by UN Resolution 60/251.
China is one of these. Last month China underwent a human rights review by fellow UN member states in Geneva. During this review government after government raised grave concerns regarding the human rights situation in China, East Turkestan, Inner Mongolia and occupied Tibet, where more than 120 Tibetans have set fire to themselves as a form of protest, where Tibetans celebrating the Dalai Lama's birthday were reportedly shot by security forces, and where anyone who objects to China's insistence on showing loyalty to the regime risks imprisonment and torture.
There are serious questions to be answered regarding China's credentials for sitting on a Council that seeks to promote human rights across the world. In October Spain's highest criminal court indicted former Chinese President, Hu Jintao, on charges of genocidal policies in a lawsuit upholding the principle of "universal jurisdiction." These charges relate to specific policies being implemented in Tibet, from the imposition of martial law leading to torture and a climate of terror, to systematic patriotic education, compelling Tibetans to denounce the Dalai Lama; policies that China continues to enforce in Tibet today.
As I followed China's performance in the UN Review process, I was struck by Chinese UN Ambassador Wu Haitao's reference to President Xi Jinping's promise to pursue the "Chinese Dream." "We are working hard for the realization of the Chinese dream,' he said, 'which is also a human rights dream." President Xi Jinping has been in power for nearly a year - conditions in Tibet continue be a nightmare. But China has an opportunity to realise its Chinese dream by making a number of transformative commitments.
I appeal to President Xi Jinping to commit to progressing the recommendations made by UN member states during the human rights review. Specifically on Tibet I appeal China to immediately agree dates for a visit by the UN High Commissioner for Human Rights Ms Navi Pillay, so that she may investigate the Tibetan grievances which have contributed to the tragic wave of self-immolations over the last two years. Furthermore, I appeal to President Xi Jinping to urgently review China's failed Tibet policies, particularly to relax restrictions on freedom of expression and belief, and step up cooperation with UN mechanisms. As I write, Tibet advocates from the International Tibet Network coalition are delivering a one million strong petition promoted by the online advocacy organisation Avaaz, to all UN Missions in New York. Over one million voices are calling on UN Members to ensure China make "specific and monitorable commitments" to "help China become a human rights leader fit to sit on the Council." The result of the Human Rights Council vote will be a test of every nation's commitment to Tibet, and to justice. Now is the time for the international community to unite, to urge China to reverse those policies which have brought years of suffering to the Tibetan people - to create lasting positive change.
And now is the time for President Xi Jinping to play a leadership role, for the 'Chinese dream' to become a "human rights dream."
Related
Popular in the Community