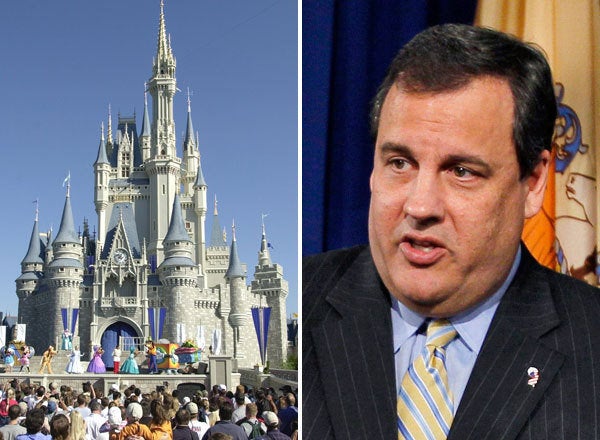 Critics are taking aim at New Jersey Governor Chris Christie for his decision to embark ---- and now remain -- on his Disney World vacation even while his state digs out of a massive snow storm. Compounding the criticism is the fact that Christie's second-in-command, Lt. Gov. Kim Guadagno, is simultaneously on leave in Mexico.
With both Christie and Guadagno missing in action, Democratic Senate President Stephen Sweeney, who assumed his role on Sunday, is serving as acting governor. As a result, he's been left with Christie's momentous blizzard-busting responsibilities.
Some Democrats are now taking issue with the governor and his lieutenant's choice not to abbreviate their vacations. One state senator even criticized the recently created lieutenant governor's office, which was first filled in January following a successful ballot initiative.
"We clearly made a mistake if we created the office lieutenant governor and wasted money if the lieutenant governor is not going to be here when the governor is out of state," state Sen. Raymond Lesniak quipped, according to The New Jersey Star-Ledger. "It's being handled very well by Sen. Sweeney, but you have to really question the purpose of the office."
One columnist placed the blame squarely on Christie for supposedly shirking his obligations in a "dereliction of duty and an abrogation of responsibility" that he claims may prompt skepticism about Christie's profile as a strong leader, perhaps one -- although not according to Christie -- with national aspirations.
Sweeney has taken a different tune, however, telling the Star-Ledger that he understands the situation and will make no attempt to use his temporary role to exact a power grab.
"It's easy to criticize. I'm not going to do that. It happened. There was a scheduling conflict," said Sweeney, who noted he won't use any of his temporary executive powers to do anything Christie would not have done. "I am sure for the governor, this was not the ideal situation for him, me being a Democrat him being a Republican."
A Christie spokesman recently tried to downplay the significance of Christie's absence from the state in a statement to Politico:
Snow in the northeast happens often, which is why the response was handled expeditiously between the acting governor, secretary of transportation, state police and the governor's staff with all the appropriate and necessary coordination. And like every other day, the governor was and continues to be in regular contact with his staff and cabinet officers.
Support HuffPost
The Stakes Have Never Been Higher
Popular in the Community