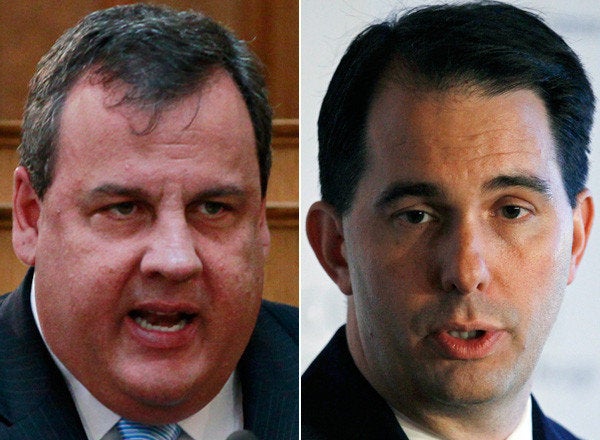 New Jersey Gov. Chris Christie's 2009 GOP primary opponent is urging him to speak more "boldly" and engage in budget cuts with the vigor of Republican Gov. Scott Walker of Wisconsin.
Steve Lonegan, the New Jersey head of Americans for Prosperity, said during a Tax Foundation podcast that while he believes that Christie has achieved some successes in the Garden State, he has not done enough to reduce government spending and promote tax cuts. Lonegan, one of the state's most conservative Republicans, called on Christie to trim the state budget by at least $5 billion.
"That is going to take a lot of effort and you'll have Scott Walker-style battles going on," Lonegan said.
A former mayor of Bogota, N.J., Lonegan claimed, however, that New Jersey's budget has grown by $4 billion since Christie took office after beating Lonegan by 13 percentage points in 2009.
Lonegan acknowledged that Christie has been hampered in his attempts at budget cutting by a Democratic-controlled legislature and a series of court orders. Even so, Lonegan called on Christie to reduce eligibility for food stamps and end mandatory pre-kindergarten programs and state economic development grants to businesses. Lonegan did praise Christie for bringing about changes in pension rules for public employees and ending the state's participation in the Regional Greenhouse Gas Initiative.
Still Lonegan argued, "We have not seen the deep sweeping changes to put the state back on track," adding, "he should speak more boldly on the need to cut taxes."

The governor's spokesman, Michael Drewniak, dismissed Lonegan's criticisms, insisting that Christie has pushed for a series of tax cuts. "We simply don't agree with Mr. Lonegan's assessment," Drewniak said. "We have made historic changes in New Jersey in terms of smaller, less costly government, rejection of job-killing tax hikes and a laser focus on bringing real tax relief to New Jersey families."
He pointed out that last year Christie brought about a series of business tax cuts totaling $2.35 billion and, when signing this year's state budget, he cut $361 million from the final proposal passed by the legislature.
Drewniak also cited the governor's recent veto of a "millionaire's tax" and a gas tax hike. And he pointed to projections from the governor's office indicating that the state has a $648 million surplus, which Christie wants to tap for tax relief. Legislative Democrats have rejected Christie's tax relief proposal, citing a report from the nonpartisan Office of Legislative Services suggesting a deficit. In turn, Christie rejected that report and referred to the Office of Legislative Service's budget officer as the "Dr. Kervorkian of numbers."
In addition, Drewniak pointed to Christie's speech last week calling for increased tax cuts at a special legislative session he initiated.
At that session, lawmakers did not act on Christie's comprehensive tax cuts; instead Christie ended up backing a milder Democratic tax relief measure. (One of those advancing the Democratic proposal included Senate Majority Leader Loretta Weinberg (D-Teaneck), whom Christie once suggested the media should "take the bat to.")
Lonegan was dismissive about the importance of last week's special session, which did not result in any legislation being passed: "It was a media play on both sides," he said.
Popular in the Community