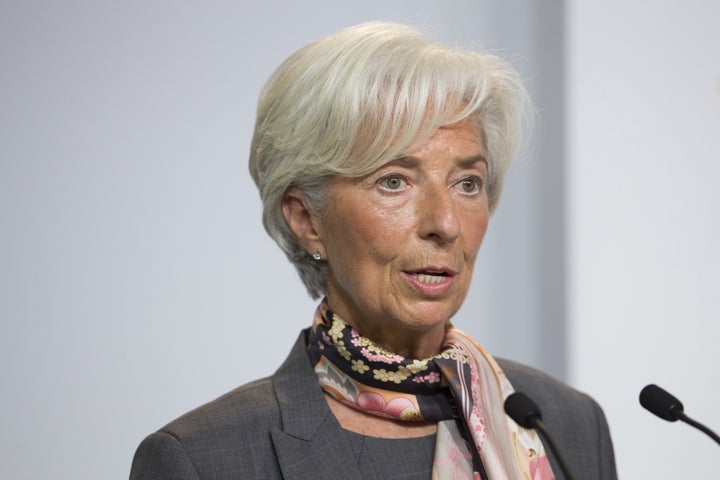 The U.S. should increase the federal minimum wage, expand a key tax credit for low-income workers and enact more "family-friendly" policies if it wants to boost the economy, Christine Lagarde, the managing director of the International Monetary Fund, said Tuesday.
The IMF, an international organization responsible for ensuring global economic stability, has now recommended several times that the U.S. raise the federal minimum wage.
In the U.S., the years following the financial crisis have been a period of uneven economic growth -- a recovery that to many people hasn't felt like one. The wage proposal is one of many potential remedies that Congress has refused to enact into law. The U.S. also is the world's only developed country that doesn't guarantee paid time off for new mothers.
"It is no wonder that perceptions abound that the cards are stacked against the common man -- and woman -- in favor of elites," Lagarde said.
The IMF views these measures as necessary if the U.S. is to do its part to expand the global economy by 2 percent this year.
The organization has previously urged U.S. policymakers to spend more on infrastructure -- think crumbling roads and bridges -- and education. The policies could also help reduce inequality.
While the U.S. economy has been expanding by roughly 2 percent annually since the end of the Great Recession, many experts reckon that the rich have disproportionately benefited as low- and middle-income Americans increasingly fall behind.
"The good news is that the recovery continues; we have growth; we are not in a crisis," Lagarde said. "The not-so-good news is that the recovery remains too slow, too fragile, and risks to its durability are increasing."
"Certainly, we have made much progress since the great financial crisis," she went on. "But because growth has been too low for too long, too many people are simply not feeling it."
Last month, the IMF chief said that the U.S. could expand the economy by implementing family-friendly policies that could lead to more women in the workforce. Pointing to nations that have increased the ranks of working women by offering affordable child care and promoting "equal pay for equal work," Lagarde said the U.S. economy would probably grow by 5 percent if an equal share of women had jobs as men.
Opponents of policies deemed beneficial to workers argue that higher wages could lead to fewer jobs if employers view them as too costly when measured against their profits. Corporate profits in the U.S. are near all-time highs.
Many frustrated workers have lent their voices to the so-called "Fight for $15" movement, which calls for a minimum hourly wage of $15. New York state recently agreed to hike its minimum hourly wage level to $15. More than two dozen states have enacted minimum hourly wages that are higher than what the U.S. government requires.
Former Secretary of State Hillary Clinton and Sen. Bernie Sanders (I-Vt.), who are both seeking the Democratic nomination for president, have sought to attract voters by highlighting economic inequality in the U.S. and promoting their competing policies for how best to increase stagnant middle-class earnings.
REAL LIFE. REAL NEWS. REAL VOICES.
Help us tell more of the stories that matter from voices that too often remain unheard.