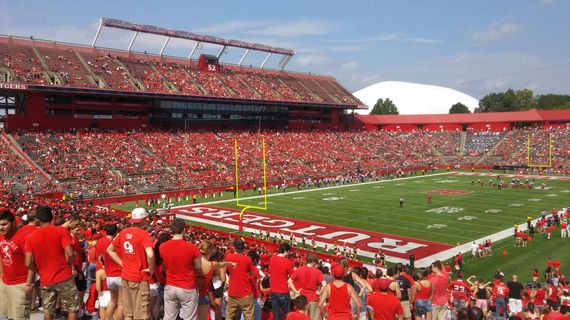 By College Tourist; Author: Karla Dimatulac, Rutgers University
New Brunswick, New Jersey is home to none other than Rutgers University, one of the largest research universities in the nation.
Rutgers is a newly inducted member of the Big Ten conference, the oldest collegiate athletic conference in the United States. More than 66,000 students attend the Old Rut, from all 50 states and over 115 countries.
High Point Solutions Stadium: R! U! RAH! RAH! R! U! RAH! RAH! As part of the Big Ten, Rutgers stadium is roaring with students, alumni, and fans alike during the fall season. Come early and attend the tailgates; tents will be pitched up in every corner of Busch Campus. You're bound to find the letter "R" plastered everywhere.
Garder Sage Library: Part of the New Brunswick Theological Seminary, the library is a beautiful Victorian-esque facility that houses over 160,000 books. You can feel the tranquility the moment you walk through the doors. Be careful though, this place is insanely quiet and strict. Be respectful of those who work there and those who are trying to study.
Zimmerli Art Museum: For those art history enthusiasts, stopping by the Art Museum is an absolute must. The exhibitions are updated regularly, so there's always something new to see. Next door, the Art History library's moving bookshelves are also worth visiting.
Rutgers Business School: One of the newest facilities on campus, RBS is five floors of architectural beauty. The 5th floor has a breathtaking view of the entire Livingston Campus.
1. If you're a student or know a student, chances are you can get into the football games and most of the other athletic games for free.
2. Sometimes, the programming association organizes for celebrities to come and conduct guest lectures. This past year, we had Daymond John from Shark Tank, The Daily Show cast, and George Takei.
3. Stroll around Cook/Douglass campus for its scenic beauty. Named sixth of the top 25 most romantic spots on an American college campus, Passion Puddle is a small pond surrounded by trees. There's a legend that if a male student from Cook College and a woman from Douglass college held hands and walked around the pond three times, they would spend their lives happily married.
Stuff Yer Face: Famous for its stromboli sandwiches, this restaurant opened on campus back in 1977. Complete with a full service, this is the ideal place to grab inexpensive dinner along with great service.
KBG: If Chipotle were to serve Korean barbecue, it would be KBG. Another cheap alternative, you can choose from a wide variety of ingredients to be added into your burrito/bowl. On weeknights, they're open until three in the morning.
Hansel n Griddle: Personally, this one is my go-to delivery choice during the wee hours of the night. Their selection includes breakfast favorites to burgers to even jumbo wings. Hansel's smoothies are their claim to fame.
Hidden Grounds: A cute little coffee shop on George Street, this place is perfect for those lazy Sunday afternoons when you need a little pick-me-up. Caution: you risk looking like a hipster in this cafe, even more so if you Instagram your order.
Henry's Diner: Located in the new Livingston Plaza, this retro-style diner makes some killer breakfast food. When I'm craving crepes or an omelette at seven in the evening, leave it Henry's Diner to fulfill that craving.
Try this:
Fat Sandwiches: They say you're not a true Rutgers student until you've had your first fat sandwich. In this monstrosity, you will find everything ranging from mozzarella sticks to chicken fingers to French fries, to really anything your heart desires. It's the perfect craving at two in the morning when you're trying to cram for your Calc final early in the morning.
From Monday to Friday at 4-8pm, Edo Japanese Restaurant has a half-off discount for all their customers. Make sure you bring cash though! The special price isn't available through any other type of payment.
On the weekends, Rutgers is notorious for its Greek life parties. If you truly want to have the Rutgers experience, go with a few of your friends and roam around the streets of College Ave; you're bound to find one! Halloweekend is the liveliest night on campus, with students from different colleges even making the trek for the annual festivities.
Bus: Rutgers is especially known for their bus system. From Busch to College Ave to Livingston to Cook/Douglass, you'll find an abundance of buses everywhere. Besides walking, this is the best way to travel between each campus. You'll never have to fret over missing a bus because another one will come around in a matter of minutes!
Uber: When I want to go to the mall or the larger supermarkets, Uber will be your saving grace. While Rutgers is a huge campus with a variety of stores, it's still a bit too far from certain places I'd like to visit. Uber is cheap, fast, and will get you anywhere you need to go.
Train: In terms of traveling long distance, the train is probably your best bet. There is NJ Transit station opportunely on College Ave campus. It's on the Trenton-New York so it's convenient to go to and from the larger cities.
Local Knowledge:
1. Download the official Rutgers University app! There you'll find the daily menu for all the dining halls and real-time bus schedule updates so you'll never be late again.
2. Find your favorite go-to WiFi hotspots off-campus. You'll never know when the Rutgers servers will go down while you're finishing up an important paper or presentation.
3. Don't buy a printer! As a student, you get $30 printing credit available for use at any of the libraries or computer labs on campus. This is more than enough to last you for the entire semester. The $30 resets as each semester ends.