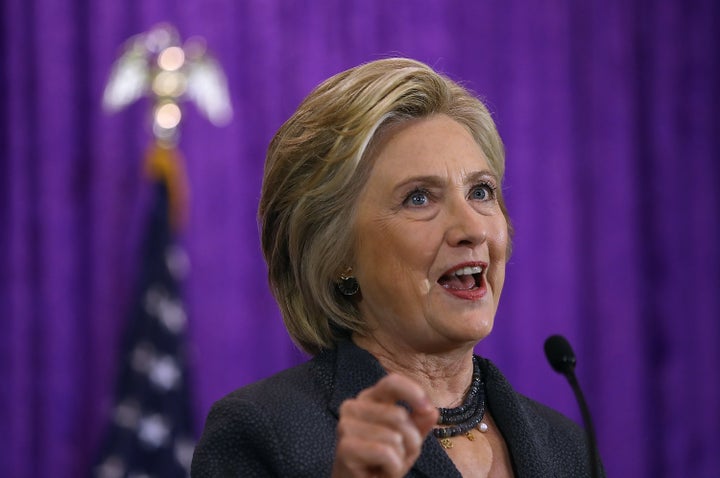 WASHINGTON ― Democratic presidential nominee Hillary Clinton made the most of her recent bout with pneumonia on Friday, quipping that her illness "finally got some Republicans interested in women's health."
"I'm also thrilled to be back on the campaign trail," Clinton said at the Black Women's Agenda Workshop in Washington, D.C. "As the world knows, I was a little under the weather recently. The good news is my pneumonia finally got some Republicans interested in women's health!"
Clinton sounded and appeared healthy at the event, despite weeks of conspiracy theories about her health and headlines claiming there's "something seriously wrong" with her that could affect her ability to take on the duties of president. Conservatives who had been indulging in wild rumors about Clinton's health ― everything from brain damage to Parkinson's Disease ― seemed momentarily validated when the former secretary of state suffered a dizzy spell at a Sept. 11 memorial event last week and had to leave the event to recover.
Since the incident, conservatives have remained fascinated by Clinton's health, using the hashtag "#HillarysHealth" to speculate about the candidate's rumored illnesses and disabilities. The obsession, however, has invited barbs from Clinton supporters about the GOP's general lack of interest in women's health otherwise. Republicans in Congress are trying to repeal the Affordable Care Act, which provides well-woman exams and contraception at no out-of-pocket cost, and defund Planned Parenthood, which an estimated 1 in 5 American women have visited for basic health care.
"She's perfectly fit but she falls down," Huckabee told Fox News on Sunday. "You know, she has these issues. Nobody really knows what it is. The latest is that it's pneumonia, now Bill [Clinton] is saying it's the flu. What the heck is it?"
Clinton said that by going to work with pneumonia, she was only doing what most American women do all the time.
"Now, looking back, I know I should have followed my doctor's orders to rest, but my instinct was to push through it," Clinton said Friday. "That is what women do every single day. And I felt no different. Life has shown us that we do have to work harder at the office while still bearing most of the responsibilities at home."
Popular in the Community