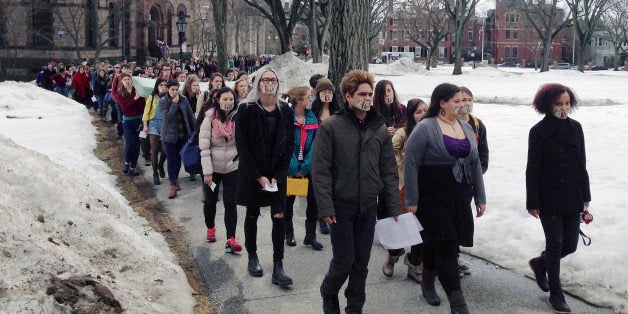 Seventy-eight percent of college presidents polled in the survey disagreed or strongly disagreed that sexual assault was prevalent on their campus, while only 6 percent agreed or strongly agreed that this was the case. In addition, three-fourths of presidents agreed or strongly agreed that their institutions were doing a good job protecting women from sexual assault, and nine in 10 agreed or strongly agreed that their schools provided appropriate due process for students accused of assault.
To conduct the survey, which was released Friday, Gallup polled 647 college presidents on behalf of Inside Higher Ed, the higher education trade publication.
The Department of Education is currently investigating 101 colleges and universities due to concerns that those institutions have violated Title IX, the federal gender equity law, in their handling of sexual violence cases.
One-third of presidents in the Inside Higher Ed survey agreed or strongly agreed that sexual assault is prevalent on campuses nationwide, but 42 percent took a neutral position on the question.
Inside Higher Ed's annual survey polls college presidents on trends in the news cycle, and the questions change each year, so there is no direct comparison to how the campus chiefs previously rated their schools on these specific issues. Last year, however, the survey found that not a single college president would say -- even anonymously -- that their institution wasn't handling sexual assault cases well.
This year's results come as the Senate is considering legislation that would increase the financial penalties the federal government can levy against schools that violate Title IX. To help explain their reasoning for the bill, lead co-sponsors Sens. Kirsten Gillibrand (D-N.Y.) and Claire McCaskill (D-Mo.) have recommended people watch "The Hunting Ground," a new documentary on campus rape that suggests college administrators have largely failed sexual assault victims.
One scene in the film is a montage of college administrators stating, "We take this issue very seriously," which the filmmakers described as "empty rhetoric" that schools routinely deploy when forced to confront their failings.
"We're in a stage of denial -- we know it's happening, the statistics are there," Annie Clark, a sexual assault survivor who appears in "The Hunting Ground," said about the Inside Higher Ed poll results.
Clark, who is a co-founder of the activist group End Rape On Campus, said college presidents who don't accept that sexual assault happens at their schools "are burying their heads in the sand."
"In order to have any real change, you need to accept that there's a problem, and we can't get to that real change unless they acknowledge it," she said.
The American Council on Education, which represents college and university presidents, did not immediately respond to The Huffington Post's request for comment.
The full list of colleges and universities currently under investigation by the Education Department's Office for Civil Rights for their handling of sexual violence is posted below.
Popular in the Community