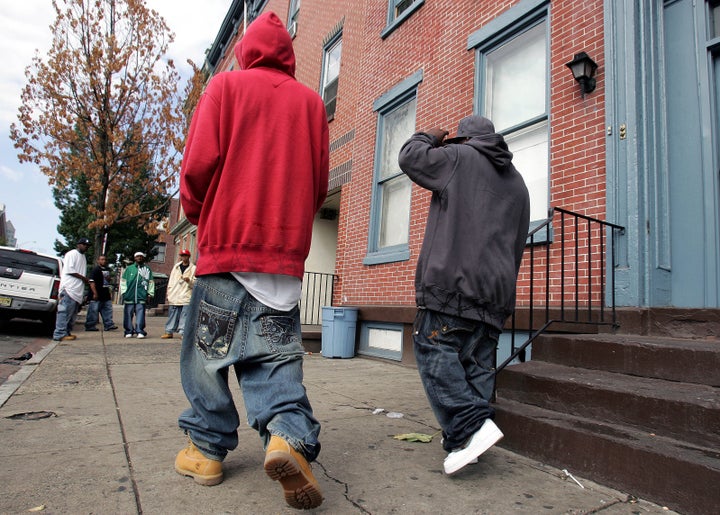 Despite the fact that laws banning baggy pants have been ruled unconstitutional by judges across the country, Collinsville, Illinois is the latest town to ban sagging trousers--and their mayor is not happy about it.
City council members in Collinsville, which is located about 20 miles east of St. Louis, Mo., told Fox 2 St. Louis that they proposed the ordinance because residents said they were tired of "looking at people's underwear." Though Mayor John Miller and several other council members opposed the ban, it ultimately passed.
STLToday.com explained what the new law will mean for "offenders" in Collinsville:
The new law requires pants to be "secured at the waist to prevent the pants from falling more than 3 inches below the hips ... causing exposure to the person or the person's undergarments," according to a copy of the ordinance. It would only apply to pants worn on public property. Violators will be fined $100 and be required to perform community service for the first offense and $300 and community service for subsequent offenses.
Councilman Michael Tognarelli told reporters there was a connection between saggy trousers and gang activity, and claimed "75 percent" of people in town supported the ban. Mayor Miller disputed that figure, and said the public is against the ban for the most part.
"Frankly, government shouldn't be telling us how to dress," American Civil Liberties Union spokesman Edwin Yohnka told CBS last year when Evanston, Illinois was mulling a baggy pants ban. "If they create an ordinance, so if their pants exposing X amount of underwear, so what are the police going to do, carry around rulers and then you start stopping and questioning and measuring?"
"Your honor, we now have the fashion police," the boy's public defender told a Florida judge at the time. The judge agreed, declaring the law unconstitutional.
Miller slammed the council for moving forward with the ordinance, which will likely be challenged in court and cost local taxpayers a pretty penny.
"I think it's very strange that we would spend taxpayers' money to facilitate something the taxpayers don't want, Miller told STLToday, adding that he was "sorry" the ordinance passed.
WATCH Fox 2 St. Louis's coverage of the ban here:


Related
Popular in the Community