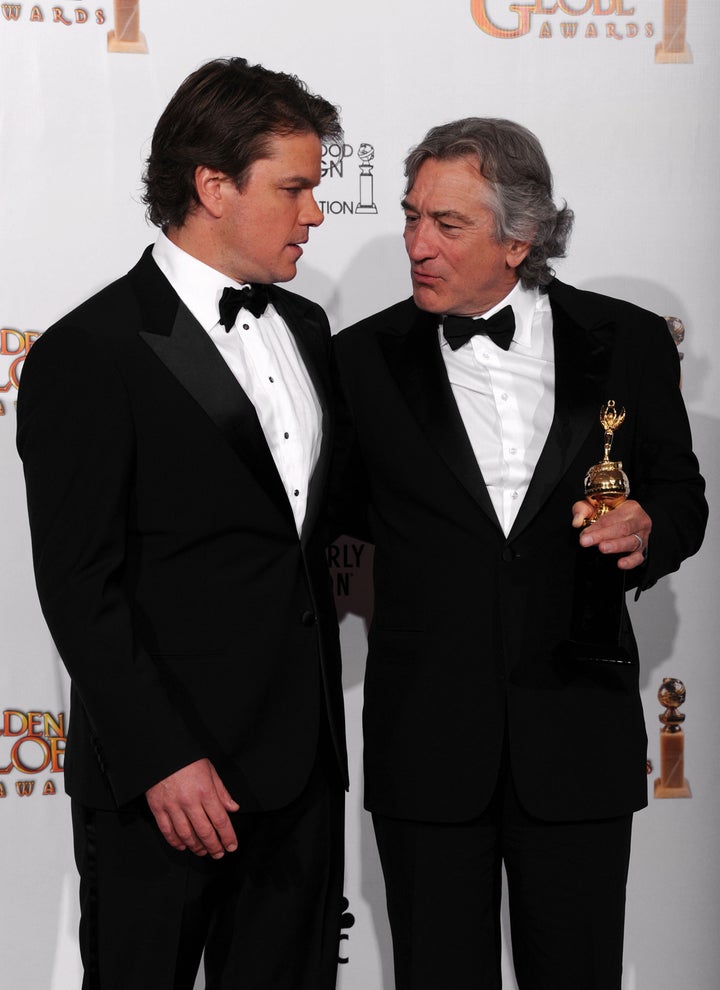 "In 1981, I went to the Golden Globes with United Artists executive Steven Bach who green lighted "Raging Bull". This film went on to win Best Actor Golden Globe for Robert De Niro. During the ceremony Steven told me he had demanded a rewrite due to the violence in the film, but the screenwriters refused. Steven withheld his approval to make the film. One day a rewrite appeared on his desk with the initials DRN on each page. DeNiro was not credited for the rewrite.
At this year's Golden Globes De Niro was given the Cecil B. DeMille award for his acting, but it should also be noted how he rescued the screenplay of "Raging Bull". With tousled grey hair De Niro looked like an elder statesman and only bobbled in the beginning when the teleprompter was too slow. One has to admire his chutzpah for confronting malfunctioning technology and not to allow this glitch to jar him. He made the quip that the Golden Globes made their decision to give him this award well before they had a chance to read the reviews for Little Fockers.
Today there was less mingling of stars during the commercials. In the past there had been a lot more schmoozing. Only when "The Social Network" won and Kevin Spacy ran up to greet the producers and the cast though he was not in it, did one see how superstars social climb and rub elbows.
In 1981, the audience was far more intoxicated than today. Is this because of the rehab TV shows like Dr .Drew's "Celebrity Rehab" and jokes such as the one lambasting Robert Downey, Jr.? After reading a string of 'B' films in which Downey starred, Ricky Gervais introduced Downey as known more for his appearances in The Betty Ford Clinic and the L.A.County Jail. Gervais was in fine form, but disappeared midway through the show only to return at the very end. One wondered if he had been censored. Bravo Ricky Gervais for standing up to Hollywood. It takes an Englishman. Another Englishman Colin Firth quipped after winning his best actor award that the Golden Globe Award would help him "get over his mid-life crisis, either this or a Harley Davidson." Gervais went on to introduce Bruce Willis as Ashton Kutcher's father. This did not go over well with Willis who was married to Demi Moore who is the wife of Ashton Kutcher. Moore and Kutcher were curiously not in the audience to be filmed for their on camera reaction.
Praise was missing for the beauties Jane Fonda and Helen Mirren who held their own against and onslaught of cleavage and flesh. Sandra Bullock's overly long bangs and straight jet black hair gave the impression that she was on her way to a tattoo parlor though her remarks about her techno savvy baby won hearts as well as her swearing that her Baby Louie was the only man in her life.
Reigning King of the Awards was Michael Douglas. He said to the audience who stood for his entrance, "There has to be an easier way to get a standing ovation." Douglas looked rested, heathy and happy -- no cancer in sight.
Reigning Queen of the festivities was Annette Bening who won Best Actress for her gender bending film "The Kids are All Right". Her thick black glasses made a studious statement that added diversity to cleavage city.
Angelina Jolie dressed in sparkling green was a bit of a snore next to the flash of Halle Berry who looked like she was going to a leather disco in her black leather strapless mini-dress covered from waist to ankles in black see-through net.
One missed an appearance by Arnold Schwarzenegger. When he opened the Critic's Choice Awards, he said, "I told you I'd be back." Maybe next year the Golden Globes will have Arnold Schwarzenegger replace Ricky Gervais?

Popular in the Community