 Inside the tropics-themed joint, Erika Andiola, a Dreamer and immigration reform advocate, jostled with Rep. Steve King (R-Iowa) over the value and legality of President Barack Obama's immigration-related executive actions. At one point, she encouraged the congressman to rip up the card that allowed her to remain in the United States without fear of deportation.
That King was badgered for nativist views was not new. He gets it a lot. But what made the episode stand out, and what secured it endless-loop status on cable, was the presence of Sen. Rand Paul (R-Ky.) at the table.
The Kentucky Republican took a bite of his burger, grabbed his drink and quickly bolted before the conversation unraveled. Clearly, he hadn't expected fireworks while dining at Okoboji Kitschy Barefoot Bar. Which raises the question: Why did the confrontation happen there in the first place?
The answer, according to those who orchestrated the event, is that it's become increasingly hard to confront elected members in public.
"We went to Iowa for the initial purpose to meet with the Iowa Dreamers," said Cesar Vargas, an immigration reform advocate who was standing next to Andiola during the confrontation. "We were with other supporters and allies, Christian Republicans who were supporting immigration reform. And they were saying Congressman King doesn't even come to us for him to hear what we have to say. That was very telling for us. ... King and other members of congress, Republicans and Democrats, don't really have those forums where they speak to constituents directly."
The town hall, the most common summer forum for politicians to interact with constituents, is effectively a relic. And its disappearance has forced advocates to adopt guerrilla-like tactics, from deceptive video and audio recordings to direct confrontation in private settings. Vargas said that his group, DRM Action, has leaned on a network of activists and political insiders from around the country to help figure out where lawmakers will be during recess.
"We have to be creative in terms of locating members," he said. "They are mostly afraid of people confronting them on their votes."
Operatives working on congressional campaigns all but admit that they are keen on limiting unscripted forums. The fear of a poorly worded phrase or a heated exchange being turned into YouTube fodder is paramount -- so much so that campaigns are instituting innovative means to give the veneer of openness without actually allowing for unobstructed interaction. Last summer, Rep. Paul Ryan (R-Wis.) began charging $15 for entrance into town hall events -- money that discouraged the rascal-minded protester from showing up, and covered the catering budget for the events. Others have leaned more on tele-town halls that give moderators sway over the questions asked and the meeting's format.
More generally, lawmakers are ditching town halls altogether. The trend started in 2009, when Democratic lawmakers faced visceral backlash to the crafting of Obamacare, and the public outrage caused them to do double takes. Those double takes turned into outright avoidance in 2010. And by 2011, town halls had officially become "scarce." The 2012 elections changed that temporarily, forcing lawmakers up for re-election out of their protective shells. But by 2013, things were returning to the emerging norm. The caution has become so omnipresent at this point, that when you ask campaign operatives about it, they snark in response.
"2010 called," said Matt Canter, the deputy executive director of the Democratic Senatorial Campaign Committee. "They want your story idea back."
As 2014 is an election year, so it wouldn't be unfathomable for candidates to side in favor of more availability. But so far, this year has proved no different than the last. Early stories about town halls during August recess are rare. In New Hampshire, a state where the town hall is part of the political DNA, observers have been disheartened with their disappearance.

Campaign flacks have a natural, self-serving explanation: The other side is skirting scrutiny.
"If I were advising Democrat senators, and I thank god every day that I am not, there's no way I could promote town halls," said Brad Dayspring, the communications director for the National Senatorial Campaign Committee.
"We're seeing fewer Republicans doing town halls this recess, probably because they don't want to be caught talking about impeaching Obama or deporting the Dreamers," said Eddie Vale, vice president of the Democratic opposition-research firm American Bridge.
But the truth is, collective risk aversion is on display. And for those tasked with manufacturing that YouTube moment, it now takes more craft and creativity to get the job done.
"Increasingly there are more candidates who aren't on record at all on various issues because they don't do these types of town halls," said Tim Miller, executive director of the Republican opposition-research firm America Rising PAC. "So that is a challenge."
Want more updates from Sam? Sign up for his newsletter, Spam Stein.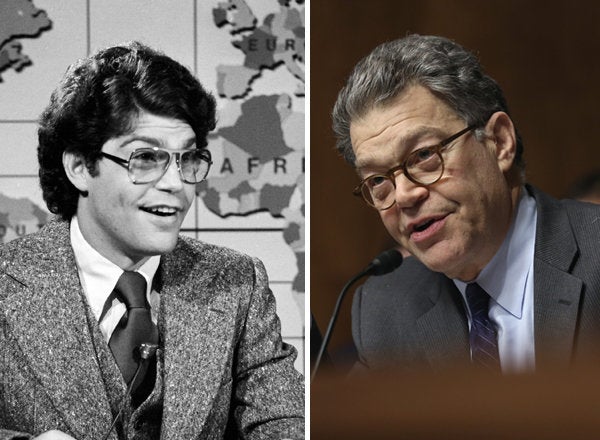 Politicians Then And Now
Popular in the Community