WASHINGTON ― Leaders of the conservative House Freedom Caucus, unhappy with the Republican health care legislation being rushed through the House by Speaker Paul Ryan (R-Wis.), are taking their concerns directly to President Donald Trump.
Freedom Caucus Chairman Mark Meadows (R-N.C.) and former Chairman Jim Jordan (R-Ohio) spent Thursday afternoon at the White House, meeting with budget staffers, Office of Management and Budget Director Mick Mulvaney, and Trump himself. The group met for "hours," according to Meadows, and Trump attended for "a very lengthy time."
"It was an extremely productive day with the president," Meadows told a small group of reporters later.
Freedom Caucus members are demanding changes to the health care bill that Republican House leaders refuse to make. While Meadows wouldn't provide details, he said the group discussed amendments to the legislation with Trump, as well as the president's broader concerns about health reform.
"The president actually shared with me that he wants to make sure he lowers premiums for Americans, and he wants to make sure that we get this done quickly," Meadows said.
Conservatives have criticized the GOP health care plan because it seems unlikely to lead to lower premiums.
"No one's saying that the premiums will go do down," Freedom Caucus member Raul Labrador (R-Idaho) told The Huffington Post on Thursday. "No one's saying that about the cost of health care. And I don't think leadership is being honest with the president about this."
Asked later Thursday if conservatives were going around Ryan to negotiate directly with Trump, Labrador said the Freedom Caucus has tried negotiating with House leadership. Now, he suggested, conservatives were trying a different strategy.
"We're appealing to a president who likes to negotiate, who likes to win, and who likes to keep his promises," Labrador said.
"President Trump needs to understand that we as the Freedom Caucus are trying to protect him from the same old lines that leadership gives everybody over the last few years," Labrador said earlier in the day. "And he needs to remember that it wasn't Paul Ryan who was standing by him when the chips were down. It was people like myself and others who were standing by him."
Labrador added that he didn't want to turn negotiations into an "us-versus-them," and that conservatives were just trying to help Trump keep promises.
"This bill is not it," Labrador said.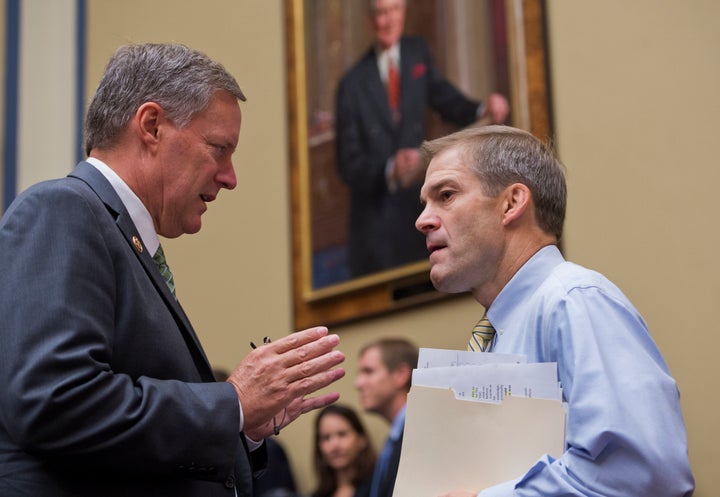 The White House has sent mixed messages about where it stands on the GOP health care bill ― lauding it at the same time that Trump and his administration say they're willing to negotiate. 
Ryan has said he's open to minor changes, but not to the core of the legislation.
Conservatives say that position won't fly, and want more than just tweaks. Meadows and other Freedom Caucus members didn't want to talk about specific amendments with reporters, but they're likely to push to restructure some portion of the bill's advance refundable tax credits, which they don't like in principle.
Meadows noted that the Freedom Caucus is just one constituency the legislation has to please, and that its members would be willing to make concessions. "It's gotta be good for all concerned," Meadows said.
Some conservatives may be willing to budge on the Medicaid expansion, and the timeline for its expiration. They were cagey about specifics because there isn't a consensus within their group.
That lack of consensus has led Ryan to believe he can push the health care bill through the House if he just gets Trump's help. The speaker literally rolled up his sleeves on Thursday to give the press a gimmicky PowerPoint presentation that explained the bill. But he also presented the legislation as a "binary choice."
That phrase instantly got under the skin of some conservatives.
"I didn't realize we were computers," Labrador told HuffPost.
Rep. Justin Amash (R-Mich.), who had already spoken out against Ryan's presentation of the GOP legislation as "take it or leave it," said it's not a yes or no. "That's false," Amash said.
"You want me to use my Paris line? You can just rehash that one and put it in your article again," Amash continued, referring to his comment that Ryan's ultimatum was "like saying, 'If we don't eat dinner in Paris tonight, our families will starve.'"
Amash noted Thursday night that conservatives may have better luck negotiating with Trump, and other Freedom Caucus members backed that up. "The leadership team has been saying take it or leave it, so there's no headway to be made there," Amash said.
"If you read The Art of the Deal, this is a guy that is going to negotiate," Rep. Paul Gosar (R-Ariz.) said. "That's what a real estate guy does."
The GOP legislation has a number of policy and political problems. It's a tightly configured balancing act meant to keep moderates on board. But it already appears it will have vote problems if it reaches the Senate, and further giving in to conservatives would probably exacerbate that situation. Conservatives say that's a moot issue because the bill simply won't pass the House if it isn't tailored to their liking.
Ryan's plan was to force this bill down conservatives' throats, daring them to vote against an Obamacare repeal that every Republican has campaigned on for years. Even though Freedom Caucus leaders swear they have the votes to take the legislation down, there were early signs that leadership could pick off some conservatives and convince them to support the bill.
"There's a number of people trying to get to yes," Freedom Caucus board member Jeff Duncan (R-S.C.) told HuffPost on Wednesday. "They're trying to get to a yes. I don't think it's fair to the Freedom Caucus for y'all to paint us as obstructionist."
But Trump isn't moving in that direction. He's working with the Freedom Caucus to push the legislation farther to the right. And Ryan is left to wonder what his bill will look like when they're done.
This article has been updated to include a comment from Rep. Paul Gosar.
Calling all HuffPost superfans!
Sign up for membership to become a founding member and help shape HuffPost's next chapter
BEFORE YOU GO