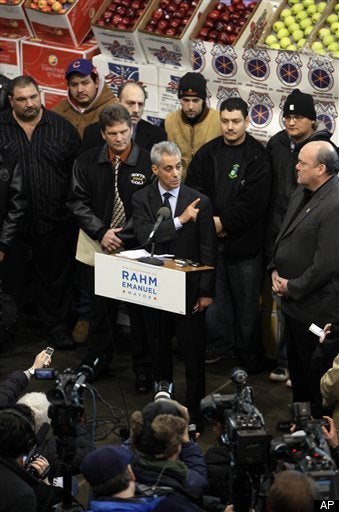 In 28 days, Chicagoans will vote for a new mayor. Some of that voting starts as soon as next week. We don't have a final list of candidates yet (are you in a hurry or something?) but it's not hard to get educated about your options with the incessant news coverage of the race.
We rounded up some of today's mayoral stories below. Looking for a good policy read? Check out the Better Government Association's mayoral questionnaire here.
Stay tuned to HuffPost Chicago from now until February 22 for "The Countdown," a daily roundup of election news, gossip and other fun tidbits. You can also sign up to receive "The Countdown" via email daily by checking the "Chicago Brief" box here.
THE WAITING GAME

Sure, we would all like to know when and how this whole appeal to the state Supreme Court will play out, but no one is as anxious as Rahm. Right? Eh, not so much. The tough-as-nails former White House Chief of Staff may be feeling privately enraged and anxious about the decision, but he's playing it cool publicly. He told the Chicago Tribune Wednesday that dealing with the waiting is "not difficult."
The decision is expected to be swift, but no date has been announced at this point.
CMB GOES TO WASHINGTON

Continually painting Rahm Emanuel as an outsider and criticizing him for taking outsider money won't stop mayoral hopeful Carol Moseley Braun from leaving Chicago to raise some cash. The Chicago Sun-Times reports that Braun headed to Washington D.C. Wednesday for a Congressional Black Caucus fund-raiser and a luncheon hosted by the National Organization for Women. NOW has also endorsed Braun in the race for mayor. She continues her travels Friday, when "a great big group of friends" in New Orleans will hold a fundraiser for her.
BALTIMORE: WE WANT RAHM

Both the Chicago Sun-Times and the Chicago Tribune editorialized against the appellate court ruling that (briefly) kicked Emanuel off the ballot this week. Now, the Baltimore Sun has joined the chorus. The paper said Baltimore would welcome Rahm "with open arms" and made a pretty good point: "who is more Chicagoan, somone who was born in the city and represented it in Congress for years, or someone who moves in 365 days before the election?"
"Aren't we beyond that? Women have minds of their own. We have spouses in every kind of business. Are we returning to the days of Myra Bradwell?" she said, referring to the Illinois suffragette who was initially denied the right to practice law because she was a woman. She went on to become the state's first female lawyer.
Is there a tie between a woman's right to practice law and a rather clear conflict of interest? No. But whatever, Justice Burke.
CHICO WOULD HIRE A LOT OF COPS, SOMEHOW

Gery Chico REALLY wants cops and firefighters to love him.
I spoke to Supt. Weis several weeks ago, and he said the department is making due with the officers they can afford at the moment. Could money be moved around to make room for more police officers? Probably. And that is probably what Chico would do. Then again, he offered no specifics on how he would pay for the hirings Wednesday, according to the Tribune.
If you have any juicy gossip about the Chicago elections, or a story you think we should see, send us an email at chicago@huffingtonpost.com.
Related
Popular in the Community