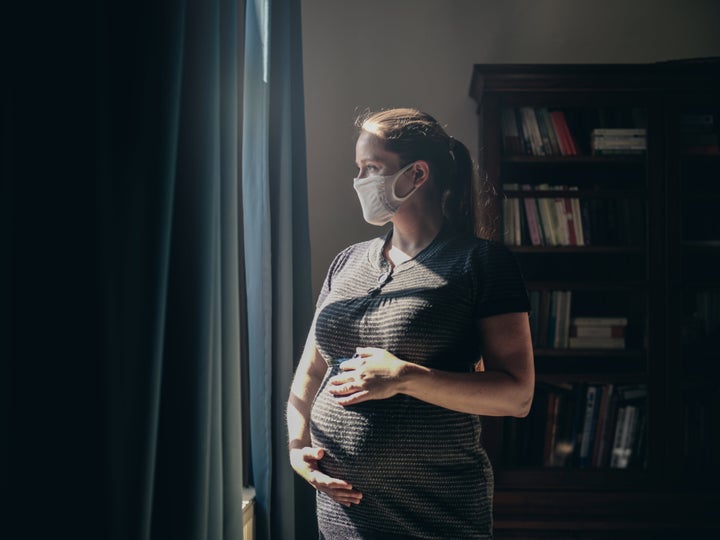 The Centers for Disease Control and Prevention is now urging all pregnant women in the United States to get the COVID-19 vaccine, reflecting an increase in unvaccinated mothers-to-be seriously ill with the virus as the highly contagious delta variant surges.
For months now, groups like the American College of Obstetricians and Gynecologists and the World Health Organization have stressed that vaccines should be available to pregnant and breastfeeding women, but uptake remains low. Less than a quarter of expectant women in the U.S. have received at least one dose of the vaccines, according to the most recent CDC data.
Below, what's understood about pregnant women and the COVID-19 vaccine:
Pregnant women are at greater risk for severe illness
The CDC is now quite clear that women who are pregnant are at greater risk of getting seriously ill from a COVID-19 infection than those who are not. Other major health groups, like the American College of Obstetricians and Gynecologists and the Society for Maternal Fetal Medicine, agree.
"Severe illness includes illness that requires hospitalization, intensive care, need for a ventilator or special equipment to breathe, or illness that results in death," the CDC said in its new guidance. "Additionally, pregnant people with COVID-19 are at increased risk of preterm birth and might be at increased risk of other adverse pregnancy outcomes, compared with pregnant women without COVID-19."
And OB-GYNs in areas where COVID-19 is surging say they're seeing an increase in pregnant patients. One New Orleans-based doctor recently told The Associated Press they've gone from having just a few hospitalized pregnant patients to at least 30 over the past few weeks — the majority of whom were unvaccinated.
The research suggesting that COVID-19 vaccination is safe has been steadily growing
The initial clinical vaccine trials did not include pregnant women, which is why there was a lag in data about their safety and efficacy. But while evidence showing that is still somewhat "limited," the CDC said, it's growing.
The organization notes that no animal studies have surfaced any safety concerns, and early data on all three of the vaccines currently available in the U.S. are "reassuring" — including real-world data from people who've been vaccinated and have provided updates about their status, which did not show any evidence of increased risk of miscarriage.
Vaccination seems to protect babies, too
Getting vaccinated during pregnancy builds antibodies that might help protect newborns, according to the CDC. Studies have shown that antibodies made post-vaccination are present in umbilical cord blood.
"This means COVID-19 vaccination during pregnancy might help protect babies against COVID-19," the CDC says.
That is important to keep in mind for several reasons: One is that children under the age of 12 are otherwise not eligible for vaccination at this point, so getting a shot during pregnancy may be the best way to provide newborns with some level of protection. Additionally, cases among children have increased as the delta variant has spread.
The old public health standbys remain particularly important for moms-to-be
Because pregnant women appear to be at higher risk of severe illness, experts say it's especially crucial that those women be diligent about the preventive measures we know protect against the virus.
In addition to getting vaccinated, experts urge pregnant women to follow current public health guidelines in their area. That also includes wearing a mask indoors in public settings in areas of substantial or high numbers of cases, even among the fully vaccinated.
This post has been updated with additional information released about pregnancy, breastfeeding and the COVID-19 vaccine.
Experts are still learning about COVID-19. The information in this story is what was known or available as of publication, but guidance can change as scientists discover more about the virus. Please check the Centers for Disease Control and Prevention for the most updated recommendations.