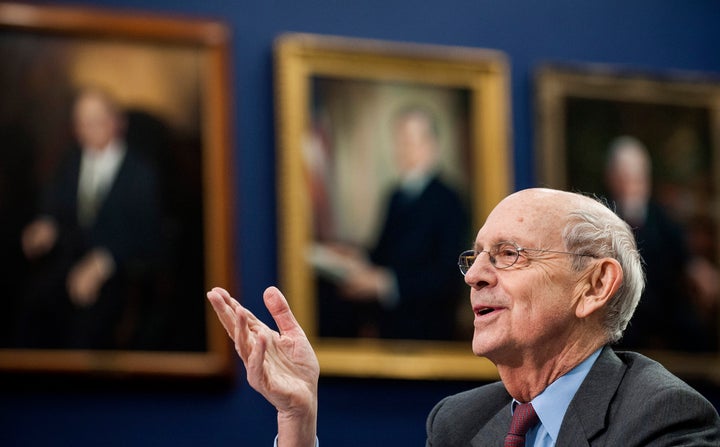 The Supreme Court on Monday declined to take up the case of a death-row inmate that might have struck down California's death penalty system.
He suggested there's probably no better example of this than the dysfunctional regime run by the Golden State.
"Put simply, California's costly administration of the death penalty likely embodies three fundamental defects about which I have previously written," Breyer noted, pointing to his own 2015 dissent in Glossip v. Gross, the Supreme Court's last major showdown over the constitutionality of sentencing a person to die.
Breyer wrote that those three defects -- "serious unreliability," "arbitrariness in application" and unconscionably "long delays" in meting out the punishment -- were all evident in the case of Richard Delmer Boyer, the inmate whose appeal the court turned away on Monday.
Boyer was first sentenced to death 32 years ago for the robbery and murder of an elderly couple. But that was only the beginning of his court battles, which by now include a mistrial, a conviction reversed on the grounds that it was unconstitutional, and multiple appeals. There was even an earlier trip to the Supreme Court in 2006.
"In all, 22 years elapsed between his first trial and our denial of his petition for certiorari on direct appeal," Breyer wrote, referring to Boyer's 2006 appeal.
In this latest round, Boyer petitioned the Supreme Court to consider whether this whole painfully slow process leading up to execution -- which he called "psychologically inhumane" -- violates the Eighth Amendment's prohibition against cruel and unusual punishment.
Without directly addressing that claim, Breyer recited the facts: that the system is prohibitively expensive, that more than 10 percent of the death sentences doled out in California are ultimately reversed, that many prisoners on death row die "of natural causes" long before they are put to death, that there are more death row suicides than actual executions, and that the small percentage of those who are actually executed seem to constitute a "random" group.
All of this, the justice said, was reason enough to take Boyer's case.
One detail Breyer left out: California has the most populous death row in the country with 743 inmates, some of them waiting for decades. And not a single execution has taken place since 2006. Only 13 men have been put to death in California since 1978, when the state restored the punishment after a Supreme Court-driven hiatus.
Maybe California's experiment with capital punishment, on which it has spent some $4 billion since 1978, should be called off for good.
Popular in the Community