The "Sorry Not Sorry" singer warmed up the crowd ahead of the 54th championship game between the Kansas City Chiefs and San Francisco 49ers in Miami, Florida, on Sunday, belting out the national anthem on the world's biggest stage.
Lovato, dressed in an all-white jumpsuit, delivered a stirring rendition of the "Star Spangled Banner," hitting all the right notes, as the players watched on with their hands over their hearts.
The multi-platinum recording artist follows previous Super Bowl national anthem performers like Gladys Knight, Lady Gaga, Pink, Alicia Keys, Billy Joel, Mariah Carey and Whitney Houston.
Gospel legend Yolanda Adams performed "America the Beautiful" alongside a children's choir before Lovato hit the field.
Singing at the big game has been a long-held dream for Lovato, who predicted her performance a decade ago in a tweet, writing, "One day, I'm gonna sing the national anthem at the super bowl. Onnnee dayy..."
"Dreams really do come true y'all," she wrote alongside a screenshot of the 2010 tweet hours before kickoff.
The Disney Channel alum is no stranger to belting out the ballad to a big crowd, performing the national anthem before Game 4 of the 2015 World Series and most recently ahead of the Floyd Mayweather Jr. and Conor McGregor fight in 2017.
Her Super Bowl performance arrives just a week after the singer made her triumphant return to the stage at the Grammy Awards for the first time since her 2018 overdose and hospitalization.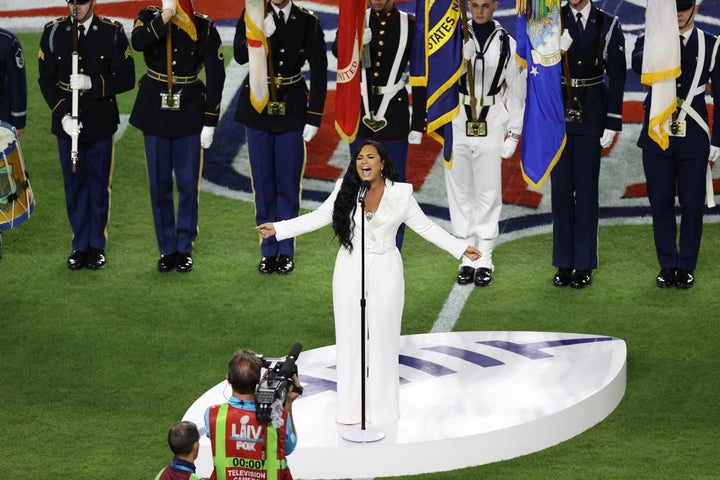 During her hospitalization, the singer revealed that she even considered leaving music behind altogether during a low point.
"I think as time goes on I'll be able to give more details, but it was a general thought," she recently told Andy Cohen on his SiriusXM show. "We didn't know what was going to happen. We didn't know how healthy I would be when I left. It was a scary time in my life for sure."
But Lovato has been on the road to recovery ever since, focusing on her own health instead of the pressures of the spotlight.
While she hasn't revealed any details about when we can expect new music, Lovato is certainly making herself at home on stage again. The night before the big game, Lovato joined Dan + Shay in concert at the Bud Light Super Bowl Music Fest.
Popular in the Community