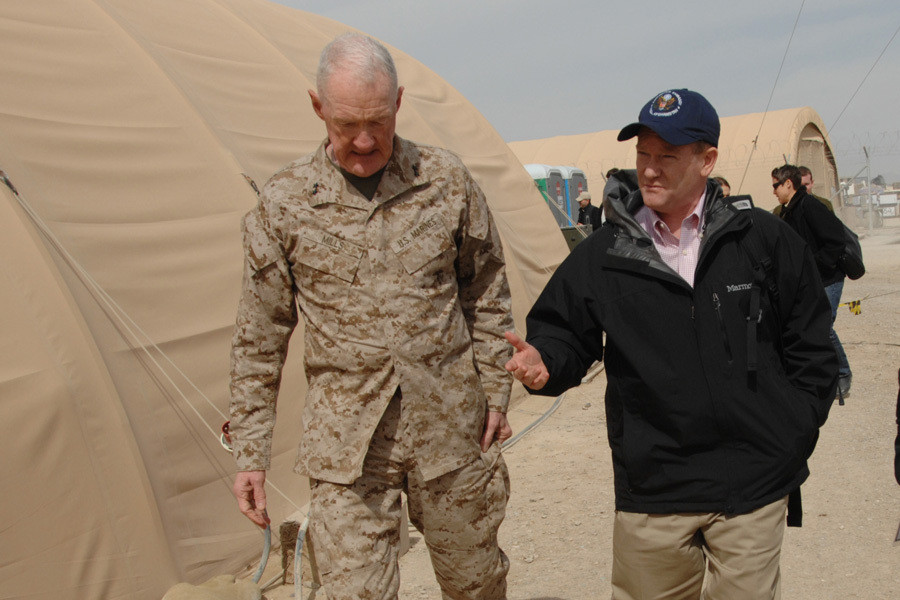 The Democratic foreign policy establishment is suffering from a major brain drain. Forget for a moment that Republicans took control of the Senate and displaced a handful of Democrats in January. Think instead about how rapidly the Democratic strain of the "Old Bull" species is becoming extinct.
Sen. Daniel Akaka of Hawaii retired, as did Michigan's Carl Levin and Connecticut's Joe Lieberman. Sen. Bob Menendez of New Jersey is still around for a roll call vote or a floor speech, but he's no longer leading the Democrats on the Foreign Relations Committee due to his ethics troubles.
There's a Democrat in the White House, and he sets the party's foreign policy. But the sun is setting on his administration, which also pushes Secretary of State John Kerry and Vice President Joe Biden toward some form of retirement. Sure, former Secretary of State Hillary Clinton might be elected president and control Democratic foreign policy for four or eight more years. But, then, what if she isn't?
The combination of events threatens to leave the party without obvious senior or high-profile figures on foreign policy. When battles were raging over the fiscal cliff and Wall Street reform, this brain drain seemed to be no big deal. But as the economy recovered, the rapid rise of the Islamic State, the resurging Israeli-Palestinian conflict and Russia's incursion into Ukraine brought some familiar faces back to TV screens -- Republican Sens. Lindsey Graham (S.C.), John McCain (Ariz.) and Rand Paul (Ky.). Their feuding over intervention versus isolation became a hot, yet Democrat-free, fixation for the political media. Democratic officials, operatives and strategists noticed their party's absence from the debate. In February 2014, David Wade, a longtime Senate aide to Kerry who was then serving at the State Department, had a series of pie charts drawn up to show how few senators had been in office during previous debates over the use of military force. At the time, just 16 percent of the Senate had been there during the Bosnia intervention, and only 37 percent had been there for the start of the Iraq War. Those numbers have since fallen further. "It's something we've seen/felt for a while," Wade told The Huffington Post in an email.
But now Wade and the rest of the party can relax, because into the Democrats' foreign policy void have stepped three younger senators: Chris Coons of Delaware, Tim Kaine of Virginia and Chris Murphy of Connecticut.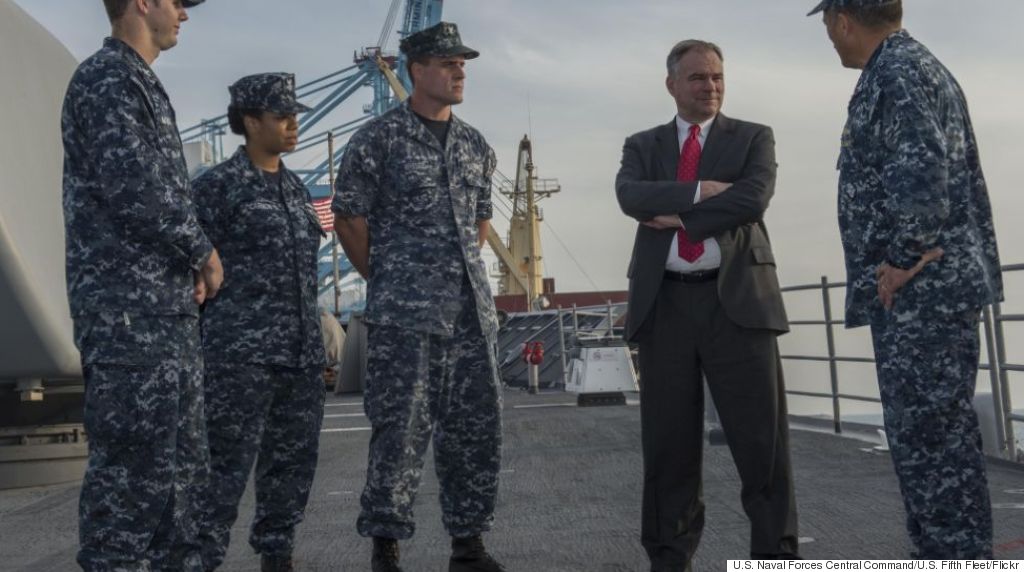 Coons, Kaine and Murphy are something of an unlikely trio to lead the Democrats on foreign policy, in part because they are so new to the Senate. Coons, 51 and first elected to the upper chamber in 2010, is the most senior of the three. But although their backgrounds are in state and local offices and legal jobs, they have gone to great lengths to educate themselves on foreign matters and have logged considerable time abroad, which makes them well suited to tackle global issues.
Kaine, 57, practiced law with a focus on housing issues for nearly two decades before winning local office in 1994. By 2006, he was governor of Virginia. In that job, he also served as commander in chief of the Virginia National Guard during wartime, and he led a state with one of the heaviest concentrations of veterans and service members in the country. In fact, more active-duty service members live in Virginia than in any other state but California, according to the most recent data. So Kaine's assignment to the Senate Armed Services Committee when he took office in 2013 made a lot of sense.
But it was a yearlong sabbatical in Honduras as a young Harvard student that Kaine said gave him the credential he needed to talk his way onto the Foreign Relations Committee: fluency in Spanish.
When Kaine first got to Capitol Hill, he begged for a Foreign Relations seat from then-Senate Majority Leader Harry Reid, who informed him that freshmen don't get to sit on both the Armed Services and Foreign Relations committees. Kaine pleaded that he should be the exception as one of the precious few senators who can speak Spanish and thus could communicate frequently on TV and radio with the 40 million Spanish-speaking Americans. Reid, convinced, granted his wish.
Kaine hadn't been a regular voter before he ventured out of the United States for that Honduras mission, which he calls a pivotal point in his life. "But, man," he said, "I've been a really regular voter ever since I got back."
Coons worked his way up in electoral politics first as New Castle County Council president in 2000 and county executive in 2004. Like Kaine, he benefited from some eye-opening time away from home -- a semester studying abroad at the University of Nairobi in Kenya. That experience has helped make Coons the Senate's go-to guy on Africa, no small thing at a time when northern Africa is facing increasing threats from multiple terrorist groups.
He studied chemistry, earned a law degree from Yale, and worked in a religion degree that comes in handy when meeting with foreign leaders. He's also a onetime Truman Scholar, a prestigious designation awarded by President Harry Truman's foundation that grants funding to college juniors to further their studies in advance of public service careers.
"I've been to the Truman Library nine times," Coons told HuffPost. "I've spent a lot of time looking at his record in foreign policy."
And Coons has traveled to 50 countries. Asked by this reporter for the list, he scribbled them all down on notebook paper and handed the names the next morning to his staff, who passed them along. Many of those trips have been so-called CODELs, government-sponsored travel that takes congressional delegations to foreign countries to view their issues and governments up close. He clearly digs the continuing education.
"I just want you to imagine ... the four of us in the back of a C-130, banging around from Bagram to Kandahar and getting out and asking questions and then taking a V-22. There were great conversations." — Sen. Chris Coons
"I can certify that none of these trips were to any nice places," he said, adding that his friends joke he is "the one senator who will go anywhere as long as it's really bad, really tough, really ugly. That's how you learn the stuff."
Coons' first CODEL was a tour of Afghanistan, Pakistan, Georgia and Israel with the current Senate Foreign Relations Committee chairman, Bob Corker (R-Tenn.), plus Sens. Bernie Sanders (I-Vt.) and Joe Manchin (D-W.Va.).
"I just want you to imagine, Bernie Sanders and Joe Manchin -- the four of us in the back of a C-130, banging around from Bagram to Kandahar and getting out and asking questions and then taking a V-22," Coons said, grinning as he recalled it. "There were great conversations." (A C-130 is a military transport plane, and a V-22 is a tiltrotor aircraft.)
Yet it is Connecticut's Murphy who deserves the most credit for identifying the Democrats' predicament, which he first outlined in a Medium commentary urging progressives to lay out some foreign policy principles beyond simply opposing war.
"When I got here, the most interesting foreign policy conversation that was happening in the Senate was between John McCain and Rand Paul," Murphy told HuffPost. "And there was just a deafening silence from Democrats when it came to proactively articulating a foreign policy vision on the floor of the Senate."
He worried that the problem went deeper -- that Democrats were not only staying mum, but weren't thinking deeply about developing a robust foreign policy for the party.
"A lot of the stars on the Democratic side were, you know, much more focused on domestic policy than on foreign policy," he said. "And I've seen the absence of our voice affect the debate."
As any self-respecting politician would, Murphy appointed himself the fixer. In recent months he's been working casually with other young Democratic senators who are not on the Foreign Relations Committee, including New Mexico's Martin Heinrich and Hawaii's Brian Schatz, to come up with a set of progressive principles that could be used to combat the resurgence of neoconservatives on the right. Murphy, Heinrich and Schatz described those principles on June 8 in a Foreign Affairs article.
All three senators on that article are still in their early 40s, comparative youngsters in the U.S. Senate. That's by design.
Asked to identify his role models on foreign relations, Murphy gave a thoroughly forward-looking answer:
I think it's impossible to say because the world has changed, right, and I think that's what we're struggling with. We're still stuck in a paradigm where we're trying to apply old tools to new problems. And so in some ways it's the perfect moment for this transition to happen in the Senate on the Foreign Relations Committee. Not to say that Secretary Kerry and the vice president don't understand these transitions, but the world is fundamentally different. The tools that America needs to exercise are fundamentally changed, and so it's an appropriate moment for a new group of leaders in the Senate to start speaking their minds.
Contrast that with, say, former Florida Gov. Jeb Bush (R), who recently tapped Paul Wolfowitz, a high-ranking Defense Department official under both presidents Bush, to develop his foreign policy strategy. Bush has endured much mocking from all corners of the political world for reaching to the maligned past.
The 41-year-old Murphy is a real estate lawyer. Like Coons and Kaine, he came up through local office, starting at 25 in the Connecticut General Assembly. He spent most of his 30s as a congressman and dabbled in foreign affairs in the U.S. House. He may be seeking to blaze his own path, but remember, Biden developed his foreign policy chops as a young man in the Senate, too.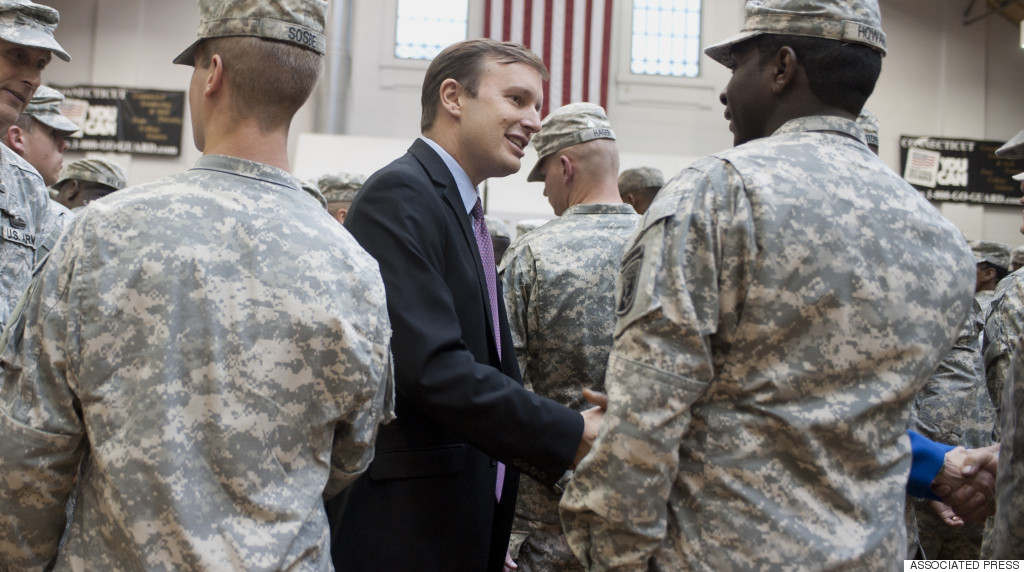 Though Murphy, Coons and Kaine are not in lockstep on how to pursue their foreign policy goals, they -- and basically the rest of the Senate -- are agreed on the pressing need to vote on new language that would specifically authorize President Barack Obama to use military force in the war against the Islamic State. The fight over this vote alone has gone a long way toward bringing the upper chamber back to prominence on global issues.
The war powers clause of the Constitution gives Congress the authority to declare war. Yet ever since the Korean War, presidents have found ways to circumvent it.
Right now, making sure Congress directly authorizes current and future armed conflicts is Kaine's main objective. When he spoke to HuffPost, he used the word "obsessed" at least four times to describe his commitment to ensure Congress plays its intended constitutional role in matters of war and peace. "The way the vote happened in October 2002 authorizing the use of force in Iraq just before the midterms ... got me obsessed with what Congress is going to do," Kaine said. Now he's making the rounds on national TV pressing the point repeatedly.
"We should not be in the 10th month in a war against ISIL without Congress saying a dang thing about it," he told HuffPost in May, using another term for the Islamic State.
All three senators say Democrats must start thinking beyond the Obama administration and consider how to incorporate lessons learned from its mistakes.
As Murphy put it, "I think the Obama administration has been long on rhetoric when it comes to America's role as a beacon for human rights and civil rights, but we haven't been as strong on action, and so I think it's tough for us to tell the rest of the world that they should respect human rights when we're listening in on our own citizens."
Despite Obama's best intentions to wind down the wars in Iraq and Afghanistan, Coons said, the Islamic State "is a brutal reminder that that's not going to happen at our choosing and on our timeline." He added, "We have done things in response to the Arab Spring or the Arab Awakening that have confused our allies and emboldened our enemies."
Coons thinks the tilt toward isolationism that more Americans embraced during the 2012 election should be seen as an overreaction to the costs and losses from the wars in Iraq and Afghanistan. "Nor can we afford a posture that says we're the only indispensable nation and we're going to go it alone and we're going to go charging in with our chin," he said. "It's time to find a new multilateralism for the 21st century."
"We should not be in the 10th month in a war against ISIL without Congress saying a dang thing about it." — Sen. Tim Kaine
Coons and Kaine have both indicated they believe there's a genuine opening for Democrats and Republicans to work together on foreign policy. In a recent issue of Foreign Policy magazine, Kaine and Sen. Jeff Flake (R-Ariz.) outlined a broad vision for bipartisan cooperation on international issues, and stressed the importance of better teamwork between the president and Congress.
For his part, Coons is working with Sen. Joni Ernst (R-Iowa) on a bill to improve the National Guard State Partnership Program. With Corker, the Senate Foreign Relations chairman, he's working on global food aid reform, which had been a pet project of now-retired Sen. Mike Johanns (R-Neb.). He's joined with Sen. Jim Inhofe (R-Okla.) on free trade matters involving sub-Saharan Africa, and he's actively seeking out more Republicans for a series of legislative efforts. Murphy is taking an alternate tack, because he sees a subtle difference in the way the parties want to do business, which he's discussed in floor speeches at the height of the U.S. nuclear negotiations with Iran. The Republican congressional effort to micromanage the nuclear talks pushed for too much oversight of the president when he's negotiating peace, Murphy argued. But the same Congress' failure to pass language authorizing the president to use force against the Islamic State meant not enough oversight during war, he said. On the other hand, Murphy suggested some Democrats call for too little oversight of diplomacy and too much of the battlefield. He also believes the Senate's failure to weigh in on the use of force has made it less influential.
Republicans undoubtedly will brand him as another big-spending New England liberal, but Murphy argues that the United States should be spending a whole lot more money on the ground in unstable countries to assist local governments -- with much greater flexibility given to the State Department.
"What we need to reconcile is that we're spending this money one way or the other," Murphy said. "The question is whether you want to spend this money on the military side when the country blows up, or whether you want to spend it on the front end to try to stop the instability before it grows and festers."
Although polls suggest Democrats have lost ground with the voters on national security, one expert thinks that the rise of Coons, Kaine and Murphy may help them regain their edge.
"After a decade of war, Americans are looking for a third option rather than the debate of 'should we bomb or not bomb,'" said Michael Breen, executive director of the Truman National Security Project. "People want to see an actual strategy."
CORRECTION: A previous version of this story stated incorrectly that Sen. Marco Rubio of Florida tapped Paul Wolfowitz to develop his foreign policy strategy. Jeb Bush has brought Wolfowitz on board.
Before You Go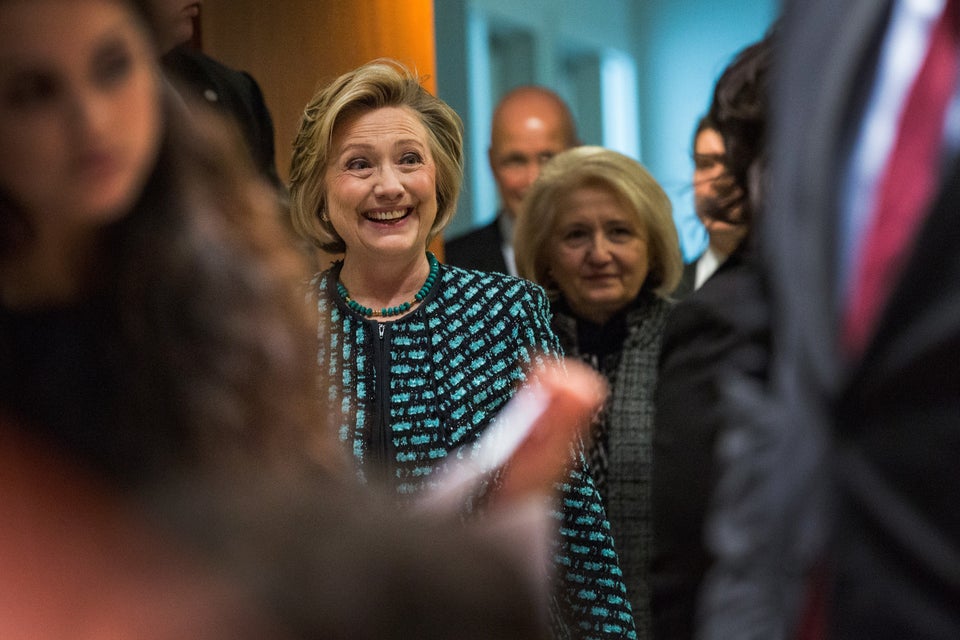 Hillary Clinton
Popular in the Community