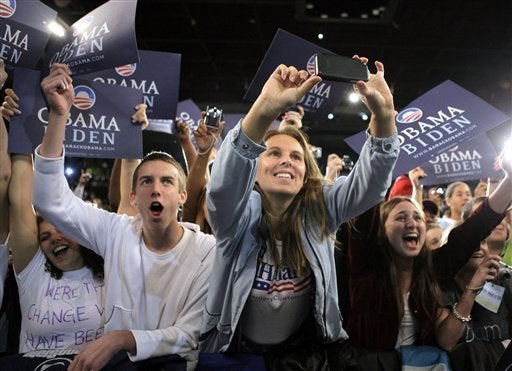 The poll (.pdf link) shows young Republicans to be more enthusiastic and energized about the 2010 midterm elections than their Democratic peers.
Forty-one percent of young Republicans are planning on voting in November, compared to 35 percent of Democrats and 13 percent of independents. Of the young voters -- or millennials -- who voted for the Republican candidate, Sen. John McCain, in 2008, 53 percent said they "definitely will be voting" this November, while 44 percent of those who voted for Obama said the same. Furthermore, those who disapprove of President Obama's job performance (35 percent) are more likely to vote than those that approve of his performance (30 percent).
Though a majority of millennials still approve of President Obama's job performance, his overall approval has fallen since November, and a majority continue to disapprove of his handling of major issues like health care (53 percent disapprove), the economy (51 percent) and the federal budget deficit (56 percent).
Despite all this, approval of Democrats in Congress remains higher than approval of Republicans, 42 percent to 32 percent. Both numbers have dropped since the November poll, but Democrats have notched down 6 percent, while Republicans have only lost 3 percent.
"Millions of young people are losing faith in government, politics and in many cases -
the American dream," John Della Volpe, Director of Polling for Harvard's Institute
of Politics said in a statement. "Millennials are calling on government to follow through on the bright
promise that a generation dedicated to public service has come to passionately believe
in."
The poll of 3,117 18 to 29-year old Americans was conducted online between January
29 and February 22, 2010. The margin of error is 2.3 percent.

Popular in the Community